Interview: Indonesian Troupe Uses Puppets to Remember a Difficult History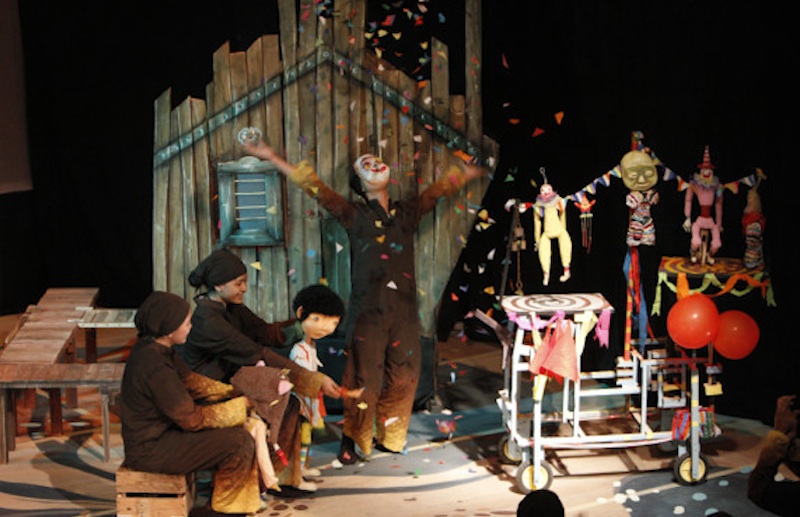 An image from the Papermoon Puppet Theatre's Mwathirika. (Indra Wicaksono)
Although puppetry is often associated with children's entertainment, an upcoming Indonesian puppet performance at Asia Society New York will use the medium to tell the history of a dark time in Indonesia's recent past. On Monday, October 1, Papermoon Puppet Theater takes the stage to present Mwathirika, a non-verbal performance about the personal experiences of Indonesians during the horrific 1965 massacres following a failed coup.
For those who might need some context for Monday evening's performance, a recent Huffington Post interview with Papermoon co-founder Maria Tri Sulistyani should be helpful. Sulistyani notes that the piece being presented is "for adults, not kids," and goes on to explain that the company combines elements of traditional shadow puppetry (Wayang kulit) and informal styles to discuss the 1965 tragedy using stories from company members' relatives and neighbors. Sulistyani states that puppets are "the perfect medium to bring unexpected moments or difficult subjects to the audience" because people won't be afraid of coming to the performance.
She also emphasizes that the piece focuses on the "impact of political turmoil on those who lived through those terrible times" rather than taking a large-scale approach to the events. She states, "Of course, people need to do big things, but sometimes people forgot how important it is to build a personal solution for the problems."
Click here to read the full interview.
Monday night's performance of Mwathirika is part of Asia Society's ongoing initiative Creative Voices of Muslim Asia, made possible by support from the Doris Duke Foundation for Islamic Art. For more information, please visit asiasociety.org/creativevoices.
The presentation of Papermoon Puppet Theatre is part of Center Stage, an initiative of the U.S. Department of State's Bureau of Educational and Cultural Affairs, administered by the New England Foundation for the Arts, in cooperation with the U.S. Regional Arts Organizations, with additional support from the Robert Sterling Clark Foundation, the Asian Cultural Council, and the Doris Duke Foundation for Islamic Art. General Management for Center Stage is provided by Lisa Booth Management, Inc.