Interview: How Much Did Your Backpacking Trip Through Asia Impact the Environment?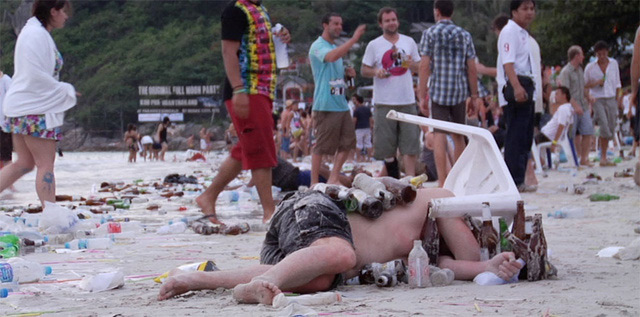 A still from 'Gringo Trails.'
On Friday night, Asia Society Hong Kong will play host to the Asia premiere of Gringo Trails, a new documentary that looks at the environmental and cultural impacts of tourism around the world. The film is the product of more than a decade of work by director Pegi Vail, whose love of travel led her to think about the transformative effects of tourism on the places and people involved.
Vail is back in Hong Kong for the first time in more than 25 years and was kind enough to answer a few questions for Asia Blog immediately after stepping off the plane from New York.
What first brought you to Asia and where did you go?
Hong Kong was actually the very first place I landed in Asia in 1986 as a young backpacker, so it feels all the more special to have the Asia premiere of the film in this city. I initially chose to come to Asia as I'd wanted to expand my knowledge of people and places around the world beyond the USA and Europe, and I believed it was the furthest global region I could go that would be totally different that everything I knew — and it was!
I traveled for six months on that first journey in Asia to western and central China, including Guilin and Yangshuo, Kunming, Chengdu, and Xi'an, along with smaller villages in between these larger towns and cities; Rangoon and Prome, in western Burma (as it was named then); Sumatra, Indonesia; Penang, Malaysia; and in Thailand, including Koh Phangan island's Haad Rin Beach, featured in Gringo Trails.
When did you first start thinking about the issues you raise in this film?
In all honesty, I wasn't thinking about the cultural and environmental impact in the same way I explore these issues in the film when I was on some of my earlier trips in my early 20s, including that first trip to Asia. But then again, I wasn't traveling around Asia partying my way through as some of those in the film. Instead, my motivation was to have meaningful intercultural experiences.
I went to many off-the-beaten-path places at that time which either hadn't seen many foreigners or were still pristine in terms of the environment. That said, I also spent time on the backpacker trail with other travelers. Both were great experiences. So the issues raised in the film are meant more to alert travelers to their role abroad (meaning: they aren't invisible!) and alert locals in many places visited as to the potential issues they may face, or are currently facing.
I started to think more deeply about the issues featured in the documentary when I revisited some of the places I'd been early on as a traveler, and through my research as an anthropologist writing a dissertation in the late 90s through NYU on the anthropology of tourism in Bolivia, which is featured in the film as well.
Thirty years ago, we didn't have this kind of hindsight. I liken the process to gentrification, or what I'd call tourism globalization. In the end, the issues aren't separated out by culture or environment. Culture is environment and vice versa!
What are three things you want people to be aware of when they are traveling?
1. No matter what budget you are traveling on, it costs nothing to learn about the places you're going to before you go — the dos an don'ts of a place — whether by researching online, reading books written by members of that society you are visiting, or at the very least reading the background in your guidebook.  
2. We are not invisible — we are not just affected by the people we meet and places we visit, but potentially have a tremendous effect on them.  
3. Learn about indigenous- and community-based tourism initiatives that will benefit the environments and communities they operate from. Visit them. Same for eco-tourism initiatives that have solid reputations. Support these.
---
Watch the Gringo Trails trailer: