Interview: How History and Present-Day Realities Affect Japan-South Korea Relations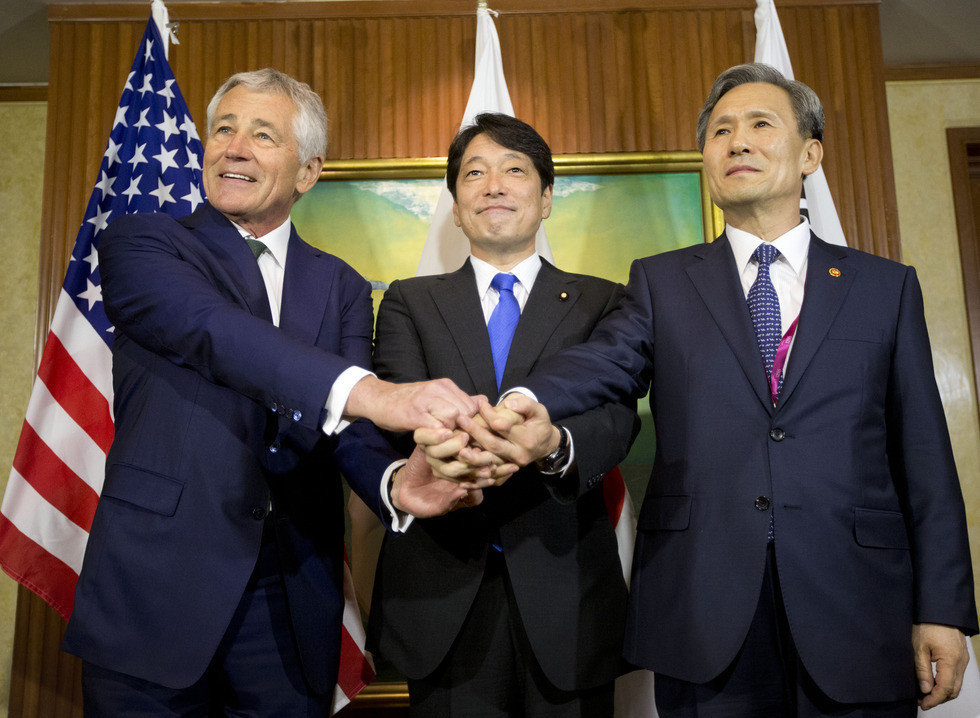 U.S. Defense Secretary Chuck Hagel (L) meets with South Korean Defense Minister Kim Kwan-jin (R) and Japanese Defense Minister Itsunori Onodera (C) May 31, 2014 in Singapore. Hagel traveled to Singapore to attend the 13th Asia Security Summit. (Pablo Martinez Monsivais/Getty Images)
Relations between Japan and South Korea are as tense as they have been for years, in spite of numerous pressures that the countries face in common. On June 19, Asia Society Policy Institute will present a panel discussion on the Japan-South Korea relationship featuring Alexis Dudden, Professor of History at the University of Connecticut; Shinju Fujihira, Executive Director of the Program on U.S.-Japan Relations at Harvard University's Weatherhead Center for International Affairs; and Chung-in Moon, Professor of Political Science at Yonsei University and Editor-in-Chief of Global Asia. Alexis Dudden answered several questions for Asia Blog in advance of Thursday's panel.

On June 19, Alexis Dudden will take part in a panel discussion with Shinju Fujihira and Chung-in Moon at Asia Society New York, presented by the Asia Society Policy Institute. To learn more and register, please visit the event webpage.
Japan, China, and South Korea recently held preparatory meetings for upcoming trilateral free trade negotiations set to take place in July. What do you see as some of the major impediments in achieving a successful FTA? How might the FTA negotiations influence Japan and the United States' negotiation of key aspects of the Trans-Pacific Partnership?
A few fundamentals are clear, chiefly that a regional FTA among China, Japan, and South Korea is logical given the already interconnected nature of these economies. The realities, however, of existing resource imbalances—China's natural wealth of rare earths compared to Japan and South Korea's dearth—spring most quickly to mind and couple with the chief impediment to many dimensions of regional interaction: the reinforcing perceptions of one another that regularly devolve back to Japan's history of empire and total war prior to 1945. Put differently, at moments like now when the basest form of regional nationalism surges—specifically, the politics of history as weaponry—collective mistrust trumps progress and incurs huge loss (Japan and China's precipitously negative balance sheet following Tokyo's 2012 decision to nationalize the islands in the East China Sea is good example).
Some might argue that this could benefit the U.S.-led TPP negotiations, yet here, too, more broadly we see Japanese leaders, still not prepared for Japan's slide from global preeminence, becoming impatient and resorting to traditional nationalisms (with the agricultural sector most germane). With both, the onus to move forward rests squarely with Tokyo. Abenomics has stalled (if it actually ever had traction). Expanding trade, encouraging entrepreneurship, and inviting new foreign investment to Japan—together with a radical transformation of the nation's immigration policies—are the country's possibilities for revitalization, and many in Japan demonstrate the desire for just this present and future. The current Japanese leadership's counterproductive choice to hurl painful histories like nuclear mud bombs instead tears things asunder, and, moreover, forces Washington to sidetrack its aims.
In the face of growing security concerns with North Korea and a potential fourth nuclear test, the U.S. has been seeking closer security ties with both Japan and South Korea. How will greater trilateral cooperation affect the bilateral relationship between Japan and South Korea?
Greater trilateral security cooperation is the mantra, and for many it would yield greater bilateral cooperation between Japan and South Korea. Several core components are missing or intentionally overlooked, however, with Tokyo and Seoul's so-called history problems now full-fledged security concerns. The Abe government's determination this week to disclose its "review" of the 1993 Kono Statement acknowledging the terrible history of Imperial Japan's wartime system of sexual slavery makes a substantial disruption in relations—if not a full break—imaginable in the coming days. Washington needs to show Seoul its support in this regard, yet finds itself in a corner to do so as it urges structural changes to Japan's defense posture. In addition, the Abe administration's recent overtures to Pyongyang regarding the abductions issue indicate a persistent desire to cut particular deals before thinking regionally. Finally, Tokyo's passage in December 2013 of the so-called secrecy laws included numerous pieces of Washington's desired trilateral security strategy, yet its forcible passage and anti-democratic impulses have generated significant blowback in Japan.
The policy of the current Japanese government to assume a military role outside its borders, something that it has not done since World War II, has reportedly created some concern in South Korea. The United States seeks positive relations with both of its allies. How do you recommend that it manage this challenge?
Washington would productively achieve much of its desired regional posture by addressing the United States' role in the post-1945 regional terrain. We all agree that history matters, yet our determination to see it as background music to the present instead of learning from it has transformed Northeast Asia's historical legacies into contemporary security problems. We did not create the pasts that fuel these battles, but as victors in 1945 we drew expedient boundaries to contain them that no longer hold. This holds figuratively and practically, much of which returns us to the terms of the American led San Francisco Treaty. Many might laugh, but it could be of tremendous help to hold a Track One collective "re-reading" of this 1952 document. Washington cannot mediate because in many ways we are an involved party. Opening up the past in this way, though, greatly defuses the possibility of using it as a weapon. American presence as an equal at such a seminar table would be a very productive step forward.