Interview: Globe-Trotting Musician Alex Zhang Hungtai on 'Living Life' for His Art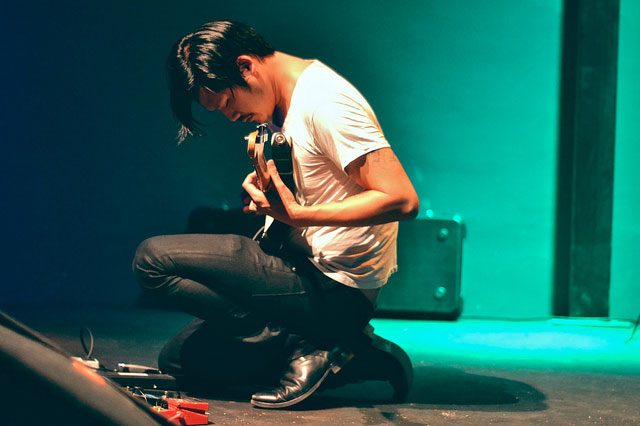 Alex Zhang Hungtai, also known as Dirty Beaches, onstage at Animal Social Club in Rome, Italy on October 19, 2011. (Flavia/Flickr)
If Alex Zhang Hungtai were an actor, rather than the popular frontman of Dirty Beaches, he would undoubtedly be cast as a misfit character in one of Hong Kong auteur Wong Kar Wai's films. Many of Wong's films are about Hong Kong in the 1960s; Dirty Beaches' evocative music feels like it too comes from another era, and Hungtai's latest double LP, Drifters/Love is the Devil, is no exception. The new album is entirely consistent with Hungtai's development since his breakthrough album in 2011, Badlands. Only this time, he's paying homage to his earlier influences and simultaneously concocting a genre all his own. The double album reached Pitchfork's Best New Music list and received an 8.4 review.
The 32-year old Taipei-born and Berlin-based musician grew up in Hawaii and Montreal and has also lived in Shanghai, Queens, and San Francisco. Asia Blog talked with Hungtai about the arduous year he's had, being behind a camera, and the music scene in Beijing.
Compared to your previous albums, did you take a different approach to making this one? Why did you decide to release Drifters/Love is the Devil as a double LP?
It's the first one where I wasn't the only person playing every instrument — my bandmates helped me out tremendously in putting Drifters together. Love is the Devil was all written and recorded by me in Berlin.
I've become more and more intrigued by the idea of "balance" or duality, in which these very different sides of life in actuality balance each other out. There are no shadows without the light.
You released a collaborative recording with Beijing-based The Offsets: Spectacle. Could you tell us a little bit about the Beijing DIY underground music scene and how this collaboration came about?
It was recorded during my second visit to Beijing, back in 2010, I think. It's quite an old recording, but we first met during that time and have remained friends since then. The turnover rate in the Beijing scene is incredibly fast, I believe most of the bands I met around 2010 are now mostly defunct. The younger kids that grew up going to shows in that scene over the past five years have all started their own bands, so it's a natural cycle. But still sad to watch those friends fall in the eventual everyday-reality problems of finding a real job, and pressures from their families, etc.
You've lived in Shanghai and Taipei. What have you taken away from your time in those two cities?
I was born in Taipei, so my relationship with that city is very personal and hasn't changed a whole lot since I left as a child, as I've been back there quite often to visit my sister and her family. I'm very much attached to Taiwanese food. It's my comfort food, essentially. Shanghai was a whole different beast back in 2005. It all seems so long ago that it blurred with my subsequent visits there.
As someone who has been making music for over 10 years, how do you think you and your music have evolved? How do you keep things interesting?
I think any kind of craft that you pursue in life takes a lifetime to develop and evolve. Living life, I find, is the most important thing in creation. I don't think I can sit in a studio for a few years and keep cranking out albums. I need to go out there and live a little.
You have a filmmaking background, and have cited Wong Kar Wai as a favorite influence. Could you describe what it is about his work that you respond to?
I think I discovered Wong Kar Wai at the perfect age. I was 16, and was really fed up with how Asians were portrayed in mainstream Hollywood films. It was either kung fu-yelping types, corner-store silent types, or castrated comic relief types with an accent, so naturally when I discovered Wong's films it spoke to a part of me that I didn't know existed. Then, after the initial impact, there were a lot of repeating themes that spoke to me on a very personal level as well — displacement, the passage of time, how perceptions and memories warp over time, etc.
I enjoyed [Wong's newest film] The Grandmaster quite a bit, actually. I loved the themes on martial arts that he touched on, particularly the three steps of "seeing one self," "seeing the world" and "seeing life," which goes back to the concept of the pursuit of the craft. It's a lifetime pursuit. To perfection. Which doesn't really exist, but it's the path that leads us there that attracts me.
How comfortable are you directing?
I'm still a beginner in films, but mostly the hardest part so far is to be able to record better-quality sound, and for that I would need to invest in some quality boom mics/dynamic mics for field recording sounds, dialogue, etc. I'm kinda just stumbling around, making a lot of mistakes, but also learning a whole lot in the process. I think over time, as my technique and film vocabulary develops, I will be able to translate the thoughts and ideas I have in my head better. Right now, I'm still at the crawling stage.
What are you currently working on? What can we expect next?
More film scores, and more different releases for Dirty Beaches in 2014. Mostly 7"s, EPs, splits, etc. The lot.
Hungtai shared a few of the videos he's directed with us. The video below was filmed earlier this year, during his first Dirty Beaches tour through the Asia Pacific. Hungtai writes, "All in all, this trip made me realize that no matter how far I've trailed and drifted, deep inside, I will always be a child of the Pacific Ocean."
"Neon Gods and Funeral Strippers," below, is a music video he directed in 2012, from The Statement, a four-way split with Slim Twig, Ela Orleans, and U.S. Girls.
The video for "Casino Lisboa," named after one of the most famous casinos in China, is about "spending three nights in Macau with my old man on his 70th birthday."