Interview: Genre-Bending Japanese Novelist on 'Political' Writing, Post-Fukushima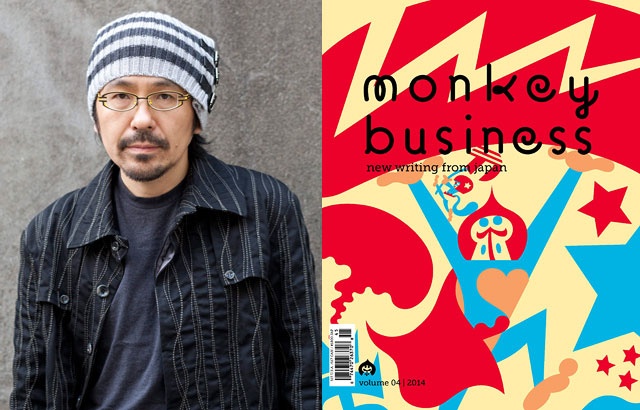 Author Hideo Furukawa, one of the contributors to the fourth edition (2014) of the literary journal "Monkey Business." (Furukawa photo courtesy Monkey Business)
An ongoing international literary dialogue resumes this Saturday, May 3, when Asia Society New York hosts its third annual panel discussion curated and moderated by Motoyuki Shibata and Ted Goossen, editors and co-founders of Monkey Business, the literary journal that makes Japanese writing in English translation a stepping-off point for cross-cultural conversation and collaboration.
A co-presentation with the Japan Foundation, Saturday's panel discussion is a part of the tenth annual PEN World Voices Festival of International Literature. For those who can't attend in person, the program will also be a free live webcast on AsiaSociety.org/Live at 2:00 pm ET.
Appearing at Asia Society on May 3, and prominent among this year's Monkey Business contributors, is Fukushima-born novelist Hideo Furukawa. One of the most honored writers in Japan today, known equally for his narrative mastery and an unpredictable muse that refuses to be contained by any one genre or category, Furukawa won the Mishima Prize for Love and the Mystery Writers of Japan Association Prize and the Japan SF Grand Prize for Tribes of the Arabian Night (set in 13th-century Egypt). English-language readers curious to sample the Furukawa oeuvre can begin with Belka, Why Don't You Bark? (Haikasoru, 2012; tr. Michael Emmerich) a multigenerational epic in which several canine characters frequently take over the first-person narration. More recently, Furukawa has become known for his intense imaginative engagement with the March 2011 disaster that devastated his birthplace, and the fissures it revealed in Japanese society.
Asia Blog reached Furukawa via email just prior to his departure for New York City.
Your contribution to Monkey Business #4 is what's billed as a "remix" of a classic short story by Kenji Miyazawa, "The Bears of Mount Nametoko." Can you describe what drew you to this story, and why you were inspired to label your retelling a remix?
Bears appear in the "Mount Nametoko" story. In Japan bears are something of a deity, reigning over the mountains (the natural world). They don't appear in towns (the human world). Hunters, however, play the role of mediators, and turn part of the mountains into commodities, which are circulated in the towns. What we witness here is the violent contact between nature and man. We are made to face the fact that bears are something which are not cattle but are eaten, and humans allow themselves to take something out of nature to keep themselves alive in this world.
Kenji Miyazawa, as author Kenji, kept writing about this staggering fact. When Japan was violently attacked by nature in 2011 (the year of the Great East Japan Earthquake), I thought I, as author Hideo Furukawa, had to re-tell those stories written by Kenji.
I could re-tell the stories, precisely because Kenji had already told them.
In respect to that fact, I made it clear that I was re-mixing the story Kenji created for us.
We're all familiar with remixes in music, of course, and it's also a concept that's begun to appear in film with works like Christian Marclay's The Clock. Do you have a sense there's unexplored potential for remixes in literature? Or might it be a sign that traditional narrative has reached a point of exhaustion?
Music can be divided into melody and the rest, and you can take out either of them separately. If you take out the former, you "cover" that music; if you take out the whole of the latter, you "remix" it. Likewise, fiction is divided into the narrative and the rest. The narrative needs some vehicle, which is provided by different storytellers each age. In other words, the same narrative can change their vehicle, and in that sense the simple re-telling (covering, you might say) is always possible. Remixing is, for me anyway, an attempt to go beyond that, to take the whole of the preceding work.
By the way: I don't believe at all that traditional ways of storytelling have been exhausted.
I'm fascinated to learn that one of your novels, Tribes of the Arabian Nights, managed to win both the Mystery Writers of Japan Award AND the Japan SF Grand Prize in 2002. Do you consciously set out to play with genre in your work, or do you feel the whole notion of separate fictional genres may be outmoded in the 21st century?
I wrote that novel with absolutely no thought about genres. The power of the book, however, won itself readers' approval. You have to be broad-minded to be able to approve something that doesn't quite belong to your genre. So I think readers of science fiction and readers of detective fiction were broad-minded enough to say, "This is something we don't know, but we see it's good in terms of our genre." Whereas readers of so-called serious fiction were more class-conscious, and were narrow-minded enough to say, "This is something we don't know, so we can't let it into our circle."
I am convinced that literature will eventually lose its power if its practitioners cling to their supposed highest status and refuse to acknowledge new things they aren't familiar with. Fortunately, the practitioners in Japan were broad-minded enough to invite me into their circle.
In an interview with Motoyuki Shibata after the Fukushima disaster in 2011, you remarked, "I've come to realize ... being a writer is a sort of political activity. I think I will continue writing and living with this awareness." Has that awareness played out in your writing in the three years since then?
Yes, it has played out, and it keeps playing out. I have just started, for one thing, serializing in Shincho, one of Japan's established literary journals, something that will be a big novel, set in the Heian period (794-1192). I began this project with the conviction that we need to go back at least a thousand years to illuminate the underlying system by which Japanese people make their decisions (what might be called our ur-politics). I think I was also partially motivated by the fact that the huge earthquake that hit northern Japan was called "something that happens once in a thousand years."
The politics in artistic activities like this, however, is quite different from political activities proper, and remains fixed in the literary standpoint.
Last year, with a big help from my friends, including Moto Shibata, I created a summer school in Fukushima, which is where I'm from: it's a free school where you can learn literature. We'll be running our second program this summer, and we'll be also running a branch at Iwate, another prefecture in northern Japan. This is another example in which, by remaining in literature, what you do also becomes political.
Special thanks to Motoyuki Shibata for translating this interview.