Interview: Food Writer Louisa Shafia Brings 'New Persian Kitchen' Into Every Home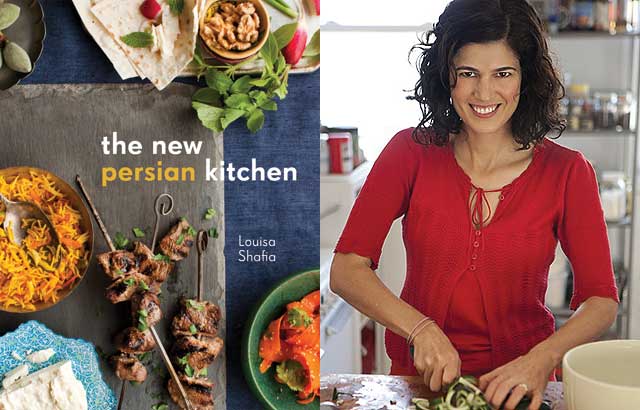 "The New Persian Kitchen" (Ten Speed Press, 2013) by Louisa Shafia (L). (lucidfood.com/Stephen Scott Gross)
Iranians and the Persian diaspora will be celebrating the arrival of spring and a new year on March 20. Norouz, the Persian new year, has its roots in Zoroastrian rituals dating back to the second century BC. On the day of the vernal equinox, the sun and earth are aligned to balance both light and dark forces. The day marks a year of new beginnings heralded in by light and fire, and the most beloved way to celebrate is by feasting with family and friends.
Asia Blog recently talked with the celebrated food writer Louisa Shafia about Persian food and culture during this special holiday. Already known as the author of the eco-friendly cookbook and blog Lucid Food, Shafia is coming out with a new book on Persian food, The New Persian Kitchen, in April. In an email interview, Shafia talked with us about the memories and the dishes that inspire her to write about Persian food and what makes Norouz such a significant holiday for her.
First, for a lay audience, what are some of the dishes that are essential to Persian cuisine?
A classic Persian meal includes certain key elements, which are yogurt, sour pickles, fluffy white rice, a delicate stew similar to cassoulet, and an "edible herbs" platter of fresh herbs, flatbread, and mild cheese. Each of these dishes is important, because together they make up a rich and complete flavor experience.
Persian stew, known as khoresh (pronounced hor-esh), is at the heart of a Persian meal. Persian stew is thicker and more delicate than the Western idea of stew, and it's meant to be eaten on a plate, with rice to soak up the sauce. The hallmark of khoresh is the sweet and tart taste of fruit paired with slow-cooked lamb, chicken, fish, or even beans.
My favorite khoresh is fesenjan. It's a dish that you'll find on the menu at a special occasion like a wedding. The base is ground walnuts and pomegranate molasses, seasoned with cinnamon, saffron, and sometimes sugar. Simmered with seared duck or chicken, the flavor is fruity, tart, rich, and completely unique. Other standout stews are fish with tamarind and chilies, green herbs with dried limes, and eggplant with tomatoes and carmelized onions.
When talking about Persian food, you have to include rice. Iranians are as particular and passionate about making rice as, say, the Italians are about pasta. In Persian cuisine, rice is a blank palette that can be seasoned simply with butter and saffron, or bedazzled with any number of dried fruits, nuts, vegetables, herbs, meats, and spices. Classic combinations include fava beans with dill, candied orange peel with carrots, and sour cherries with almonds.
Long-grain rice is parboiled until the center of the grain is opaque, but the surrounding shell is translucent. The rice is then transferred to a sizzling pot coated with oil, then covered and cooked over low heat for about an hour. Inside the pot, something remarkable happens: the top part of the rice steams, turning dry and fluffy, so that each fine grain is intact and separate, while the bottom layer fries up crisp and golden in the oil. This most prized part of the rice is called tahdig, and it's the ultimate Persian comfort food.
When was that moment of epiphany when you decided that you wanted to become a writer, and to focus in part on Persian food?
For several years I had a full-service catering company in New York City, providing clients with food sourced from the farmer's market, and prepared with minimal waste through the use of composting, recycling, and reusable vs. disposable containers. In 2004 when I started, this was a new idea in New York, and we got a tremendously enthusiastic response.
Everyone seemed surprised that you could put on a high-end event serving elegant food using the guidelines of sustainability. I was constantly being asked to lecture about our business practices, and cook for everyone from The Colbert Report to the New York City Parks Department. I felt like I had a message to share with a wider audience, so I wrote my first book, Lucid Food, a collection of seasonal recipes and advice on eco-friendly cooking. That first book contained a handful of Persian recipes, including fesenjan, and "green rice," inspired by my father's recipe for the classic rice dish adas polo, rice with lentils.
I also created a recipe for rhubarb compote with cardamom and rosewater, served with pistachios and yoghurt, which was wholly inspired by Persian flavors. I had so much fun making and researching these recipes, and I found that I had only scratched the surface of the amazing ingredients and techniques of this cuisine. Before I finished the first book, I knew the next one would focus exclusively on Persian cooking.
Do any dishes have a special resonance with you? You've cited Firoozeh Dumas's Funny in Farsi as a must-read for anyone interested in Persian culture. She has a lovely bit in her book about her mother's zeresk polo (saffron infused rice with red barberries). Getting hold of the barberries was a challenge in the U.S., and when her mother served it, guests would sometimes break into tears because the dish reminded them so much of Iran. Do you have a particular memory that's associated with food in this way?
Whenever I eat adas polo, Persian rice with lentils, I think of my dad. Although he's from Iran, my American mom is the one who always cooked Persian food for us growing up. Except, that is, for lentil rice, otherwise known as "dad's rice." He makes it for Thanksgiving, he makes it for Christmas, he makes it for anyone's birthday, and in the grand tradition of Iranian hospitality, it is always offered to guests who come into his home. The rice is really something special.
It's a combination of basmati and wild rice, along with tender lentils, sweet caramelized onions, lots of fragrant minced dill, and a rich mix of olive oil and butter to keep each grain of rice separate. What makes the rice distinct is that my dad takes the crisp tahdig layer from the bottom of the pot, and stirs it into the rest of the rice, so that there are crackly, golden morsels of fried rice throughout the dish. You can eat the rice as an accompaniment, but it's so good that it outshines everything else on the table. The rice serves as a diplomatic offering on any occasion.
In 2012 you hosted a special Norouz dinner at Jimmy's No. 43 in the East Village and featured classics like herb kuku, sabzi polo, fish, and of course, faludeh, with your own special approach to these dishes. Gauging your guests' response to the meal, what are some things that strike you about how people respond to Persian food and its flavors?
Persian food is all about tart, fruity flavors, and you'll see acidic ingredients like tamarind, rhubarb, barbarries, sour cherries, sumac, and lime juice in everything from beverages to kebabs to desserts. For the dinner at Jimmy's, we made my cousin Parvin's stuffed fish recipe, and it calls for tamarind, barberries, and lime juice. Talk about sour! One diner stopped me and asked, sotto voce, if the dish contained citric acid, it was that tangy. Everyone had a passionate reaction to it, so much so that I decided to include it in the cookbook.
I went to great lengths to make tahdig for the whole crowd, using mismatched, industrial-sized pots and pans, and with little time or space to perform all the proper tricks that make this delicate dish turn out with the right texture. Miraculously, much of it came out perfectly, and I was able to deliver small plates of it to each table, saying, "Look everyone, it's tahdig, we made tahdig!" I was so excited and proud. At an Iranian dinner, the tahdig is the piece de resistance, and there are never any leftovers. But at the end of the meal I saw a lot of leftover tahdig, and no one really commented on it. I was shocked, but I made sure it didn't go to waste, and we finished it off in the kitchen.
I subsequently realized why much of the tahdig went uneaten. I had fallen into that stereotype of the Persian host by overfeeding my guests. I simply made too much food. There were quite a few Iranians there that night, and they didn't complain, maybe they knew how to pace themselves, but my non-Persian friends had to be rolled out the door. It was ironic for me because I always overeat when I'm at my Persian family's house or in a Persian restaurant, and my goal is to give people an experience of Persian food that's fresh and light.
You have a new book coming out in April, The New Persian Kitchen. You said that in writing this book, you read a great deal as well as drawing from your own experience with food. What makes The New Persian Kitchen stand out from the other books out there on Persian food and culture?
There are several wonderful books out there on authentic Persian cooking that give instructions on how to prepare this ancient cuisine in the from-scratch way that it has been made for generations. Because there is already an authoritative blueprint for classic Persian cooking, I'm in the lucky position of getting to riff on it, and come up with new creations inspired by Persian ingredients and cooking techniques.
As with all cuisines around the world, industrialization has brought a lot of shortcuts and cheap ingredients into what was once a very healthy, unprocessed, produce-centered cuisine, so a lot of Persian cooking that you'll see now relies on cheap, harmful ingredients like corn oil, white sugar, and an overabundance of factory-farmed meat. I'm trying to take Persian food back to its roots, returning the focus to the cornucopia of fruits, vegetables, and spices that are at the heart of this cuisine. At the same time, I'm throwing non-traditional ingredients such as amaranth, quinoa, wild rice, strawberries, kale, tempeh, and tofu into the mix.
In my Persian cooking classes, I've spoken with many people of Iranian descent who grew up eating this food, but never learned how to cook it. Now, as adults, they want to prepare this beautiful food in the own kitchens, but it's hard to pin down a parent to teach them, they don't have time to cook in the traditional way, or they're afraid that Persian food is too fattening to eat on a regular basis. With this book, I wanted to give those people recipes that are simple, as well as fresh, healthy, and light.
Lastly, my dad is from Iran and he was raised in a Muslim home, while my mom is an American Jew of Ashkenazi heritage. Because of my background, I wanted to highlight both the Muslim and Jewish food traditions in Iran. Outside of Israel, Iran has the world's oldest Jewish community, so there is a distinct Jewish Iranian cuisine which includes matzoh balls made with chickpea flour and chicken, charoset made with pistachios and cardamom, and date-stuffed koloocheh cookies that are an Eastern relative of hamantashen.
At the same time, Iran has a rich tradition of observing Muslim holidays by sharing certain ritual foods with the needy, including ash-e reshteh noodle soup, rose water-scented rice pudding, and a special trail mix known as the "the problem solver." I wanted to shed light on these different aspects of Persian cuisine, along with those of Zoroastrianism, Iran's ancient native religion, which still has a presence in many aspects of Iranian culture, including the food.