Interview: Filmmaker Amrit Singh Dishes on His Quest to Find New York's Best Dosa
Last winter, on a snowy night in New York City, I found myself in the crowded basement of Le Poisson Rouge waiting for a short film to begin. A friend had invited me to come see Dosa Hunt, knowing my love for anything and everything food-related. As the film made its way through some of my favorite food haunts in the city, showcasing what I personally knew to be some of the best dosas New York had to offer, I thought, "Man, I want some dosa right now."
I knew that I was far from any of the dosa spots that were in the film. So I acted on the next thought that came to my mind. As soon as Amrit Singh, the filmmaker, stepped off the stage after talking about his movie, I asked him if he'd tell me more. After months of emailing back and forth while he was touring with the film, the Punjabi music maven got back to us with his thoughts on the whole Asian American experience.
To mark Asian Pacific American Heritage Month, we'll be running Q&As with noteworthy Asian Americans throughout May. Read them all here.
Tell us about your Asian American heritage. How has it impacted who you are today?
My parents emigrated from India to Queens a few years before I was born. Neither had set foot in America before moving here. My dad was a fully bearded and turbaned Sikh putting himself through business school and climbing the corporate ladder in the politically incorrect '80s, and both quickly immersed themselves in NYC's vibrant Punjabi community. I had unshorn hair tied on my head in a jura. The ignorant white boys thought I was a girl (not really, but they loved pretending). My parents had accents. My house smelled like awesome Indian spices.
All of which is to say: For the first part of my life, I was deeply, irrevocably steeped in the Asian-ness of my being. The assimilation bug crawls its way into some immigrant kids' bloodstream, for many reasons and at varying times. Personally, I was teased relentlessly as a child for my hair (and the hue of my skin, but the hair thing was even "weirder"), but apparently I complained to my mom just once — because the first (and only) time I came home crying, she booked an appointment with the local barber. And just like that, the landscape of my existence had been radically transformed. (For the following week, my dad dealt with irate phone calls from family in India about my brother's and my decision to cut our hair; a week after that, he was the one sitting in the local barber's chair.)
But it wasn't until my family's move to the Philadelphia suburbs, where the Indian population consisted pretty much entirely of M. Night Shyamalan (and he wasn't even famous yet), that I really entered my assimilatory phase. There were none of my parents' friends' children to inform my peer group — this was the first time I was choosing each and every one of my friends for myself. And all things being equal, the friends I chose were the ones who liked the same art as me. The ones with the same taste in film, the same comedians, the same bands. I had my hip hop phase and my metal phase and my alternative rock phase and my art rock phase, and my haircuts, and the haircuts of my friends, followed suit. We talked about liner notes and the circle of fifths and the fact that I was a lot darker than everyone else didn't come up very much. I'd been playing stringed instruments since the 3rd grade, when I was one of a few kids in my district selected to play Suzuki method violin (a style of music education emphasizing ear-training over sight-reading). In high school, that musical pastime bloomed into an obsession, and so did playing the guitar and increasing my high school band's major label prospects. (We very nearly signed.)
The trajectory of my relationship with my root culture has had an elliptical shape, and that time in high school was the far extent of it. During the boomerang return, I've tried to synthesize what I know of American culture and what I've absorbed of my Indian heritage ever since. I went to law school to please my parents (though, obviously, escaped the clutches of the legal profession after some time). I started meditating. I taught myself how to read Gurmukhi, and to sing the Guru Granth Sahib. But I did this alongside shifting into, and helping build, Stereogum into the amazing community, news resource, and journalistic repository it is now. When Wade Michael Page went on his heinous, hateful killing spree at the Sikh gurdwara in Madison, Wisconsin last August, for the first time, I had a call to bring together my heritage and my art, writing a piece titled "Hate Punk & Kirtan: Musical Overtones In The Wisconsin Temple Killings."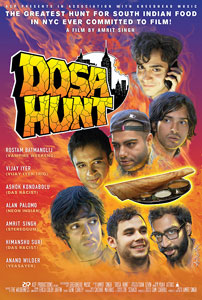 And then there's DOSA HUNT, which is the absolute distillation of that urge to facilitate connections between previously disparate worlds, and cast a light on the connective tissue between them. Its synthesizing spirit is manifest in the film's poster, which nods to Bollywood, and was created by my brilliant tattoo artist Anil Gupta, whose father C. Mohan happens to be one of Bollywood's most accomplished film publicity designers. Anil's been instrumental in helping me process my notions on culture and identity for years now, in the designs he's created for my skin, and even moreso in the conversations we've had conceptualizing them. Recently, the New Yorker profiled Najmieh Batmanglij (mother of Rostam, of Vampire Weekend and DOSA HUNT), in which she said "Kids with foreign backgrounds, for their first 30 years, they want to accomplish becoming part of American culture. But after 30, they want to bring their roots to whatever they do." Mothers always know best.
How does one go from being a NY State Bar certified attorney to being the Executive Editor of an indie music news website?
Practice, practice, practice. By which I mean, "practice confounding your parents." The disappointment and despondency my dad felt upon hearing I was quitting my job as an attorney in order to work (for free!) for an "indie music blog" was not without precedent. Previously, on (My Father Thinks I'm) LOST: Upon graduating law school, I moved into my parents basement, taught myself how to record and produce, and made an album. (I played guitar, drums, piano, and sang; my brother, Sarab Singh of Harper Blynn, played drums.) My dad was psyched.
A year after law school I realized I couldn't live in my parents' basement a minute longer, so I took and passed the NY State Bar and moved up to NYC with the intention of infiltrating the music scene. I guess I wound up succeeding, just not on the terms I'd expected. The only way I could afford NYC rents and law school debts was with a job in corporate securities litigation — so that's what I took, working cases defending heinous clients (i.e. Vioxx and Enron-related litigation; really, really nefarious $#*+). This was, obviously, crushing my soul. It did teach me a lot about how the world worked, though, while also exponentially increasing the intensity of the fire in my belly to GET OUT. I had no time to play my music, but plenty of money (and my late nights to myself) to go and see it.
So that's what I did, living in the East Village, going to shows every night on the Lower East Side, discovering an indie music scene being documented by a nascent blog culture. I found this terribly exciting. I'd discover bands, Google them, find websites that were reviewing the very same shows I'd attended, and read them the very next morning. I'd write emails to friends to share the benefits of my late nights out, describing these exciting new artists in my own words while including links to the blogs that were doing the same. At first, friends were grateful for the service; then, they encouraged me to start a website of my own. "Your email reviews are better written than the ones you link to," they'd explain, which I took to be their sweetly encouraging me to pursue this new passion. In hindsight, I realize it was also a means of getting me to stop emailing them so often. Probably mostly that, come to think of it.
Either way, I did it. I started a website (called Village Indian, what else) and soon reviewed a particularly notable Sufjan Stevens concert (at the Allen Room in Lincoln Center) which I sent to my favorite website, Stereogum. That same week I went to see the UK band Editors at Mercury Lounge and sent it to Stereogum again. Both times Stereogum ran my review, and the second time, the site's founder, Scott Lapatine, offered me a position reviewing shows for him. I don't know how deeply he saw into me, but in my gut, I knew we were going to transform Stereogum from a hobby/side-project (he was a full-time employee of VH1 at the time) into An Actual Thing.
So I quit my job as an attorney and began working full-time for Scott, before he was even working full-time for himself. My father thought I was insane. Now Stereogum employs many people, and gives me health benefits and money to feed my dogs and my landlord, and I've walked enough red carpets and been on TV enough times that my dad is a little less worried. Still thinks I'm insane, though. (I tease him, but he's actually become extremely supportive of these "offbeat" endeavors, which makes me very proud. Mom has always been very supportive of them, which makes me proud in a different way.)
What inspired you to go dosa hunting and make a movie about it?
The catalyst for DOSA HUNT was a tweet from Vampire Weekend's Rostam Batmanglij: "Eating a dosa." At the time, I was on my own dosa hunt, using every using every meal out with friends as an opportunity to try a new dosa spot in NYC. Dosa is a South Indian food, and I'm of Punjabi (North Indian) heritage, so I didn't have it much growing up. It wasn't until I'd been blown away by a Manhattan dosa that I really appreciated how little I knew the thing I was purporting to be an expert on: "Indian food." It was a humbling moment, and a lesson delivered via a humble dish. It was a reminder of the depth and richness of Indian culture. Also, I was moved by how deeply Western (and my own) perception had equated "North Indian" with "Indian." Dosa was both delicious and mind-expanding.
So I replied to Rostam, asking where he was and which of the many dosa varieties was on his plate. A spicy Mysore? A classic paper masala? Rostam tweeted that his contained arugula and jack cheese and he was having it at a place named after the Hamptons, and I knew I needed to take this fusion-dosa eating Persian out for some of the authentic South Indian stuff. I offered suggestions from the fruits of my own dosa hunting, and our Twitter talk quickly caught the attention of Das Racist's Himanshu "Heems" Suri, also Punjabi, and no less certain of his expertise: "Everyone knows you have to go to Queens to get the best dosa." Jazz genius Vijay Iyer jumped on with his thoughts, and before long, we had a critical mass of brown dudes talking about food. We moved the thread from Twitter to email, adding Das Racist's Ashok "Dapwell" Kondabolu, Yeasayer's Anand Wilder, and Neon Indian's Alan Palomo, and decided to put this quest into motion. We would get together and form this multicultural posse in real life, go on a dosa crawl, and "bro(wn) down." (That may or may not be an actual quote from an email I sent.) We had all hung out in varying combinations in various situations, but never all seven of us at the same time. So it immediately felt momentous, and worth documenting.

"The Greatest Hunt For South Indian Food In NYC Ever Committed To Film!"
But you know, there's also the simple fact that over my last seven years at Stereogum, I've seen the faces change. I've seen artists of all colors and all backgrounds existing inside a space that used to be monochromatic. And I've personally chronicled and documented the rise of bands like Vampire Weekend, Das Racist, Yeasayer, and Neon Indian, while getting to know them as friends, all while having the sort of pride you feel only when you see a little bit of yourself in the thing that you love. It's a new sensation for me, and not one that I had while growing up. This group of guys wouldn't have been possible 15 years ago, and I've often thought about how incredible it must be to be a 15-year-old now, at a time where these guys exist — in all genres, from so many places.
So the pretense for the hang was always fun and organic, but at its root, my compulsion to document it went far deeper. I saw this as an opportunity to frame a snapshot of American's immigrant and art experience in a moment of pivotal transition, and I knew that our quest for this authentic dish would naturally elicit conversations about culture, and identity, and moms — just like any good meal would.
My tagline for the film calls it "The Greatest Hunt For South Indian Food In NYC Ever Committed To Film!" which is obviously flip and silly. (Since it's the only one ever to happen.) But really, the dosa is just the device for this extraordinary group of guys to convene and to explore issues of deeper resonance. That's what this movie's really about.
There are many memorable on-camera moments in the movie. What were some of the off-camera ones?
Hmm. Well, there's a moment in the movie in which we go into a store for Indian mixtapes and Bollywood films and weren't allowed to film inside. So allow me to compound the frustration I'm sure viewers feel in not being able to experience that movie-store adventure with the cast by saying: Everyone was absolutely adorable in there. Like kids in a candy store. Rostam found Bollywood films called Anand and Amrit and it made for a great photo, and everyone's cinephilia funneled into the spirit of the day (to find "the best") as we ran around advising and debating each other on Bollywood's supreme moments.
There was also the time we had a minor cop scare while heading into the Queens Midtown Tunnel, but that will be for another day.
What are you working on next?
In addition to continuing my work at Stereogum, I've been busy promoting and touring with the film since its October premiere at Nitehawk Cinema in Williamsburg. I've taken it to San Francisco's Asian Art Museum for a sold-out screening (with Heems and Dap rapping as Indian Bastards From Hell), to Los Angeles for a pair of showings at the ArcLight Hollywood, and back to NYC for screenings all over city (at Tribeca Cinemas, Flushing Town Hall, [le] poisson rouge, and the Paramount Screening Room.) DOSA HUNT's been an official selection at CAAMFest, Indian Film Festival of Los Angeles, New York Indian Film Festival, and Winter Film Awards, and there are more on the horizon. So, in a word, I'm working on connecting the film with its audience, which is the most important part of the process — and figuring out the right way to bring it to India.
That said, I do have a few more films in mind, and my filmmaking team are hard at work directing their own (Sam Carroll's Prison Witch; and Zoe Schack's Grandpa Was A Spy, which I'm also producing). At the moment, though, my eyes are fixed on the possibilities of television as a platform. Meanwhile everyone in the cast is busy creating and promoting their new artworks (the new Vampire Weekend album Modern Vampires Of The City is incredible, go get it). But when the guys and I find the time again, eventually, I hope to "get the band back together" and make a feature film, with this cast, in India. People have seen our gustatory and cultural hunt in America; it will be high time to see what we find in the motherland.