Interview: The Fearless Duo Who Brought the World's Largest Boba Cup to Los Angeles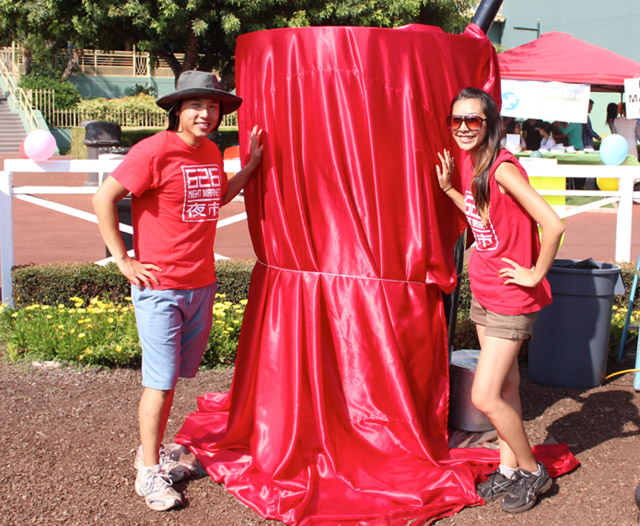 Albert Chu (L) and Patricia Huang (R) stand in front of Giant Boba Cup ahead of the unveiling ceremony on August 3, 2013. (626 Night Market)
Patricia Huang handled business and logistics. Albert Chu focused on the engineering side. For two months this summer, the mastermind duo from 626 Night Market, which bills itself as "the largest Asian night market in the U.S.," combined their brainpower to bring the world's largest cup of boba tea to the 626 — the area code for the San Gabriel Valley, located directly east of Los Angeles.
Boba tea is also commonly known as bubble tea or pearl milk tea. The drink originated somewhere in Taichung, Taiwan in the 1980s and has since become a well-recognized symbol of Asian food across the globe. The beverage is, obviously, most-distinguished for its small, chewy boba, also known as pearls or tapioca balls.
626 Night Market's Giant Boba Cup is the equivalent size of 2,500 standard boba cups — 320 gallons of boba milk tea. It stands at a grand 12 feet in height and weighs more than a sedan car at 2,700 pounds! In June, the crew embarked on a #DRINKBIG fundraising campaign to kick off the project. Giant Boba Cup officially debuted on August 3rd at Santa Anita Park in Arcadia, California.
Asia Blog caught up with Chu and Huang for individual Q&As after they accomplished their impressive record-breaking feat. Read below to learn about how they managed to pull it off.
Q&A with Patricia Huang
Out of all the different Asian food and beverage items, why boba tea?
In a nutshell, boba tea is something that many Asian Americans here enjoy and identify with. Since the debut of the first 626 Night Market in April last year, we saw a remarkable rise of cultural pride with the 626 area's youth which centered around local food, late-night boba cafés with friends, Chinglish, YouTube stars, hip-hop and Instagram. It was beautiful to watch and to be part of. The rise was so strong that the Los Angeles Times wrote a front-page feature on this cultural phenomenon in August last year, writing "Asian American youth culture comes of age in the San Gabriel Valley," as well as a popular music video by local YouTube stars the Fung Brothers, celebrating the culture titled "Boba Life," which garnered 640,000 views and made its way into the news in Taiwan. Someone even legally changed his first name to Boba. With this much attention and celebration around boba tea, why not take the ultimate step and make the world's largest cup of boba tea?
How long was this project in the works?
The project took roughly two months. The idea surfaced spontaneously during a team meeting and we found it inspiring. The more we thought about it, the more reasons we found to do it. Soon enough, reason turned into passion so Albert and I pressed Go.
Why is Los Angeles, specifically the 626 area, a natural place for 626 Night Market to call home?
Since the '80s, most of the Asian community has migrated out of Chinatown, downtown Los Angeles toward the San Gabriel area, which many cooks and restaurant owners call their new home. Hosting the 626 Night Market in the area is ideal simply because it is held amid the sheer amount of amazing, mouth-watering Asian food and lively food culture. With the plethora of surrounding restaurants selling anything from noodles, to hot pots, to dim sum, to anything else Asian food, there will always be interesting and delicious foods to find at the 626 Night Market. I believe that 626 Night Market is a natural evolution, or budding, of the area's food scene.
626 Night Market is about food, big ideas, and community gatherings. What should we expect in the future now that you guys successfully pulled off the world's largest cup of boba tea?
We are keeping our eyes open and imagination unleashed for our next big thing. The sky's the limit. The big idea would need to capture the zeitgeist of the community and current generation. Anyone is also welcome to email us: patricia@626nightmarket.com and albert@626nightmarket.com. We would love to hear your idea as well!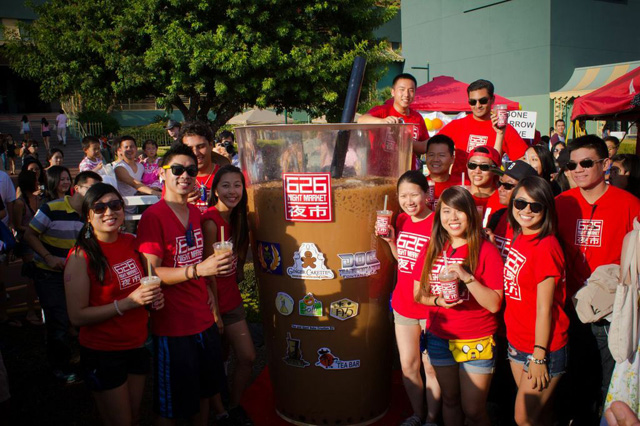 Organizers and volunteers pose in front of Giant Boba Cup during the opening ceremony weekend. (626 Night Market)
Q&A with Albert Chu
Tell us more about the engineering side of Giant Boba Cup's cup, straw, milk tea, and giant bobas. Did you study engineering in college?
When we were first discussing it, my most fundamental goal was to have a lot of people want to take pictures in front of it. If I were to take a picture with a giant cup of boba tea, then it better be taller than me. As basic a start that was, that was the main parameter from which all other specifications were calculated. Once we finalized the cup at 6 feet, it was just a matter of finding out the width of the cup at the bottom and at the top to match the proportions: 2.5 feet in diameter at the bottom, 3.5 feet in diameter at the top. With these measurements, the total volume of tea in the cup was calculated to be 320 gallons, equivalent to around 3750 pounds of tea.
The straw was a 4" black PVC pipe, which is used in everyday plumbing to transfer potable water. I didn't want the straw to be too much taller than the cup, so I had it cut down to 8 feet and smoothed out, which is tall enough to stick out of the cup.
The milk tea was brewed by Tea Bar Starry in Arcadia, CA. We have a great relationship with the boba shops in the San Gabriel Valley, and asked if a small number of four or five shops can work together to make the 250-300 gallons necessary for the cup. Tea Bar Starry responded almost instantly and, after a few talks, even offered to brew the entire volume of tea in its Arcadia location. Since this simplified the coordination behind the milk tea production, we put our faith in them.
The giant boba was a fun challenge. The boba was designed and produced from regular-sized boba. I brainstormed with the owners of Tea Bar Starry and Boba 7, a small boba shop based in downtown Los Angeles that is well-known for popularizing alcoholic boba beverages and for continuously changing their menu with brand-new, innovative drink combinations. The boba was around 2 inches in diameter, more than five times larger than a typical boba, and each weighed about half a pound.
I honesly didn't expect to do anything like this coming out of college. I graduated from Chemical Engineering at UCLA in 2011, which doesn't really apply to anything related to the giant boba cup. What did prove very useful was my slew of part-time jobs while I was in school. For one of my jobs, I worked for UCLA RecTech for three years as a repairman for the UCLA Wooden Center, the main gym on campus. After learning how to take apart, maintain, and reassemble almost every piece of gym equipment, I gained a great working sense of how things are built, which proved immensely useful for designing the boba cup.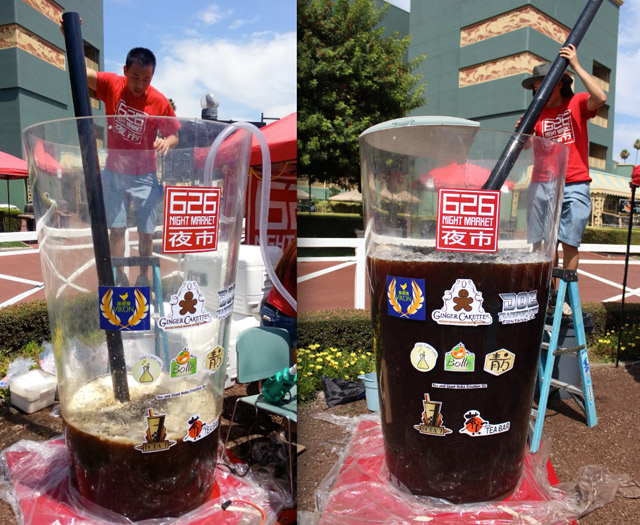 Albert Chu carefully maneuvers Giant Boba Cup's straw to stir the boba milk tea. (626 Night Market)
Who designed and manufactured the Giant Boba Cup? How long did the entire process take?
Our team has prep meetings for each event, discussing what issues we would face, how the event is coming together, and some fun brainstorming about what cool things our team can make. The giant boba cup was brought up before the June event, but it was as a joke. After the June event, I was approached privately to see what the calculations would be like, and I went to work. I started working with Patricia on all of the pre-planning, and within a few short days we started contacting Plexiglass suppliers.
I had originally come up with the initial design, specifications, and measurements necessary to speak to Plexiglass suppliers. After coming up with the widths of the cup and the height, I figured the maximum volume of tea the cup would hold, and the total weight of the tea. With those dimensions, we were looking at around 320 gallons of tea, equivalent to 3750 pounds. We approached several Plexiglass suppliers to determine the thickness of the cup that can hold that much liquid weight. We spoke to local and international suppliers, getting answers that ranged from 20 mm all the way up to 40 mm (roughly 0.75 in - 1.5 in). Finally, we settled on 35 mm (1.5 in) and picked a supplier in China called Jiaxing Mirror Plastic. We did some research, and found that they specialize in high-capacity aquariums, high-capacity meaning on the order of millions of gallons of water. The cup had a long fabrication and delivery time, so securing that ASAP was crucial for finalizing everything for the August event. While it was being fabricated and delivered, we went to work on all the supporting pieces. The whole process, starting with contacting the proper Plexiglass supplier, took 2.5 months.
Watch: A structural rendering of the world's largest cup of boba tea.
What were your biggest concerns when constructing the Giant Boba Cup?
Since neither Patricia nor I have ever pulled off a project like this before, most of the major steps were big challenges that we had to learn how to overcome.
In regard to the cup:
The cup arrived very late, so we had to alter our preparation plans and prep time.

Even empty, the cup was extremely heavy, close to 500 pounds. Figuring out how to transport it safely, before and after the August event, was a big concern.
Outside of the cup, it was a constant challenge of preparing the tea and the giant boba, especially the boba:
I don't think anybody has created giant boba like that before, let alone figured out a way to make more than 200 of them for two days, so we were initially skeptical on whether it could be done. We had a week to do most of the experimentation of the giant boba, and the boba vendors were scrambling around, trying to find various items that could help us with the project. Thankfully, considering how many different methods we've tried, we very quickly finalized a method that would work.

The next challenge was figuring out how to make both the boba and the tea in a very short amount of time so we could give it out in the beginning of the Saturday event. We didn't know anybody who tried to make this much in such a short time, so putting all of our faith in two boba shops with no backup made us nervous. We were very fortunate that the owners of the two tea shops, Danny Haieh from Tea Bar Starry and Elton Keung from Boba 7, were very passionate people and did whatever was necessary to meet the deadlines.

On the day of the night market, another issue was timing the ice additions. We had to use more than 1000 pounds of ice to keep the tea cool for Saturday and Sunday, although relative to the cup's 3700-pound liquid capacity, it wasn't that much. We went through the same ice vendor that provided the ice for the whole event, so reserving 1000 pounds over two days while still providing ice to everybody else was a bit of a challenge for the vendor. However, with the proper notice ahead of time, they were able to provide more than enough ice for both functions.
Watch: How Boba 7 and Tea Bar Starry joined forces to create Giant Boba Cup's giant bobas.