Interview: Far East Movement on Asian Parents, the LA Riots, and Taking Bieber to Koreatown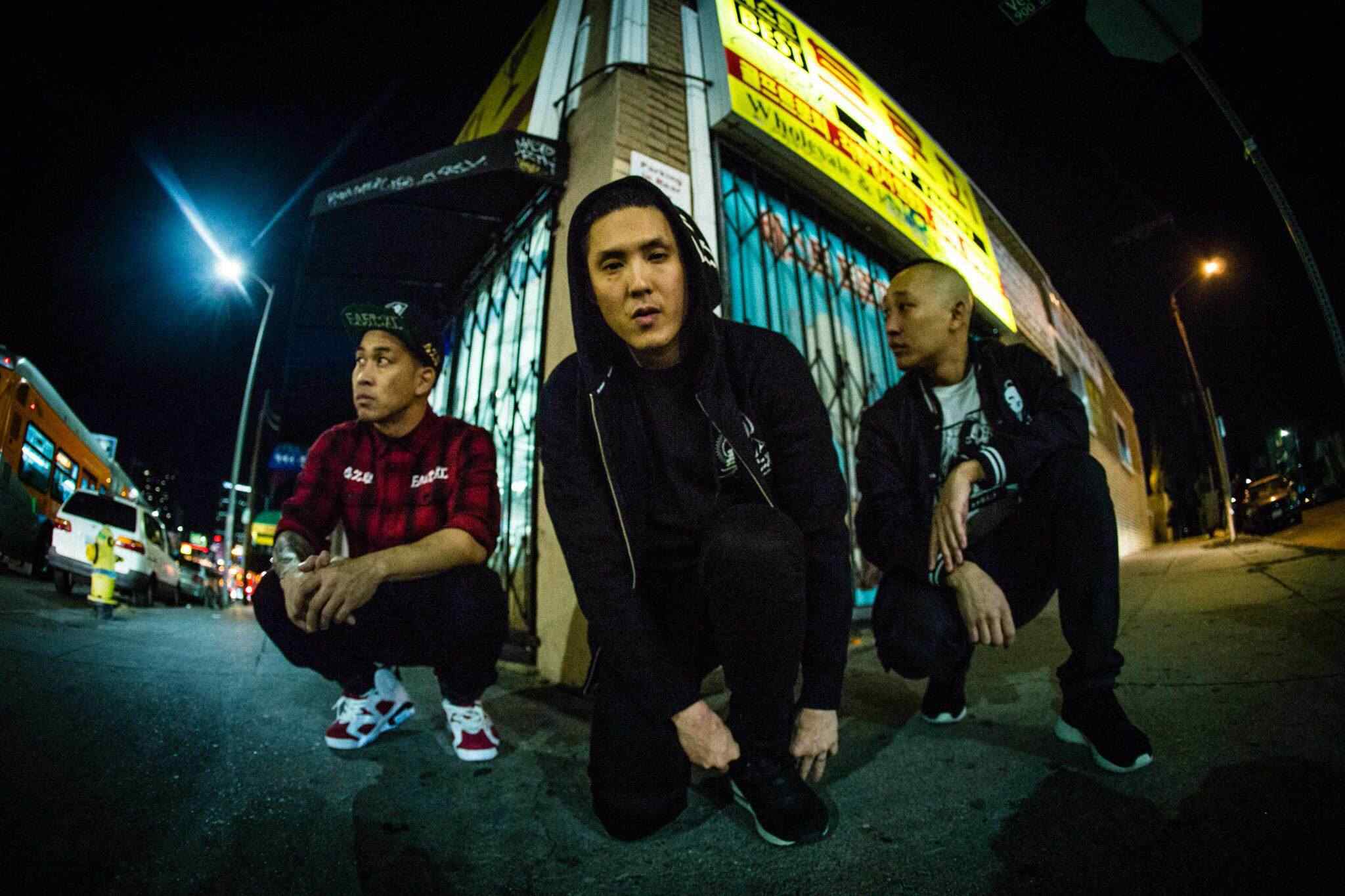 DJ Virman, Kev Nish and Prohgress of hip hop group Far East Movement. (Transparent Agency)

Every May for Asian Pacific American Heritage Month, Asia Blog interviews noteworthy Asian Americans from a diverse set of backgrounds. View the complete Q&A archive
Formed in Los Angeles' Koreatown in 2003, Far East Movement bridges electronic, rap, and pop music to create a sound that embodies L.A.'s modern pulse. In October 2010, the quartet made history as the first Asian American group to earn a number one hit on the Billboard Hot 100, with the platinum-selling "Like a G6."
Since then, Far East Movement has collaborated with numerous artists from Justin Bieber to Pitbull and toured worldwide with Rick Ross, Lady Gaga, Rihanna, and LMFAO. The group, however, has remained faithful to its L.A.'s underground origins and has continued to make propulsive beats that are simply fun.
AsiaBlog caught up with Far East Movement's Kev Nish (Kevin Nishimura) by phone.
L.A. is a huge, sprawling city, but Koreatown feels like a real community. People constantly bump into each other. How did the group first meet?
Back in high school, there weren't a lot of places to hang out except for Koreatown. For us, Koreatown was "Asian central." Whether you were in Orange County or the Valley, you would come to Ktown.
We would go to these bars really late at night, the underground spots open till three or four in the morning, and just freestyle in the parking lots. It became a community of friends. And these friends up to this day still work with us. They do our music videos and our management. It all started in the parking lots of Koreatown.
You mentioned in a previous interview that you didn't really process your success until people in the community started saying, "Hey, aren't you those guys?" What were those early days like?
We grew up with that mentality that our parents raised us with: "Always work hard and never think that you're there yet." So it took a long time.
We had friends that would be like, "I just heard your song in the radio." But it didn't fully click and it still doesn't, even after we got signed and our record hit number one. And so even today, it still feels like we have a lot to do.
For a while, you were leading "double lives" and your parents didn't know you had formed a successful group. What was that first conversation with your parents like?
A lot of our parents didn't believe it was a real career path. For [fellow band mate] Prohgress, who is first generation, it was a lot tougher because he was going to law school. And the last thing you want to do is tell your parents that you're not going to be a lawyer when they've invested so much in your education.
It literally took our parents finding out from watching TV or reading the Korean newspaper. We had to subtly prove ourselves to our parents by constantly trying to do stuff that would be visible to them.
Now they're fully supportive, which is cool. But it really wasn't one conversation that was like, "I'm going to be a rapper." You can't do that to Asian parents. It's like, "No, absolutely not."
Last November, you launched the KTown Riot EP along with a documentary on the 1992 L.A. Riots. You were in grade school at the time. What are your memories of that period?
I remember watching the news constantly. No one felt together; no one felt like it was one L.A. at the time. You had Ice Cube come out with a song, "Black Korea."
It just felt super segregated and it's all you could really remember as a kid. When the parents hate on each other and you feel like the police are not supportive of anyone, you feel like you are on your own as a kid. But luckily, you grow out of that and you see that's not the case.
That's why we did that video. Koreatown is just such a beautiful place now, but it took a lot of people to break down those doors. We're big on respect and a lot of the OGs in the community have opened doors for us.
That video was to pay homage and to tell that story because we don't see it today. It's funny because when you read the comments people are like, "Did that really happen?"
Video: Far East Movement - The Illest (Ktown Riot Edit) ft. Riff Raff (3 min., 43 sec.)
Twenty-three years later, Koreatown has become one of the city's trendiest neighborhoods. Are you afraid the neighborhood will lose its character?
No, I think it had to grow. You feel that if it didn't grow, it would just die out. When you see growth like that, you know that people are inspired and that they are putting money back in the community. To us, that's positive growth.
At the end of the day, we live in the United States of America. It's not meant to feel 100 percent Korean. If Koreatown can define L.A., then it's more powerful than what it used to be.
And a lot of those mom and pop shops are now able to reach people who previously wouldn't have come across them.
What's really dope is that the people who are coming in love to discover the authentic stuff. They're not coming to Ktown to eat a hamburger. They know you can go to a mom and pop spot that's been there for 20, 30 years and get that legit stuff.
You don't feel like McDonalds is coming and making kimchi burgers and that they're going to take over.
You've played for huge crowds in Japan with Lady Gaga and you've also been to Korea, China, and the Philippines. What is it like touring in Asia as Asian Americans?
It was a culture shock because we're just L.A. kids, born and raised. I grew up practically in a farm where I thought I was the only Asian person until I moved to L.A. Going to Asia and realizing how non-culturally diverse it is was a culture shock. You are in a city really deep in China and we're with our team — our sound guys and our engineers, who are from all different races — and people are staring at us like we're a circus.
So it's a culture shock at first and then you have this identity thing. I go to America, people see me as Asian. I go over there and they definitely don't see me as Asian. We don't really speak the language, our fashion sense is different, and we just have this different look to us.
At the same time, you feel an excitement, like I'm about to learn the reason why mom got a rice cooker; the reason for a lot of stuff that you could never really figure out. So we treat it as a learning experience. We videotape everything. We're huge tourists.
You teamed up in 2013 with fellow Koreatown musician Tokimonsta to create the annual Spam N Eggs party. What was the idea behind that?
We were just back from touring and decided to grab a drink in Ktown to catch up. We went down there and there was nowhere to go. The old booking clubs don't open on weekdays anymore. The only thing that's really popping is underground karaoke. That made us a little hurt, a little sad. We were like, "Why don't we just throw a really cool party? What about Toki?" So we called Toki and we all just sat down one day at the house and said, "Let's bring a new dimension and a new layer to Ktown — some live events and music."
So that's where it came from and it turned into something we're really proud of. People mention how diverse the crowd has been. We got people from Skrillex's team and all the cool record labels showing up and doing surprise sets.
You collaborated with Justin Bieber in the single "Live My Life." If you were to show Biebs around Koreatown, where would you take him?
Man, I don't even know. If he hasn't been to Park's BBQ … In reality, you couldn't take him anywhere in Ktown. He'd get mobbed.