Interview: DJ Neil Armstrong on Food, Music, and His Filipino Heritage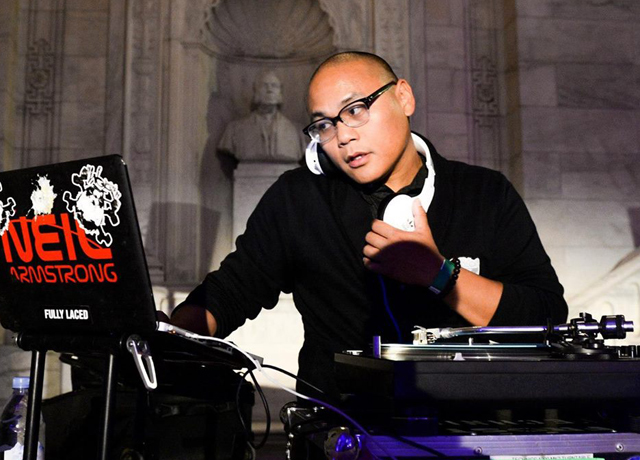 DJ Neil Armstrong
A New York City native, DJ Neil Armstrong, born Thomas Neil Rodriguez, is an established musician in the DJ and turntablist community who first gained wide exposure through his now classic hip hop mix tapes. Armstrong studied chemical engineering in college, but after seeing the Invisibl Skratch Picklz, a DJ crew headed by another well-known Filipino American named Q-Bert, it inspired him to follow a path of making and mixing music.
In 1996, Armstrong founded the world renowned hip-hop turntablist crew 5th Platoon. Since then, he has performed all over the world. He taught at the first ever DJ school Scratch DJ Academy, founded by Run DMC's Jam Master Jay, was the tour DJ for Jay-Z in 2008 and 2009, was the first DJ to spin at the inauguration for President Obama, and has been a Global Brand Ambassador for Adidas since 2010.
Armstrong spoke to Asia Blog about his childhood in New York, his passion for food, and why Filipino-Americans are so drawn to music.
Queens, where we both come from, is considered the "world's borough," the most representative melting pot in New York City. What was it like growing up there as a Filipino/American?
I actually did not grow up around a lot of Filipinos. My neighborhood was interesting. I lived on a block where most of my neighbors were Jewish, but if you went around the corner it was all upper-middle class black families. Many different races, religions, and different financial classes were there. I was also pretty religious as a child, though as a United Methodist Protestant rather than a member of the Catholic Church [like most Filipino-Americans]. My church was also super unique in that it was racially diverse. There was a large Filipino population, a black population, whites, Indians, Guyanese, and there was even a Pakistani family. So at a young age I was just exposed to a lot of different cultures. It's definitely one of the things that shaped my worldview today.
How did 5th Platoon come together? Do you still keep in touch with the crew?
The 5th Platoon was a collective of DJs that started back in late 1996. We were all part of the turntablist/battle scene. At our height, there were seven members, just a bunch of kids who wanted to scratch and beat juggle all day. We were active in the battle scene from 1997 until 2000, and then again from 2003 to 2005. I still periodically speak to most of the members of the crew to this day. Some of us have moved on entirely from the DJ world. One of the members, Do Boy, was actually the CEO of Friendster at one point.
Filipino-Americans were some of the first people to start the trend of mobile DJ crews, and seem to have their own roots in the turntablist community. Why do you think there is such a strong connection there?
The mobile DJ crew scene I think was more of a West Coast thing. It existed in New York as well, but I wouldn't say in the same way. DJing and turntablism go hand in hand, so it makes sense that there is a connection. In fact, back then you could say it was the same thing — it was only later on that it was necessary to differentiate between the two, as turntabling became its own art form.
If you are asking why Filipinos were drawn to the culture of DJing as a whole, I think it's just that we love music and we love dancing. The DJ is the person who controls that — the person that makes everyone dance.
How has the DJ culture evolved in the U.S.? What is it like being Asian-American and a veteran in the industry?
I think the one difference between now and before is that DJ's are now "celebrities" — they are brands in themselves. Back in the day, and even up until relatively recently — say 2005 — DJing was still a meritocracy: Your success was directly related to how good you were. But today, I mean, Paris Hilton is a DJ who has probably made more money in one gig then the majority of DJ's make in one year. You have DJ/actors and DJ/models. Shaquille O'Neal is a DJ. Because of technological advances, almost anyone can be a DJ. I think that is one of the glaring differences between now and before.
On the positive side though, technology has also made DJing great. An artist in New York can create a song, and immediately someone in Thailand can hear it and play it out somewhere because of the speed and access provided by the internet. You can have 100,000 songs at your fingertips on any given night. Back in the day, that would have just been impossible because that means you would have had to bring, like, 50,000 records to a gig with you.
Being Asian-American is interesting because although there are a lot of Filipino DJ's, there aren't that many of us who have achieved a wide-reaching platform. In general, there aren't a lot of Asian-Americans in American pop culture across all media platforms. But at the same time, I've never let that difference limit myself. I DJ for people, that's it. I've DJed on every continent in the world except for Antarctica, so I've had the opportunity to perform for people with whom I can't even speak. Our common bond is the love of music. Music is the universal language. So at the end of the day, I'm not an Asian DJ — I'm a DJ.
I do however know that there are not a lot of Asian-Americans in popular culture at a large level, so I'm a proud representative. I'm very proud of my Filipino heritage.
A few years back, you started a Dinner and a Mixtape series, a unique pop-up dining/music experience held in different states. How did you pick all the restaurants? Do you plan to start it up again, possibly in New York?
I started doing Dinner and A Mixtape two years ago, a way to join my two loves — food and music. It's a worldwide event series, where I provide the music and a great restaurant and chef provides the food. I've done them around the world: in Manila, Hong Kong, Toronto, Los Angeles, San Francisco, New York, and New Jersey. I got to do a few with some celebrity chefs, like Roy Choi (who basically started the food truck craze with his Kogi Truck in LA) and Dale Talde from Top Chef. I just try to work with similar-minded chefs and places that do great food. This is an ongoing series that I will hopefully do for a long time to come. The next run of events will always have a stop in New York!
As showcased in that series and on your Instagram page, your love for food runs deep. What are some of your favorite dishes? Being a New Yorker, what are the best places to find them?
I think that I am definitely a foodie who has a good repertoire of restaurants under my belt. Asking what is my favorite thing would be really difficult for me to answer. If you do an Instagram search on #leavingdishes, you can find pretty much all the food I've ever eaten. Over time I've learned a lot about Japanese food, and I absolutely love Texas BBQ. In New York, I rarely eat Japanese food just because I go back to Japan pretty often and the quality of food can't really be matched out here in the States without paying a pretty penny. Some of my favorite spots in New York City are Chikalicious, a dessert bar that serves four-course dessert "dinners," Bunker Vietnamese out in Queens ... that's all I can think of without referencing the Instagram feed.
In honor of his beloved dog Poh who passed away last year, Neil started the Poh Fund to help dogs in need of medical care or a new home. For more information, please follow @pohthedogsbigadventure and @livelikepoh on Instagram.