Interview: Director Educates Himself, and Audience, with Classical Dance Documentary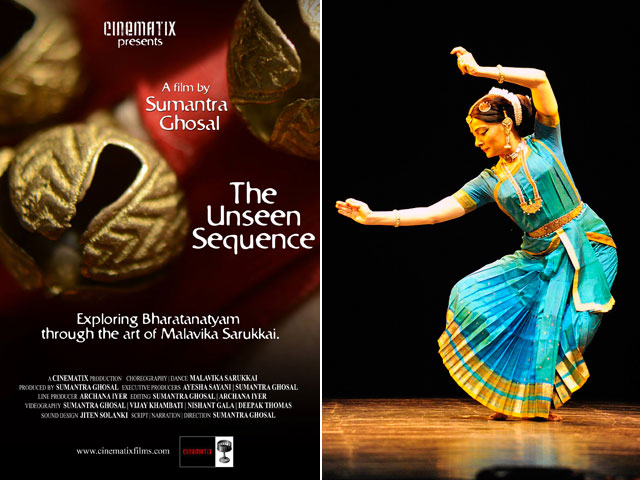 "The Unseen Sequence," screening at Asia Society New York on Sept. 21, is director Sumantra Ghosal's documentary portrait of dancer/choreographer Malavika Sarukkai (R).
On Sunday, September 21, Asia Society New York audiences have a unique opportunity to immerse themselves in the Indian classical dance form of Bharatanatyam when we screen The Unseen Sequence (2013), director Sumantra Ghosal's documentary profile of one of the form's most celebrated interpreters, dancer and choreographer Malavika Sarukkai.
Sarukkai and Ghosal will appear in person for a Q & A following the screening — and prior to the film, Sarukkai will demonstrate her commitment to bringing Bharatanatyam into a contemporary context when she performs two short pieces centered on environmental themes, in homage to the People's Climate March taking place on the same day.
The result of a two-year collaboration between filmmaker and performer, The Unseen Sequence combines archival clips and interviews with mesmerizing present-day performance footage for a complete portrait of a life dedicated totally to dance. At the same time, the film doubles as a capsule history of Bharatanatyam as Ghosal acknowledges his own journey to understanding an art form that is new to him. In the film he traces its history from its roots in temple ritual through a later period of decline and eventual revival in the early 20th century.
Via email, Ghosal shared some insights into the creative process behind The Unseen Sequence ahead of next Sunday's screening.
Malavika Sarukkai is of course a renowned exponent of a classical tradition, but she's also an innovator who is intensely concerned, as she says in the film, with "pushing boundaries" and "stretching form." Is that something you knew about her going into the project, or was it a trait that emerged as you got to know her art better?
I knew, from conversations with Malavika before I actually started shooting, that she was someone who thought deeply about her art. And so I suspected that, despite her roots in the Bharatanatyam tradition, she would not be content to limit herself to mere re-iteration. It seemed inevitable that contemporary concerns would inform the way she looked on dance. That was, in fact, something that excited me. The specificity of those concerns, however, only emerged as I got to know her better and, in fact, the documentary attempts to probe how her art developed as a result of some of those engagements with current issues.
A very interesting moment in your narration is when you state that as a "lay observer" of Bharatanatyam, you felt "handicapped" by not being familiar with its complex, codified language. Is it possible to see the film as a record of your educating yourself about this discipline?
Since the film evolved over two years there was plenty of time in which to be confronted by my own ignorance. I am not sure that I succeeded in "educating" myself to any great extent; but I did the next honorable thing — which was to ask the questions that sprang from that innocence/confusion rather than hide the fact that I was, often, nonplussed.
In addition to being a portrait of Malavika, The Unseen Sequence offers a concise history of Bharatanatyam. At what point in the production did you realize the film needed to provide some kind of historical context?
Oh, I knew that from the very start. In fact, there are three strands that form the basis of how I structure the film:
(a) Historical contexts that had seminal influences on how the dance evolved
(b) My own journey of discovery both of Bharatanatyam and Malavika's place within that tradition, and
(c) Malavika's own journey as a pre-eminent performer of a classical dance form.
The tough bit was to try and interweave the three stories rather than keep them in separate boxes.
Here in the U.S., performance films and video increasingly tend to be over-edited, whereas your footage of Malavika in The Unseen Sequence unfolds in glorious long takes. Can you describe some of the decisions you made, both when filming her recitals and later, in the editing room?
A critical decision prior to shooting was that the dances we would feature would be filmed stage performances. I felt that such performances have an emotional intensity, a frisson if you will, that would be lost was I to choreograph them separately for myself. In fact, the camera and its concerns were never allowed to impinge on the dance.
So, in a sense, Malavika didn't perform for me; she performed for her God. I held the dance for as long as I needed to for a variety of reasons — sometimes it was for an escalation of emotional intensity; sometimes I needed the length to make editorial points; and sometimes there were the narrative demands of the dance itself.
Video: Watch a trailer for The Unseen Sequence (3 min., 8 sec.)