Interview: Debut Indian Author Dismantles Stereotypes Through Storytelling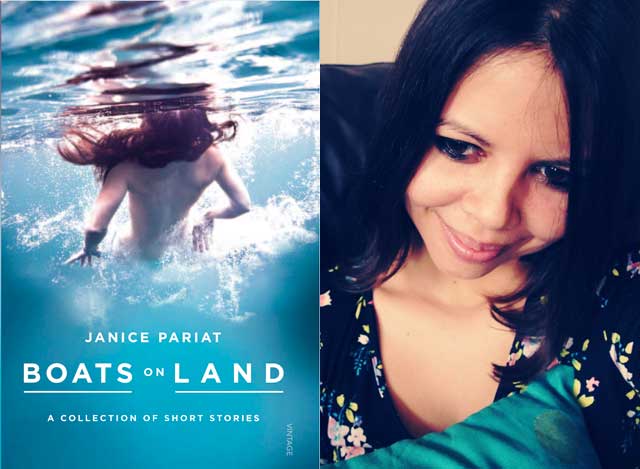 "Boats on Land" (Random House India, 2012), the debut short story collection by Janice Pariat (R).
Published by Random House India in fall 2012, Janice Pariat's debut collection of short stories, Boats on Land, takes readers on a beautiful journey through Northeast India that spans almost a century and a half. While the 15 stories in the collection are laced with myth, regional lore, faith, and superstition, they are also set against the backdrop of tumultuous political and social changes brought about by the British Raj, both World Wars, the arrival of Christian missionaries, and more — thus dismantling the rather one-dimensional notion of India's Northeast as an ethereal place surrounded by impregnable jungles and hills, untouched by time and modernity.
The characters in Boats on Land are in fact a motley collection of ordinary people, grappling with universal issues like love and loss, coming-of-age, family and friendship, home and belonging, and so forth. Pariat hopes that by writing about her characters in this way she is freeing them (and subsequently the Northeast) from the tedium of traditional stereotypes.
Boats on Land arrived with blurbs from writers like DSC Prize-winner Jeet Thayil and Siddhartha Deb, and quickly won praise from India's Hindustan Times and Sunday Guardian. From her home in London, Pariat recently communicated with Asia Blog about her book and her region.
Tell us a little bit about the genesis of Boats on Land.
Boats on Land is my (humble) homage to storytelling. Storytelling as performance, oral archive, and reservoir of both history and folklore. The act of listening and narrating, embellishing and remembering play a large part in many of the stories. In others, I explore the fiction of our everyday lives and how that offers us endless solace and escape.
I grew up amidst storytellers — family, friends, acquaintances, and strangers, and my book is an extension of their tales, reimagined, reinvented and fleshed out within new contexts and landscapes. I've carried them around for years, brewing in my mind, and so a "genesis," in this sense, may be marked long before I put pen to paper in 2010. It probably began when I was about five, and my grandfather sat me on his knee and said, "Once upon a time, I had tea with a friendly ghost..."
You hail from Shillong, live in London now, and have also spent several years living in Delhi. What are the most common misconceptions that people in the West, and other Indians, have about Northeast India? Did you make a conscious attempt to address these stereotypes in your book?
I think there are few misconceptions on the part of the West about the Northeast, as it doesn't usually feature in people's awareness of India's boundaries. Aside from a small, hardy cluster of Welsh, Irish and Italian missionaries, whose predecessors have been traveling there since the mid-1800s, people don't know much about the region. Apart from Assam, perhaps, which is famed for its tea.
The Western mindset tends to perceive other parts of the world through the lens of "nation" and typically, the idea of nation was born to signify a community sharing cultural heritage, language and religion. Even though this notion is increasingly blurring, it still affects the way the West think about India. So, for example, it is not uncommon for them to expect that "India" shares the same language ("Indian") and religion (Hinduism) throughout.
Yet the "Northeast," like "North India" and "South India" (but let's not get started on ill-defined geographical terms), is a vast, complex region of intricate cultural disparities. Language and customs vary even amongst tribal communities living within the same administrative area. Perhaps what binds us is a feeling of having been marginalized and neglected by the center.
As for the misconceptions other Indians have about the Northeast, I'd say they're as varied and extensive as the misconceptions people from the Northeast have about other Indians. As embedded as the prejudices that differing tribal communities within the Northeast hold against each other. But to answer your question, the Northeast is often seen as a place of perpetual conflict and militancy, of tribal people dressed in colorful tribal costumes performing tribal dances. Of promiscuous women who move to Bombay and Delhi. Of young men strumming guitars and crooning old rock songs.
The characters in Boats on Land are ordinary people, wrestling with issues that are unequivocally universal — home and belonging, love and loss, friendship and growing up. I think the act of writing about them in this way is in itself a thwarting of stereotypes. They cannot be labeled if the reader begins to care for them and perceive their abundant complexities. The notion I did consciously set out to dismantle was one of the Northeast as a timeless, ageless place of mountains, mists and rivers that has somehow remained magically untouched. My stories are set against the backdrop of massive world events — the missionaries and Christian conversions, both the world wars, the early days of the British Raj. The Northeast was as intensely shaped and irrevocably changed by the sweep of history as any other part of the country.
Are most of your characters composites, or were they culled from personal observations and/or family history? Were there particular relationships between characters that were especially fun for you to develop?
There's a lovely line in the movie The Hours, where Meryl Streep's character explains how her friend and ex-lover, who is a writer, "uses things that actually happened... then he changes them, or rather he makes them his own." It's the same with characters. As a writer, you filch a name, a characteristic, a profession, a facial feature and alchemize them into something new and entirely intimate. In "Sky Graves," the main character, like my dad's father, owns a gun workshop. In "At Kut Madan" the shaman doctor is modelled after my great-grandfather, who dispensed medical treatment alongside exorcism rites. Sometimes, characters grow from people you've only ever heard stories about. The man who is haunted by water fairies in "Dream of the Golden Mahseer" suffers experiences similar to a grand-uncle I never met. In "19/87" the central character was inspired by a newspaper report of a Muslim tailor who was caught in a crossfire between the police and local militants in my hometown, Shillong. Yet nothing is ever exact, or solemnly faithful. There is a point from which the imagination takes over.
I greatly enjoyed working on certain relationships that don't show up on the page, so to speak — the English girl and the stable boy in "At Kut Madan," the French lady and the Anglo-Indian man in "Echo Words." Their liaisons are shaped by what others say they did, seen through the shadowy whisperings of rumor, seemingly indulging in one scandalous rendezvous after another. They are only as real as you believe them to be.
My favorite, though, and also the most challenging, was the friendship in the title story, between the 19-year-old girl, damaged, alluring and fragile, and the young narrator, a girl of 16 on the verge of discovering herself and her sexuality. Set in a secluded tea estate in Assam, the story is imbued with all the lushness of the landscape — both external and mental — while the Brahmaputra river becomes a place of splendid transformation. Someone said Boats on Land is about "the small steps and shadows out of which one human being's sense of another emerges" — and the challenge involved engaging a tense, quiet restraint, to reveal little and everything in a line.
Before the arrival of the British in the 1800s, the Khasis [an indigenous people of Northeast India] were largely an oral culture with a very rich history of storytelling. Clearly, folklore seems to play an integral role in your stories, yet you've also done a remarkable amount of historical research (the British Raj, the effects of both World Wars, conversions to Christianity, etc). Was it sometimes a challenge, juxtaposing the two?
I come from a place where many "realities," seemingly at odds, coexist quite comfortably. The Christian practices of the Khasis, for instance, are characteristically syncretic in nature, blending both the rituals of the church and their own traditional beliefs — similar to what has happened in Latin America. The Khasis are also a superstitious people, still bearing a deep belief in their folklore — which, for an oral community, once largely defined how they understood the world.
In Boats on Land, the interweaving of the magical and mundane, of folk tales and historical fact, of the mythic and quotidian, is a reflection of this intricate layering of reality. A man who goes missing has not simply lost his way but might have been abducted by water fairies or lured by mischievous spirits. This explains why the book's opening quote is by Cuban writer Alejo Carpentier — "I found the marvelous real with every step." Also, juxtaposing the folkloric and the historical served to satirize the region's turbulent past. Sometimes political and social events of great and abject violence are as fantastical as the folk stories we tell around the fireplace.
You're currently working on a novella set between Delhi and London. Can you tell us a bit more?
After a recent literary binge — Ian McEwan's On Chesil Beach, Julian Barnes' The Sense of an Ending, Capote's Breakfast at Tiffany's, Bruce Chatwin's Utz — I find myself fascinated by the form of the novella. Its perfect yet precarious balance between short story and novel. "Seahorse," the novella I'm working on, is set between 1990s (North) Delhi and present-day London. It's a contemporary retelling of a little-known Greek myth, about Poseidon, the god of the sea, and his young male lover Pelops. My characters include a student of English literature at Delhi University, an itinerant art historian, his capricious sister, a soulful saudade singer, and, of course, the sea.
I think having recently completed a degree in art history, I'm intrigued by the relationship between literature and other forms of art. "Seahorse" is a reflection on the way the written word is as chiseled as sculpture, as immediate as painting. It's also an exploration of myth and how their timeless narratives still find meaning in our lives.