Interview: Dat Nguyen on Growing Up Vietnamese in Texas and Making NFL History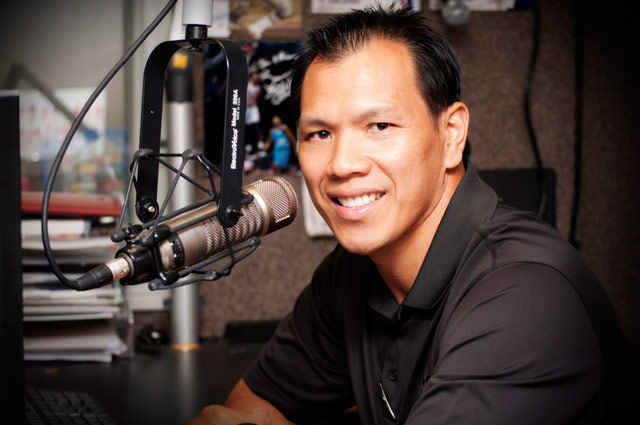 Former NFL player Dat Nguyen. (Delton Childs)
Dat Nguyen became the first Vietnamese player in National Football League history when he was drafted by the Dallas Cowboys in 1999 after a celebrated career at Texas A&M. A defensive linebacker, Nguyen (pronounced "win") was small for his position, coming in at 5-foot-11 and 238 poiunds, but he made an immediate impact and eventually led the team in tackles in 2001, 2003 and 2004. He was voted second-team All Pro in 2003. He retired in 2006 due to a nagging neck injury.
To mark Asian Pacific American Heritage Month, we'll be running Q&As with noteworthy Asian Americans throughout May. Read them all here.
Nguyen was born in a refugee camp in Arkansas in 1975 after his family fled South Vietnam near the end of the war. He grew up on Texas's gulf coast and, after assistant coaching stints with the Cowboys and at Texas A&M, he now is an on-air personality at KZDC 1250-AM, an ESPN Radio affiliate in San Antonio.
Tell us about how your family arrived in the United States — your parent's journey. How did their struggles and heritage influence who you are?
Our parents lived in a small village called Ben Da south of Saigon. Dad listened to the radio nightly to anticipate the Viet Cong's next move. He coordinated with some fishermen to be on call to take our immediate family members (about 50 people) if the VC ever invaded our homeland, which they did at midnight on April 25, 1975. Dad, mom (who was six months pregnant with me) and my five siblings left our home to pursue freedom in the United States. Listening to the stories my brother and sisters told about how they were hearing bombs going off not too far from the route through the woods to the boat was unbelievable. This might be where my perseverance comes from. 
What was it like growing up Vietnamese on south Texas' gulf coast?
I grew up in Rockport-Fulton, a small fishing town about 30 miles northeast of Corpus Christi. I didn't know much better — I just wanted to be a kid who got accepted. I could remember my mother telling me to only play with my cousins and not to talk to "them," meaning white people. There was a lot of hate going on during that time because the residents there were assuming we were going to take away their jobs in the shrimping business. This was the same way we made our living back in Vietnam. 
You were the first Vietnamese, and one of very few Asians, to play in the NFL. How were you initially received by players and fans? If Twitter was around back then, do you think there would have been a #nguyensanity hashtag?
Being the only Vietnamese playing in the NFL was an honor. I knew how hard my parents worked and the risks they took to put food on the table and clothes on our backs. Every day I thank the Lord for the opportunity to represent Him, my family, my community, and all the Asian people out there. I never understood at that time why He selected me instead of millions of other Vietnamese kids out there. I never thought I was better than anyone else — I just embraced the opportunity and seized the moment. I don't know what Twitter would have done during my career, but I would have touched much more people with my story, and probably attracted more haters, as well.
You once said you grew up "part Asian" and "part Caucasian." Could you expand on that? Do you now identify more as Vietnamese or Texan?
I know I'm full blooded Vietnamese and there is no doubt that I'm proud of my heritage. I believe that I'm also an American. We came to this country to get freedom and have opportunities. America has given me a life that I can never explain to anyone and allowed me to make a difference in others.
Last year, you made quite the career shift, from Texas A&M assistant coach to sports radio personality. What's the hardest part of your new job?
Opportunities present themselves in all different ways. I chose sports talk as an avenue to share my life experiences in sports and life to fans who may have only seen one side of who I am. I try to make an impact on others daily, not just through sports but through the Holy Spirit. The way I talk and act hopefully will help guide the listeners to Jesus Christ.