Interview: Curtis S. Chin Explains What to Expect from a China-Led APEC Summit

Leaders of the 21 APEC nations at the 2013 APEC summit in Bali, Indonesia in October 2013. (National Center for APEC)
Every year, leaders of 21 Pacific Rim nations come together in the APEC (Asia-Pacific Economic Cooperation) summit with the avowed intent of promoting free trade and sustainable economic growth in a region stretching from "East Asia and Australia to the Americas" (as per the official APEC website). And every year, Asia Society and the U.S. APEC Business Coalition organize a briefing to review issues discussed at the most recent APEC summit, determine priorities for the coming year, and analyze what those trends might mean for the region's future. This year's briefing promises to be especially significant, since China becomes the APEC Chair in 2014, at a time when Chinese President Xi Jinping has launched a set of reforms meant to revitalize China's economy.
The 2013-14 APEC Briefing convenes this Tuesday, January 14, at Asia Society New York, with panelists Peter A. Petri of Brandeis International Business School; Robert S. Wang, U.S. Senior Official for APEC; Ann Weeks, Vice President of Global Government Affairs at Underwiters Laboratories; and Monica Whaley, President of the National Center for APEC. (For those who can't attend in person, the program will also be a free live webcast on AsiaSociety.org/Live at 6:30 pm ET on the 14th.)
The program will be moderated by Curtis S. Chin, former U.S. Ambassador to the Asian Development Bank (ADB) and a member of its Board of Directors. Chin is now managing director with advisory firm RiverPeak Group, LLC. Chin gave Asia Blog his thoughts on the coming year for APEC and what to expect from Tuesday evening's panel.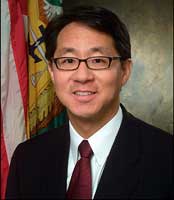 Curtis S. Chin
Thanks for agreeing to moderate our upcoming session on APEC and the prospects for the year ahead.
My pleasure. With the Asia-Pacific region increasingly in the news, it's a delight to be able to step in as moderator. In many parts of the Asia region, the new year — whether on Jan. 1, marking the start of 2014, or the end of January this year kicking off the Year of the Horse on the lunar calendar — is marked with fireworks. Let's see if the upcoming panel on China's role and APEC kicks off some fireworks of its own, particularly given growing tensions in the region involving China and conflicting claims over territory, environmental concerns and the battle over natural resources.
As moderator, though, I am hoping to leave much of the talking to our distinguished group of panelists from government, business and the not-for-profit worlds.
You were the fourth U.S. Ambassador of Chinese heritage, and also a business leader and not-for-profit director involved with many APEC nations, including China. Put aside the diplomatic language and tell us what constitutes success for an APEC summit.
That is a good question with many answers. What, indeed, is success for an APEC summit? It all comes down to where one sits and one's perspectives and expectations. From the host country's perspective, success might simply be seen in terms of logistics and whether proceedings went off without a hitch, all coming to a close with a shared statement or, in the language of diplomacy, a communique. Look back at major events from protest-plagued trade summits, to the recent Association of Southeast Asian Nations summit in Cambodia, which ended in rancor and without a concluding communique, or ahead to the upcoming Sochi Winter Olympics, with ongoing concerns about terrorism.
Success can also be about managing expectations. At the most recent APEC summit, China's leadership may well have seen it as a success, given tremendous attention on the new Chinese president. The U.S. government, though, given all the media focus on a no-show U.S. president, might, however, have viewed matters differently.
Wearing my business hat, though, I find too often that summits of many kinds, APEC or otherwise, are short on significant, substantive success. It is all about incremental progress, if that, at best — and, let's hope, "do no harm" at worst.
Isn't that a bit harsh? Can summits really be judged with the same focus-on-the-bottom-line results that drive the private sector?
I believe they can and should be. It is also about being clear about mission and about measures — or "metrics," in the lingo of the development community — of success. I am looking forward, though, to our upcoming panel members' each giving an example of a success — a change, an improvement, a step forward — that resulted from past summits. Cynics have noted that past APEC summits might have been more memorable for the outfits of the the host country, which were worn by attending heads of state, than for the results. Now with that tradition of traditional outfits having ended, even the concluding photo opportunity is less memorable, often a sea of men — and it is usually men — in dark business suits lined up in a row. If we are to see success though in simply bringing together countries, there APEC has succeeded. And let's always not forget that APEC is unique in that it encompasses both sides of the Pacific — nations such as Peru and Chile, which people do not always think of when one says Asia-Pacific.
What do you think might be seen and heard that will be unique out of the upcoming APEC summit in China? Are there any special challenges and developments to watch for?
With the Beijing Olympics as an example, I have absolute confidence that China can put on a good show, one that is not simply about pageantry but also about showcasing a rapidly changing and increasingly prosperous nation. Indeed, though millions, particularly in China's rural areas and western regions, live in poverty, when it comes to economic development, China has much to be proud of, having lifted hundreds of millions of people out of abject poverty these past decades.
One interesting area to watch out for is to what degree the world and also the Chinese people themselves will hear about what's happening — not just at the APEC summit but also about the various preliminary meetings and working groups, whose efforts pave the way for a "successful" summit. Hundreds of reporters typically cover such events, but China's rules and regulations with regard to media, including new and social media, are very different.
As an example, I just signed on to Twitter (@CurtisSChin) to share further my perspectives on economic development and on Asia, and Asia Society also has a Twitter account, as might my fellow panelists. Our tweets, though, won't be seen in China, as Twitter is not allowed, Facebook is not allowed, and international media are facing greater uncertainty in China. My hope is that the APEC organization fights always for accountability, transparency and robust coverage of APEC, regardless of which nations hosts the annual summit.
One last question. What are your own hopes for a successful APEC summit?
I join others in wishing host country China and the APEC organization a great year ahead, and that is not just a summit that goes off without any hitches but a process that leads to measurable progress toward greater economic growth and toward greater cooperation across and on both sides of the Pacific Ocean. Peace and prosperity, driven by greater equality of opportunity, would be one long-term measure of success.
As a former diplomat, and as a board member and business person who has worked across the Asia-Pacific region, I also know that the good that an APEC, a World Bank or an Asian Development Bank or a United Nations agency can do is often on the margins when it comes to economic growth and poverty reduction. They indeed have great convening powers: the ability to bring countries and people together. But it is really the private sector that will drive sustainable growth and job creation in all the members of APEC. Each will go at its own pace, but individual countries should also recommit to what I call the battle of the "little BRIC" — not the high-growth markets of Brazil, Russia, India and China, the big BRICs — but the bureaucracy, regulations, interventionism and corruption that too often hold economies and organizations back. The prescription for growth is often simple: improve the bureaucracy, regulate fairly, intervene rarely and put an end to corruption. Wouldn't it be great if APEC shared that agenda too.
Thank you, Ambassador Chin. We look forward to a great discussion.
Thank you. I, though, won't be doing all the talking. It will be our guests! I am just the moderator.