Interview: Business Reporter Says China's Opportunities 'Could Just Be Taking Off'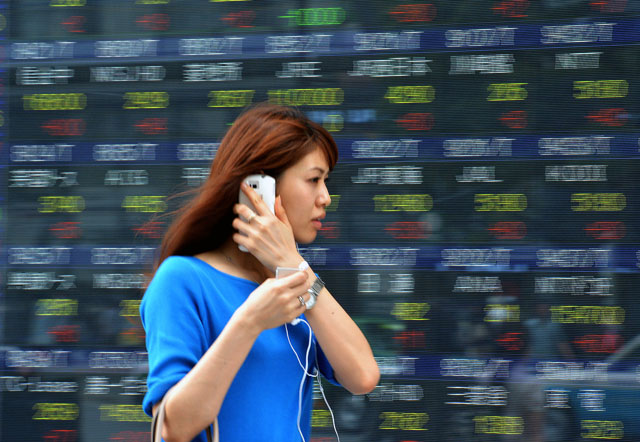 (Yoshikazu Tsuno/AFP/Getty Images)
This Tuesday, March 25, Asia Society New York explores both the challenges and opportunities that face multinational corporations trying to expand their presence in Asian markets. The panel discussion "Doing Business in Asia" will bring together Edward Cunningham, Gwynn Guilford, Ed Koehler, and Bruce Thomas to address changing regulatory conditions, increased local competition, and, perhaps most critically, the prospect of stalled or slowing economies from India to Japan.
(For those who can't attend in person, the panel and ensuing Q&A will also be a free live webcast on AsiaSociety.org/Live at 6:30 pm New York time on the 25th. Viewers are encouraged to submit questions to moderator@asiasociety.org or tweet questions at #AskAsia.)
Panelist Gwynn Guilford is a reporter and editor for the business news outlet Quartz, where she concentrates in particular on China. Via email, Asia Blog reached out to Guilford for a preview of the kinds of insights she and her fellow speakers will share on Tuesday evening.

Gwynn Guilford
Some remain very bullish on investing in China, while others who think China is "over" are looking at the next wave of investment into other Asian countries. What parts of Asia do you think represent the best investment opportunities over the next five or 10 years, and why?
I'm going to focus on China, since that's more of what I report on. I don't think opportunities in China are necessarily "over" at all — in fact, I think they could just be taking off. Underlying the rush to get into China in the last decade were assumptions that because China is so huge and growing so fast, that opportunities for foreign companies would naturally take off as well. Things have proven a little more complicated than that, not only because of things like protectionist regulation but because China's economic model suppressed household consumption. If the government can implement the financial and structural reforms it's been talking about, opportunities for foreign companies will open up in a way that they had hoped they would a while back.
Of course, there are plenty of reasons to be skeptical that that the government will be able to do that. That's still potentially good news for foreign companies. Until now, China's growth has been spurred by investment. Excessive debt could easily cause a slowdown in that GDP growth, but that drop-off in investment should in theory allow consumption to drive growth. Not that either of those prospects will be smooth sailing.
But for foreign companies that aren't in commodities or materials, the long-awaited Chinese consumption boom could finally be approaching.
What are the biggest challenges companies will face when entering these emerging markets?
From what I hear, even in a market as (relatively) developed as China, human resources are still the big challenge. That's true up and down the value chain — from manufacturing to white-collar office jobs. However, it's really hard to anticipate how things will change as reform of the household registration system happens. Right now, a good deal of regional labor shortages probably stem more from the lack of labor mobility than from a straight-up scarcity of workers.
Asia Society Assistant Director of Business Programs Yoshie Ito helped prepare the questions for this interview.