Interview: Art Activist Hopes to Create 'Magic' with 10,000 Pink Balloons in Kabul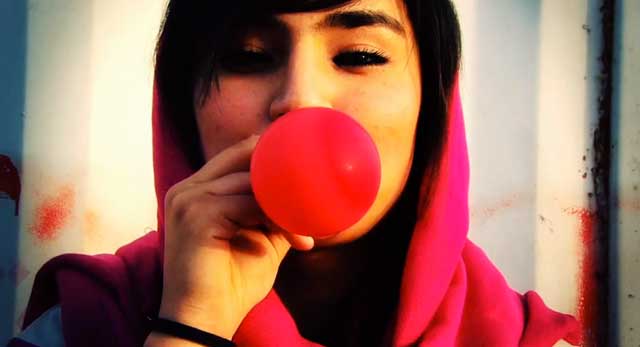 Yazmany Arboleda's "We Believe in Balloons" public art campaign is scheduled to land next in Kabul, Afghanistan. (We Believe in Balloons)
German band Nena may have been singing about 99 red balloons in their hit '80s song, but New York-based artist Yazmany Arboleda has a loftier goal: 10,000 pink balloons in Afghanistan.
Sometime very soon, on a surprise Saturday morning, 130 volunteers will distribute thousands of hot pink balloons to people on their way to work in Kabul, hoping to bring a smile to shopkeepers, laborers, and businessmen as they go about their daily bustle. The project is part of an online campaign launched by Arboleda, We Believe in Balloons, that aims to inject a dose of unexpected delight into the Saturday morning commuter routine (Saturday marks the start of the Afghan work week).
Arboleda has conducted a series of similar public art installations in Bangalore, India; Yamaguchi, Japan; and Nairobi, Kenya. The Afghanistan version is unique in that the biodegradable balloons are crowdfunded by people from around the world. For one dollar, supporters can purchase a pink balloon online to be distributed in Kabul. "To have people donate was to have people sign up to learn about a world they know very little about," explains Arboleda.
By uniting 10,000 individuals from different countries, the project is creating a shared community interested in learning about the people of Afghanistan beyond the war narrative. The campaign website features the stories of various Afghan artists and their work and is available in 13 different languages, from Japanese to Dari to Swahili. Local women and art organizations are also supporting the project, including The Center for Contemporary Art of Afghanistan, the Afghan Women's Network and the arts collective Kabul Street.
Born in Boston, Arboleda grew up in Colombia and the United States and studied architecture at The Catholic University of America. In 2008, he founded the Glassless Glasses Studio, an art activation collaborative in New York City that critically examines social, political and moral issues in our media-driven culture. He launched his first balloon art installation in Bangalore, India in 2011.
Arboleda chose balloons as a medium because they represent "magic" — the magic of joy, hope, imagination and dreams. "Throughout time, balloons have served as a symbol of hope, wonder, and possibility," the campaign website states. "From our research we know that this is true around the world regardless of culture, language, and skin color."
Each balloon's color symbolizes an important cultural aspect of the host country. In Kenya, the color yellow was selected to represent gold, an important natural resource for the country; in Japan, green was used to honor nature and greenery and in India, orange represented saffron. For Afghanistan, Arboleda chose hot pink to symbolize women's empowerment.
Arboleda has also designed an online digital mural of photos highlighting the faces of the people that have supported the project, further connecting them to the citizens of Kabul. After purchasing a balloon, donors can upload of photo of their smile for the mural. The photo mosaic will be concurrently displayed in Kabul as a large banner.
Over email, Arboleda discussed why he chose Kabul, how art and culture is a way of moving forward in Afghanistan, and the unexpected challenges he has encountered along the way.
What do you hope to accomplish through the We Believe in Balloons initiative?
We Believe in Balloons is a campaign meant to transform the single story of catastrophe that the world has of Afghanistan into multiple narratives of hope. Through our website we have created a platform that shares the lives of artists who live and work in Kabul today. Our objective is to identify and highlight our shared humanity from country to country and the elements that unite us all beyond religion, politics, and language.
Why did you pick Afghanistan as your next destination?
Afghanistan was selected because when we did the project in Nairobi, Kenya we faced very difficult circumstances. Al Shabaab [a Somalian militant group] was detonating grenades across Nairobi due to conflict with the Kenyan government. As a result, people were afraid to visit public spaces like parks, malls, and restaurants. After speaking to many people, including Nairobi's mayor, we decided to move forward with the project and celebrate individuals who in spite of fear went about their lives and thrived in the face of hardship. The response from the city was overwhelmingly positive. We knew then that the next place we chose should focus on this contrast and celebrate a community of people who could use a bit of love from the rest of the world.
A key component of your Afghanistan campaign is to unite 10,000 individuals from around the world to donate one dollar for a pink balloon. Why did you choose crowdfunding as a method to support your project?
It was important to us to have as many people as possible participate in the campaign. We wanted to connect people from around the world to people in Kabul. The idea was that every balloon you see in Kabul on the day of the installation represents the spirit of a person from around the world who believes in art and culture as a way of moving forward in Afghanistan — and not war. Currently we have more than 5,000 people from 42 different countries spanning five continents involved in our project.
In the past you've conducted similar art installations in India, Japan and Kenya. What have been some unexpected challenges along the way?
In India, once people became aware that the balloons were being given away for free, they wanted more than one. When things are being distributed in crowded public spaces, people can become very aggressive no matter how benign the object.
In Japan, we dealt with the cold weather. It was hard to get people to engage with ideas when it is a cold morning and your primary goal is to get indoors and stay warm.
In Nairobi, we dealt with the possibility of a terrorist attack, as Al Shabaab was at war with the Kenyan government.
You chose hot pink as the balloon color for Afghanistan in honor of women's empowerment. What role do you think Afghan women can play in promoting peace within the country?
I strongly believe that for Afghanistan to move forward into a healthy future it needs to create a foundation that honors and celebrates all human rights: especially the rights of women. It is vital that Afghan women stand up and speak out in every possible way. From all of my experiences in Kabul thus far I realize that this shift will not happen until Afghan men declare women their equals.
Video: Trailer for the 10,000 Pink Balloons in Kabul project (57 sec.)