Interview (and Photos): Asheer Akram on His Pakistani Cargo Truck Initiative
UPDATE: The Pakistani Cargo Truck Initiative has been fully funded on Kickstarter with 5 more days still to go. 
***
Cargo trucks painted in bright colors, with an extremely intricate level of detail, are a common sight on the the highways of Pakistan. The paintings  — often coupled with lines of poetry, religious calligraphy or common phrases — represent the truck driver's identity and regional background. The images on the trucks embody a wide range of themes, including landscapes, celebrities, beautiful women, mythical creatures, religious imagery and national heroes.
While these fully functional trucks are used only for transporting goods in South Asia, Asheer Akram, a young American artist from Kansas City, Missouri has embarked on the project of building a Pakistani cargo truck with a Midwestern twist in the hope of mixing venerable South Asian traditions with modern American culture. 
"Why can't I bring this art form to the States to help educate people and promote cultural awareness and understanding," asks Akram. "I can — but not without proper funding help from everyday people who would like to see this idea manifest itself in reality," he explains. Currently, Akram and his team are attempting to raise funds for the Pakistani Cargo Truck Initiative through Kickstarter, where the project has managed to raise a little less than half of their $30,000 goal with 19 more days to go.
Asia Blog spoke with Akram via email. Here's what he had to say:
Can you tell us a little bit about the Pakistani Cargo Truck Initiative, and your collaborators in this project?
The basis of our project is the visual aesthetic of the cargo trucks of Pakistan and the ideas that surround their use. We are building a cargo truck in the traditional Pakistani style with a Midwestern twist and a new function.
After coming up with the idea we started applying for grants, both locally and nationally. We had little luck. So when we caught wind of Kickstarter, we were more than thrilled, since Kickstarter is a funding platform for creative projects that will allow us to gain the support we need as well as present it to a wide audience. We are hoping our project will be rolling through towns and cities across the U.S. thanks to the support of the public rather than donations and grants from large art organizations with their own agendas.
Our collaborators are mainly artists and artisans from the Kansas City, MO area and other Midwestern cities. After I had announced publicly that I was undertaking the project, people just started getting on board. Most of them I know personally and professionally. They are all extremely focused, talented individuals.
Brock Deboer and Linda Lighton are local ceramicists, each of whom is involved with many of the ceramic details we have planned for the truck. Lighton has already produced several pieces for the interior knobs and panels in the truck, and DeBoer will make ceramic aspects of the back body of the shell of the truck, including panel work.
Bill Heineken will be making the truck bling, with custom spinners for the wheels.
Jorge Calvo is heavily involved in the production of planking and exterior woodwork for the truck, of which there's quite a bit since the truck's grill, doors and bed are all wood-intensive.
A few years ago, Jesse McAfee together with Will Burnip developed The Print Factory, a mobile woodblock printing studio which travels the country giving handmade prints away and selling custom versions of their printing press. McAfee will build a compact printing press that will ride around as the cargo in our truck. Burnip will also be working on the hand-carved detail work we've envisioned for our truck's door.
Kathy Bernard will create stained-glass-like elements for the top of the cab and cargo bed. The glass will elegantly illuminate the interior of the vehicle, providing a gorgeous multicolored display of natural light.
Two members of your team, native Pakistani artists Haider Ali and Rahim Akbar, have both exhibited their work internationally. How were you able to enlist their help with the PCTI?
I read about Haider Ali's internationally acclaimed truck-painting skills as soon as I started working on this project. I had never thought or meant to contact him; however, I saw a man named "Truck Artist" on Facebook, friended him and everything fell into place. Haider was very interested in our idea, and if we are able to raise enough funding on Kickstarter, we intend to bring him to the U.S. to collaborate with our artists on certain aspects of the truck.
Haider is one of Pakistan's finest truck artists and has exhibited his work in multiple international festivals and exhibitions in the U.S. and Europe. He also painted a truck in Luton, United Kingdom for a special Truck Art exhibition at the Stockwood Discovery Center in 2011. The truck, now a part of the Center's transport collection, is the only one of its kind in the U.K., possibly Europe.
Rahim Akbar happened upon our project via his Kickstarter support. Rahim offered up his masterful woodworking skills and became a part of the team instantly. He has been instrumental in gaining support, via press and funding, and is an integral part of our team.
An engineer and naval architect by profession, Rahim is a third-generation traditional woodworking artist. He is interested in reintroducing centuries-old art forms from the Middle East and South Asia using modern tools and technology. He hails from the Mughal family with a rich history in architectural design, woodworking, iron smithing and masonry. Naqashkari (decorative masonry scroll work) by his grandfather adorns mosques from Punjab to Sind in Pakistan. Following his grandfather's footsteps, Rahim has made intricate carved wooden mehrabs (interior niches) for mosques in the U.S. He was recently commissioned to do the largest carved solid wood mehrab in the U.S. at the Institute of Knowledge in Los Angeles, which also houses his carved dome calligraphy in 23-karat gold leaf.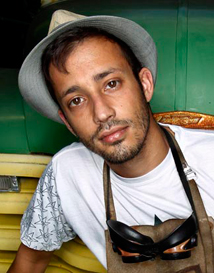 Last year you explained to the Kansas City Star that the inspiration for this project came during your 2010 visit to Pakistan. Was there a particular moment when the idea came to you?
My last trip to Pakistan inspired me to begin dreaming about this project. These vehicles stick out on the open road against a backdrop of neutral landscape and cityscape. Being a fine artist and craftsman, I was astonished to have never heard of the existence of these trucks. To be honest, I was a little upset that I had to travel all the way to Pakistan to find them.
That's when the ideas started rolling in. Why can't I bring this art form to the States to help educate people and promote cultural awareness and understanding? I can — but not without proper funding help from everyday people who would like to see this idea manifest itself in reality. I knew this project needed to be a collaborative effort, and the support we have found from local and international artist and artisans has been overwhelming.
What is the significance of decorated trucks in Pakistan? And what kind of themes and imagery do they generally portray?
The visual component of these vehicles creates a hierarchical system of value and class; the more ornate and beautiful the truck is, the more valuable the goods it will be carrying. The tradition comes from the era of crafts and craftsmen from the Mughal empire. These vehicles take hordes of Pakistani craftsmen and many months to complete. Extreme attention is paid to the intricate details in every aspect of these trucks, from the paint job to the finely hand-carved wooden doors.
This elaborate style stems from the old style of palace decor employed during the Mughal era. The themes usually employed in the decoration of these trucks vary from the drivers' favorite actors or sports stars all the way to aspects of traditional local culture in the Pakistani provinces that they hail from. More than anything the drivers of these trucks use the decorations to define who they are and what they are proud of. Our truck is intended to do the same.
What's the purpose behind creating this visually elaborate truck in the U.S.?
For this project we have selected a 1952 Chevrolet grain truck as a shell. This style of truck is distinctly American and has been a longstanding staple in the farming industry of the Midwest. We will be tasking Midwestern fine artists and artisans with taking the basic format of the traditional Pakistani cargo truck and breeding it with an American aesthetic to create a completely original, functional and culturally mixed final product. The truck will be displayed as a piece of fine art and used as a tool for social and cultural enrichment. We intend for this truck to travel from one coast to the other, bringing a visual aesthetic not seen by the majority of the population, to teach sculpture workshops and raise awareness of the importance of cultural enrichment and understanding.
[Photo credit: Rich Sugg]