Interview: 'Among the Believers' Filmmakers Examine 'Ideological Divide' in Pakistan Today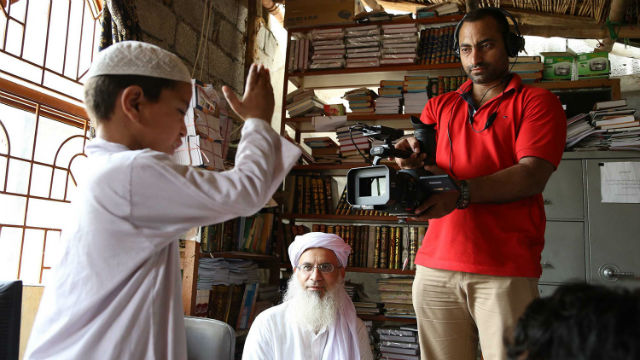 On location for "Among the Believers," a new documentary by Hemal Trivedi and Mohammed Naqvi. (Courtesy of the filmmakers)
Among the Believers, the latest documentary from filmmakers Hemal Trivedi and Mohammed Naqvi, premiered earlier this month at the Tribeca Film Festival in New York City. Through the lens of five characters including a cleric, an academic, and a village chief, the film documents the shift in Pakistan's ideological and security landscape over the past six years — from the government's crackdown on a popular mosque in Islamabad to the recent Peshawar school massacre that claimed over 140 lives, most of them schoolchildren.
In a recent interview, the duo caught up with Asia Blog to talk about the film in detail.
How did the idea for this film come about, and was the final story different from the one you went in looking for initially?
Hemal Trivedi: I first started making this film after the Mumbai terror attacks. I had lost a dear friend in the attack and was very angry with Pakistan, given that the attackers were found to be Pakistani. As an Indian who grew up in a conservative Hindu family, there was always a mistrust towards Pakistan since it was always considered "the other." However, after a while I realized that it was unfair of me to hate a country that I knew so little about. I decided to learn as much about Pakistan as I could, and eventually decided to go there to see what the country feels like. Once I went there, I realized that Pakistan is a very deeply divided country.
The film initially started as a documentation of the ideological divide in Pakistan's educational system. That is when I met two of the characters: a young girl who had escaped from the Red Mosque seminary and a young boy whose family had enrolled him there due to economic hardships. Then onwards, the story kept becoming bigger and more complex and we just allowed it to take its own direction.
How did the two of you, an Indian and a Pakistani, come together?
Trivedi: I had done most of my initial work pretending to be "Hina Khan," a Pakistani from Dubai, since that just puts people at ease. But I realized that I wouldn't be able to put up that front for too long. There were three major odds against me — I was an Indian, a Hindu, and a woman. I realized I needed a Pakistani filmmaker on the team, and one of my friends recommended Mohammed to me. I loved his work and thought he was perfect for the film.
Mohammed Naqvi: When I started working with Hemal, I had my doubts about her intentions and whether she was making a propaganda film. But once we sat and discussed her vision for the film in detail, I realized that we were both on the same track. We wanted to show how Pakistanis themselves were fighting against militancy and provide them an equal forum in conjunction with extremist voices such as those of Aziz, the cleric featured in our film.
How did you manage to keep the balance, given that the subject of the film is so black and white in this case?
Naqvi: It is hard to distance yourself from something that you are being directly affected by, especially as a Pakistani. But you have to keep your personal biases outside and become a blank screen for your characters to project on. If we didn't do that, it would just be another caricature of a crazy bearded Muslim man and a polemic on Islam. We didn't want that.
Trivedi: When you demonize somebody, you cannot have a conversation with that person. We submitted ourselves to the footage and let the footage do all the talking. We wanted to make sure that we were presenting everyone's (including Aziz's) viewpoint exactly the way they were stating it. Otherwise, it would just be a caricature and it wouldn't be possible to have any real conversation around the issue.
How has the film been received so far?
Trivedi: The reception has been fantastic so far. The best part is that people are receiving the film exactly as we had hoped they would. They are not just seeing it as a film on terrorism but an insight into the ideological conflict that is shaping modern-day Pakistan.
Are you expecting criticism from people back home in Pakistan for pandering to a global audience and showing a negative side of Pakistan?
Naqvi: The reactions from Pakistan on all my films have been very polarizing. A lot of people back home blame me for washing the country's dirty laundry in public. But some of my biggest supporters have also been Pakistanis. They realize that if things are to be changed in the country, they have to be changed from within. My biggest responsibility is to maintain the integrity of the story I am telling. I often have to put up fights with foreign channels who sometimes have outside biases about my country. Working with Hemal was great because she also comes from that part of the world and understands these things.
Where are you taking the film next?
Naqvi: We will hopefully be doing a few festival runs and trying to figure out the best platform to release it commercially. The eventual goal is to show the film in Pakistan.
Trivedi: I would also like to show this film in India. The biggest takeaway for me in this project was that Pakistanis and Indians have more reasons to love each other than to hate each other. It is in the best interest of both countries to join hands and co-exist.
---
Video: Trailer: Among the Believers (YouTube)