Interview: After Busan Biennale, Yale Art Historian Urges Art World to Think Local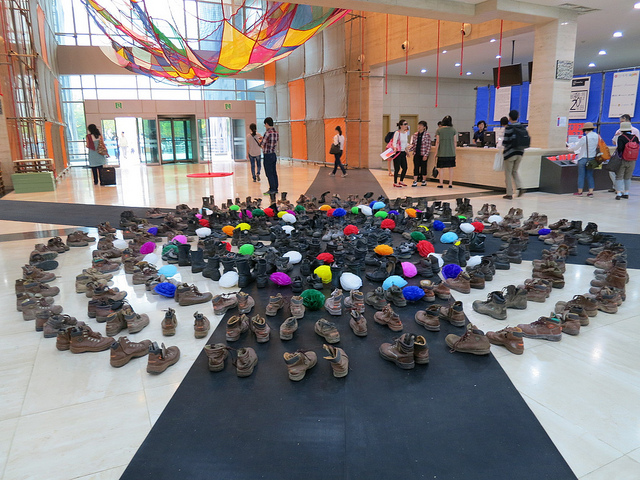 Sung Hyo-Sook, "Requiem" (2012), at the Busan Biennale in Busan, South Korea on September 22, 2012. (elsara elsara/Flickr)
The art world has experienced a dynamic transformation since the 1990s. Economic prosperity in countries like China and India has led to greater investing in arts and the art market over the course of the past 20 years. Consequently, we have come to see biennials become a major part of the art scene all across Asia. The biennial, or triennial, serves as a unique platform for displaying contemporary art and fostering the exchange of ideas to an international audience.
Asia Blog recently interviewed the art historian and critic David Joselit, Carnegie Professor of the History of Art at Yale University, to ask him about his recent trip to Busan, Korea to cover the 2012 Busan Biennale for the December 2012 issue of Artforum magazine. The author of American Art Since 1945 and Feedback: Television Against Democracy Joselit has just published After Art (Princeton University Press), which discusses the present state of art-making and art history in an age of new media and rapid cross-cultural exchange.
Via email, Joselit shared his thoughts on the 2012 Busan Biennale and what he sees as the future of art in an ever-more globalized world.
You wrote in Artforum that "the scale of our response to globalization should be more targeted, more socially engaged, even more intimate." Could you perhaps explain what you mean by being "more socially engaged" and "more intimate"?
What we often discuss with regard to globalization is a particular class of artists who are already "citizens" of the art world. There's nothing inherently wrong with this, but it means that their aesthetic forms and themes have already passed a certain threshold of transnational intelligibility: in other words, they make sense in every art capital, but adding to such an "international style" a special flavor of authenticity or exoticism.
What I think we need are more careful studies of specific regions which are alert to the kinds of connections that are made through art from a particular place (let's say Korea). These connections might be internal to South Korean traditions, they might express implicit associations or hopes regarding North Korea; they may be directed toward regional traditions encompassing Japan, for instance, or more recent links in contemporary art with China.
Of course, there are also links to the West and to the art history laid down there. The specificity of these links or connections tend to get drained away in the environment of the Biennial; I'm recommending a kind of archaeology or genealogy of international connections within located practices of modernism. This could mean that a "global" project could focus on a very specific place, by emphasizing its connectivity to a wider world.
As you mentioned in your article in Artforum, Busan is South Korea's second-largest city and a prominent port. Yet only 60 years ago, Korea was embroiled in a massive military conflict that had devastating long-term consequences on both North and South . As you attended the biennale — structured around themes like "visions of a contemporary Korea" and "layers of historical memory" — were elements of the country's past palpable to you in any way?
No, what you say is very important, and I don't think this history of militarization was engaged in the exhibition (at least in a way that I discerned). Instead, the organizers attempted to present layered traditions of abstraction and figuration present in both many nations in Asia as well as Latin America and all parts of the West.
You talked a bit about the painter Won-hee Nho, whose style you described as "magic realist," and also a bit about the artist Sung Hyo-Sook, whose installation chronicled intimate rituals and aspects of daily life among Korean shipyard workers. Did anything in particular strike you about how these artists reconciled their country's past with the promise and uncertainty of their status as artists now?
The interesting thing is that style does not have any inherent relationship to politics or political content, and such a relationship is historically specific. Sometimes figuration can look radical (and the histories of such shifts are different in different parts of the world). So I guess what struck me was Won-hee Nho was working in a mode that is not now securely indigenous in the sites of "global art," whereas Sung Hyo-Sook was.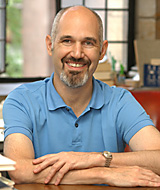 You also mentioned in the Artforum article that it would be helpful for the art world (the world of commerce as well as academia, I assume) to place a "greater emphasis on what might be called art's diplomatic portfolio." And in After Art, you describe art's diplomatic portfolio as being able to "build new public spheres, and opening export markets abroad." Can that in turn influence a greater degree of openness to new kinds of art being made in various countries?
What I mean by this is that the international art world could organize its presentations in a way that genuinely educates a foreign public about other places through their manner of organizing exhibitions and presenting cultural heritage as well as (and in association with) modern conditions. I find that in the large Biennials, on the other hand, cultural difference is generally expressed as a relatively simplistic sound-bite. I would like to see exhibitions which demonstrated why and how non-objective painting entered into developing economies, for instance (like that of South Korea in the '60s). Art was a force of modernization globally, not just a reflection of modern conditions. Its various comparative histories could tell us a lot about the world.
Also, again from After Art, with regard to Ai Wei Wei and Chinese contemporary art, you wrote that "Chinese contemporary art has been closely aligned with the ups and downs of domestic political liberalization through public exhibition" and consequently that "the success of Chinese artists in the international art market has led to reduced restrictions in the cultural realm and consequently greater political openness overall." Did this statement of yours resonate with you when you were in Busan?
I was not in Busan long enough to know if this is true. Obviously there are wild fluctuations in how free an artist can be in a place like China. But the fact is that art is an attractive export; it's a way for a country to demonstrate its progressive qualities and modernization — within limits. These limits can also impose a kind of self-censorship on the artists involved.
Can biennials — whether they're held in Jakarta or Kochin or Busan — shape a greater sense of understanding and connection among different cultures? Is there more than just a naive sense of promise associated with this last question?
I think if they are to do this, the structure must change. If a particular biennial draws its audience primarily from its home city the challenge is different from the very international biennials (such as Venice) where the local community is almost irrelevant.
I think each biennial should consciously generate a project out of its local conditions. That project might be: let's understand more about global art from the West and how it intersects with the aesthetic world we live in.
Or the project might be a set of political demands from a specific location expressed through an aesthetic presentation. The possibilities are endless, but they will remain artificially limited if each curator who is assigned a biennial doesn't rethink the form from the ground up each time s/he begins.