If China Could Vote: What the World's Largest Country Thinks of the U.S. Elections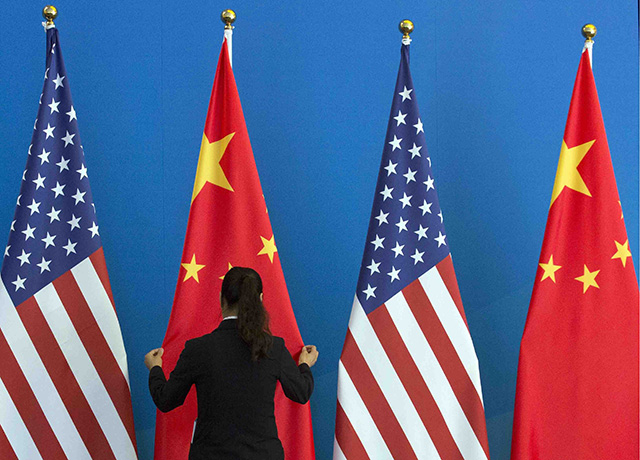 How does China view America's presidential front runners? (Ng Han Guan/AFP/Getty Images)
As the United States manages its often-contentious relationship with China, this year's presidential candidates have talked about the Asian country in debates, town halls, rallies and interviews. Much of the talk has been negative — according to an online tool developed by ChinaFile, both Democratic and Republican candidates have spoken critically about China's human rights record, cyber espionage, and maritime claims in the East and South China Seas. These opinions provide insight into how the next American president might handle the world's most significant bipartisan relationship.
But what does China think of the American presidential candidates? To find out, we looked at discussion of the remaining six candidates (two Democrats, four Republicans) in state media and on Sina Weibo, China's Twitter. A small sample of the chatter is presented here.
Bernie Sanders
The Vermont senator's candidacy for the Democratic nomination has touched a nerve with voters attracted to his attack on neoliberal economic policies. But considering China's centrality to debates over globalization, trade, and outsourcing, Sanders has said little about the country during the campaign — something that has endeared him to some Chinese observers.
"Many Chinese netizens hold a favorable opinion of Sanders because, first, compared to other candidates, Sanders discusses China relatively infrequently. Second, many of his viewpoints are socialist in nature," an editorial in Chinese language newspaper Duowei News said. 
"There should be more support for Bernie Sanders," a commenter surnamed Long said in a political forum on Weibo. "Of the U.S. presidential candidates, only Bernie Sanders can be a good candidate."
However, Sanders' past statements on China have not escaped notice in the official press.
"Looking at his career as a senator, Sanders is even more dangerous than [fellow Democratic candidate Hillary] Clinton," the Duowei editorial said. "He has not only voted against China-U.S. trade agreements, but he has also criticized the Chinese government over Tibet."
Hillary Clinton
No candidate has received more attention in the Chinese media than the former First Lady, U.S. senator, and Secretary of State, a high-profile figure in American politics for nearly 25 years. Clinton's tenure as President Obama's top foreign policy official — where she adopted a tough stance on Beijing — has left many in the country of 1.3 billion labeling her as "anti-China" and expressing concern over her potential to assume the nation's highest office.
"[ … ] Her recent actions are worrying: If she can return to the White House as the first female president in U.S. history, we'll see how hard she would try to rectify her China-bashing words and activities," said an editorial published last September in the Global Times. "Any aggressive remarks against China will likely draw long-term attention from the public,"
Others, however, view her experience in government and with foreign policy as a plus: a Global Times report from last month quoted Weibo users who praised Clinton's "rich political wisdom."
Donald Trump
As he has in the United States, the businessman and reality television star has dominated coverage of the Republican primary in China — of all the candidates in the race, only Clinton is talked about more. And, as in the United States, many Chinese observers have reacted to Trump's rise with a combination of amusement and alarm.
"Don't get it wrong — this guy doesn't love China. When he's making money he's pro-China, but when he starts to lose money he's super anti-China," wrote a Sina Weibo user, quoted by the Huffington Post. "He's just a clown."
But this doesn't mean everyone in China universally opposes the Republican frontrunner. According to a report by Quartz, a majority of mainland Chinese netizens believe a Trump victory would be in China's best interest, because they believe a Clinton presidency would do more harm to the country's global status.
"Though they hate both of them, they fear Clinton more," the report said.
And in an editorial published last September China's Global Times got at the root of Trump's popularity among Republican voters.
"Trump is not a politician, much less a statesman. None of his popularity is derived from policy proposals. It's just that compared with other candidates, his show is so entertaining," the editorial said. "Although he has received scant endorsement from the Republicans, and his political experience is thin, he dares to speak what other politicians can't and won't."
Ted Cruz and Marco Rubio
The two GOP senators have a lot to say about China — but the feeling isn't mutual. Neither candidate has received much coverage in China's state-run media or has garnered a lot of commentary on social media platforms. A poll conducted earlier this year by the China blogger Matthew Hartzell asking Chinese readers to "vote" for a presidential candidate found that Rubio and Cruz would receive only two and one percent of votes, respectively. 
John Kasich
But Cruz and Rubio, at least, have received more coverage than John Kasich. The Chinese media generally only includes the Ohio governor as a footnote in coverage of other Republican candidates, and Kasich has likewise generated little discussion on Weibo. 
He does have at least one spirited fan:
"There is a great politician that has the potential to become the President of the U.S.," a blogger named "Xin" wrote in a post. "He is the incumbent Governor of Ohio: John Kasich. [Arnold] Schwarzenegger praised John as an American hero for his efforts to support the American people. The governor's chances aren't high, but if he got the nomination, maybe he can become the president!"