How Trump's Newest Advisor Sees China's 'Militarism'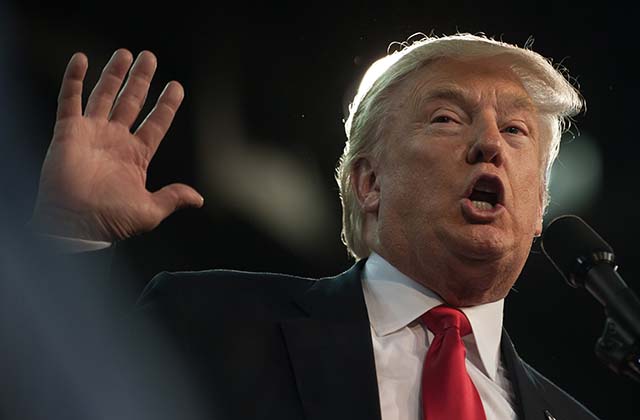 Republican presidential candidate Donald Trump speaks to supporters at a rally at Erie Insurance Arena on August 12, 2016 in Erie, Pennsylvania. (Jeff Swensen/Getty Images)
In late 2015, UC Irvine economist Peter Navarro told Asia Society's online magazine ChinaFile that in the 2016 presidential election, "you would want a candidate worried about China."
Few would dispute that Republican nominee Donald Trump, who has said that China is "raping our country," meets that criteria. Navarro, who authored The Coming China Wars and directed the film Death by China, has long shared, and perhaps influenced, Trump's view that China is the root of many of the United States' economic ills (Trump has endorsed Navarro's work multiple times going back to 2011). Now, Navarro is serving as a key advisor to Trump.
Navarro's past work and remarks may give a window into how he'll advise Trump when it comes to China. He's been especially vocal on the country's military ambitions, as described in his newest book Crouching Tiger: What China's Militarism Means for the World (2015). In speaking with ChinaFile last year, he said that the United States has been engaged in a "grand distraction" with conflicts in the Middle East since 9/11 and has lost sight of China's rising power. He claims that since joining the World Trade Organization in 2001, China has grown at "phenomenally high rates" and has begun to build "what will soon be, arguably, the most powerful military machine in the world, second not even to the United States."
China's 2015 military budget was $146 billion — less than a quarter of the United States' $598 billion — and its overall economy stands at about $10 trillion, compared to the United States' $18 trillion. But Navarro contended that China is on the verge of matching American military capabilities. "The reason they will have a military soon that's comparable to ours is that China has been able to steal virtually every major weapons system of the United States," he said. "More importantly, they, with their strong economy, now have the ability to produce those weapons in far greater numbers than the U.S. can."
Watch Navarro's full interview with ChinaFile on China's "militarism" in the below video.

With ChinaFile, Peter Navarro discusses his book and views on China's 'militarism.' (6 min., 2 sec.)