How Smartphones Helped Empower and Enfranchise Afghanistan's Voters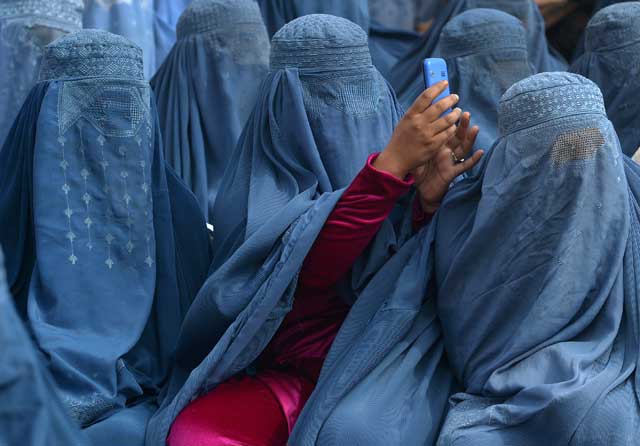 An Afghan woman takes a photograph with her mobile phone at an election rally in Jalalabad on February 18, 2014. Smartphone technology, writes Ahmad Shuja, played a vital role in ensuring a free and fair election for Afghanistan in April 2014. (Shah Marai/AFP/Getty Images)
A record 300,000 election observers were accredited by Afghanistan's Independent Election Commission for April's historic elections. These numbers were vast but they were commensurate with the enormity of the task at hand: Afghanistan's first democratic transfer of power was a high-stakes exercise and fraud was expected to be widespread.
But a large number of these observers didn't turn up on Election Day because of security fears, and many foreign observers pulled out of the country altogether. The most important anti-fraud resource, however, was going to the polls all the same: voters braved terrorist attacks and bad weather that day, and they were determined to ensure their votes counted.
Paiwandgah, an online citizen journalism platform, allowed these voters to do just that. They could share their experiences of the election through a medium easiest to them: through 3G Internet if they had a smartphone, text messages if they didn't, and IVR [interactive voice response] calls if they were illiterate.
The 578 reports received that day from 27 of the country's 34 provinces painted a live picture of the election: long and orderly lines of voters in the morning, insurgent attacks on polling centers beginning midday, centers running out of ballots and women being bused to alternative polling centers around noon, and possible fraud committed by supporters of certain candidates intermittently during the day.
In some instances, Paiwandgah's citizen reporters "broke" a story before professional journalists did and, in others, theirs was the only report that day. This was despite a ban on SMS throughout the country for most of the day and minimal advertising of Paiwandgah.
Paiwandgah, which is Dari for "place of connection," thus empowered voices from disparate regions of the country to contribute to the national effort of ensuring a free and fair election, creating a grassroots election observation effort wherever voting took place — or didn't, in some cases — regardless of whether accredited observers were present.
For those who didn't know where to vote, there was VoteHere.af, which allowed voters to find their nearest polling center by going online before going outside on a cold, rainy day.
Developed by Impassion Afghanistan, the country's first digital media agency, together with the U.S.-based organization Development Seed, VoteHere.af had a bigger empowering effect than originally intended. In its 24-hour peak period, 46% of users were female and one-third were aged between 18 and 24 — first-time voters who came of age after the last presidential election in 2009.
Smartphones, text messages, and IVR allowed all Afghans — men and women, urban and rural, educated and illiterate — to participate in and strengthen a national endeavor.
Public service projects by Impassion Afghanistan, Paiwandgah and VoteHere.af demonstrate that employing the lowest common denominator technologies for the greater good is not just cost-effective, it is also effective in solving the longstanding developing-world challenges of low technological and textual literacy, low Internet penetration, and low participation by disenfranchised masses in public discourse.
These challenges are often interrelated and their solutions, insofar as they exist, quite complex. But as Afghanistan's information/communication technology infrastructure continues to expand and improve, the space for those solutions will grow with it.