How Learning Chinese Helped Chad Lewis Succeed in the NFL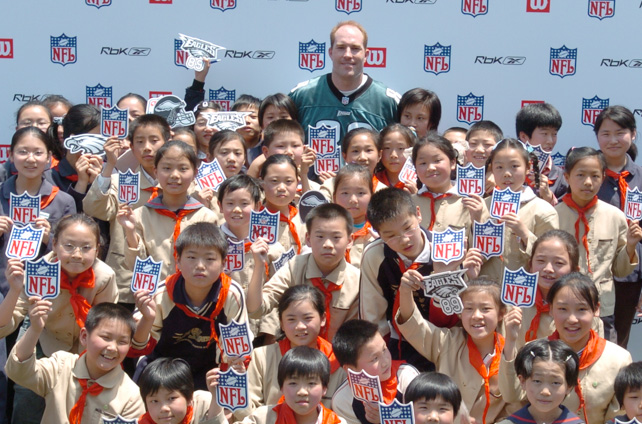 Chad Lewis poses with a group of middle school students in China. (Chad Lewis)
At 19-years-old, Chad Lewis took a crash two-month course in Mandarin Chinese before heading off to spend two years in southern Taiwan as a Mormon missionary, where he painstakingly honed his language skills day-by-day. He would then go on to become a star tight-end for the Brigham Young University football team, followed by nine seasons in the National Football League (NFL) with the Philadelphia Eagles and St. Louis Rams, where he racked up three Pro Bowl appearances. Since then, he's frequently traveled to China as an "NFL ambassador" to help spread awareness of the sport.
At Asia Society's 2017 National Chinese Language Conference in Houston April 6-8, Lewis will appear on a panel about bridging cultures through sports. Ahead of the event, he spoke with Asia Blog about the prospects for American football in China, his process of learning Chinese, and how he drew on his time in Taiwan to become a professional athlete.
This interview has been edited for length and clarity.
What do you do as an "NFL ambassador" to China?
We do "NFL Experience" events at universities with football clinics to teach anyone who wants to come about the game. It's mostly college students who come. I've also met with government officials, like the mayor of Beijing and the minister of sports. We'll do live broadcasts of Sunday and Monday night games and have NFL parties at campuses and restaurants.
The NFL was trying to grow interest in the game from the grassroots and they started with middle-school students and flag football. They even held the world championships of flag football in China one year. Since then they've been smarter by appealing to university students who are on their own and have more independent interests.
There's a lot interest in American football, from both men and women. Much of it comes from an interest in all things American. Students are very aware of what Americans find interesting and that football is the most popular sport in America. Everything about it captures a lot of America — it's an important part of the fabric of the country. So I think football can serve as a bridge between the cultures.
What do you think the long-term potential for American football in China is?
To give some perspective, 30 years of marketing and effort in Great Britain has yielded about 3 million people who watch the Super Bowl there. With much less time and financial investment, there's roughly the same number of people in China that watch it. So there's huge potential from the vast number of people there.
There's already massive interest in basketball, but football is harder because it requires more land. And to play tackle football requires pads and a lot of instruction. I think they will have little leagues in China, but I think the greatest participation will come from watching the sport on TV.
How did you learn Chinese?
As a 19-year-old for my church, the Church of Jesus Christ of Latter Day Saints (LDS), I was called on a two year mission to Taiwan. I started my Chinese study in Utah at a missionary training center where I studied for two months for 10 hours a day doing a lot of vocabulary and sentence structure memorization.
Then when we were in Taiwan, all of us as missionaries had 30 minutes every morning dedicated to studying, then all day while we're out there talking to people, we would carry around notebooks writing down words that we had heard, what they meant, and memorized them throughout the day. We did not pull off the gas pedal for two years. Chinese, with its characters and tones, is really challenging. I found that the study of Chinese language and culture is eternal. It's a lifelong journey.
LDS isn't officially recognized as a religion in Mainland China and not very well known among the population, but does it ever come up in your conversations there?
People ask. Every time I'm there they ask how I speak Chinese and I tell them I was a missionary in Taiwan. Sometimes they'll ask a question or two about it, but it doesn't drive their interest to know much more.
When I go to China it's never as a missionary. I'm extremely sensitive to the fact that our church does not have missionaries in China, so there's no part of me that wants to sneak Bibles in or anything like that. Our church will only go through the front door through open channels with perfect relations with the government, so there's nothing under the table.
What are the people you meet in China most interested in asking you about?
They're totally blown away by the fact that I have seven children. It's almost hard to comprehend. Before 1950 that was a typical family in China — you had that many kids to work the fields and help run everything, but now that's not the case. So that's something fun to talk about.
They like to ask me about football, what it's like to play with such big individuals and sometimes they ask me if I'm scared or nervous, stuff like that. They love to know what I think of them. "What do you think of our language, our food, our culture?"
I don't know if "surprised" is the right word, but when I let them know how much I love the Chinese people because of their selflessness, the respect that's in their culture, their incredible intelligence, I think it connects us as human beings to know how much I love them and how grateful I am for the Chinese people changing my life through my formative years. I don't think I could have played football in the pros without my mission to Taiwan and the things I learned from that experience and the people.
What was it from that experience that helped your career?
I learned as a missionary in Taiwan how to work and how to budget my time. I had to do that because studying the Chinese language was not something that I could take lightly and really learn at the same time. I had to budget my time, be precise, and be relentless. Those are all things that I needed to do when I came home and played football — both in school as a student and then as a professional football player.
Learning an offense, it's complicated. The West Coast offense is a complicated beast. For me to have been able to train my mind for two years to study and understand Chinese, it helped me to be able to learn the offense, understand it, absorb it, digest it, and have it become a part of me.
Also, there was the disappointment of teaching, teaching, teaching in Taiwan for years and not everyone wanting to hear what I was preaching. Even though the people were very kind, there was still a lot of rejection. "Thank you for talking but I have no interest." To be rejected all day every day for years and to still go after it, I applied that once I got back to school and played football. My mission is to get over, around, and through all the challenges. If I can keep my eyes on the prize of what I want to get done — whether it's graduation, winning a national championship, catching a touchdown pass that week, or playing in the NFL, then I had to have the talents and skills to keep my eye on the prize while there were challenges and obstacles all around me. I learned that in Taiwan.