How an Iconic American Hot Dog Restaurant Came to the Philippines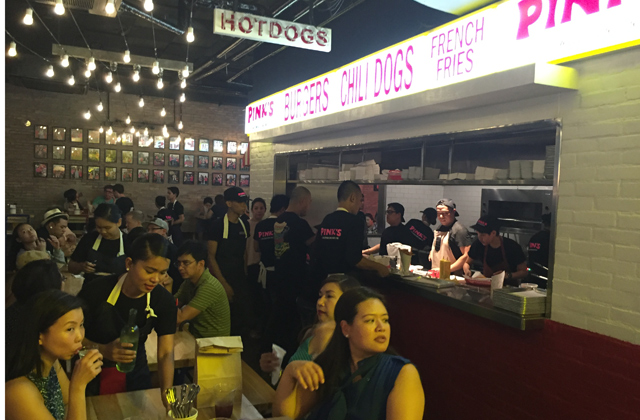 (Pink's Hot Dogs)
Each day, the line at Pink's Hot Dogs stretches down La Brea Avenue in Hollywood, as tourists and Angelenos alike wait patiently to savor "Pink's World Famous Chili Cheese Dog" or another of the 35 wiener varieties. Since 1939, Pink's has been to Los Angeles what Nathan's Famous is to New York: The top dog in town.
Pink's flagship hot dog stand is adorned with photographs of celebrity patrons, several of whom have lent their names to Pink's menu. Among others, there's the Brando Dog (a nine-inch stretch dog with chili), the Martha Stewart Dog (a stretch dog with relish, onions, bacon, chopped tomatoes, sauerkraut and sour cream) and the Planet Hollywood Dog (Polish sausage, grilled onions, grilled mushrooms, bacon and nacho cheese. Jalapeños are 30 cents extra.)
After expanding to a dozen sites in the U.S., Pink's opened its first overseas outlet last month to a large crowd — in Manila. Richard Pink, son of the company's founder, teamed up with celebrated Los Angeles chef and restaurateur Walter Manzke, whose wife, a pastry chef, is from the Philippines. They found a five-star location, at Manila's new Shangri-La Hotel.
Why Asia? Why now? Following his return from the launch in Manila, where he taste-tested the hot dogs — and chili — to ensure they were true to family tradition, Mr. Pink spoke with Asia Society Southern California.
Hot dogs are popular in Europe. Why did you put your first international restaurant in Asia?
Walter Manzke, owner of Republique and Petty Cash in L.A., and co-owner with his wife's family of four restaurants in Manila, actually pitched the idea to my wife and me three years ago. I asked him, 'Can we ship hot dogs from the U.S. to the Philippines?' There are so many restrictions affecting the shipment of food items from the U.S. to Asia, plus the risks of delays and refrigeration mishaps. But Walter assured me he could make the hot dogs and chili in Manila to the same quality and taste as they're made in L.A. I felt confident Walter would perform as promised. I also felt comfortable Filipino consumers would enjoy Pink's Hot Dogs, since everyone I talked to said hot dogs were a part of the Filipino diet — whether for breakfast, lunch or dinner.
Also, many Filipinos have visited and lived in L.A. and have been to Pink's. Our market study consisted of talking to many Filipinos in L.A., and it confirmed Pink's had a high probability of success in Manila. We found a great location, the brand new Shangri-La at the Fort. Due to our frequent conversations with Walter and his family, we didn't even visit the Manila location until one week before the opening. Pink's success in Manila was based on trust and our personal research.
Is Pink's adapting its menu to Filipino tastes and cuisine?
Yep. In L.A. our menu has 35 hot dogs and 12 hamburgers, but in Manila we are initially providing a shorter list of gourmet hot dogs and burgers tailored to local tastes. The hot dogs are essentially the same, including the "snap" when you bite into them, but the toppings are different. They have a K-Town Dog (with kimchi, other pickled vegetables, daikon sprouts and sesame seeds) and a Little Tokyo Dog (tempura frank, unagi sauce, spicy mayo, cabbage and wasabi). Again, all to fit the tastes in the area and pay homage to various Asian countries and the tourists who visit Manila. To see the menu, click here. 
Do you think the U.S.'s long presence in the Philippines left a taste for American food like hot dogs
I think that could be it. That might be why Coca-Cola is doing so well there. There is a long history of a close relationship between the Philippines and the U.S., and for that reason I think Filipinos like American products, providing those products properly represent the best that America has to offer. Certainly, the hot dog is an iconic American food and Pink's is an iconic hot dog stand.
Are you planning further expansion in Asia or elsewhere overseas?
Our goal is to open a Pink's in Tokyo, and the key is finding a partner whom we can trust to deliver the quality of food and service that will make us proud. It is critical that we partner with a company that is well established in Tokyo in the restaurant business, and with whom we can build a long-term relationship. This will require fluency in English.
We also would like to expand in other locations abroad, including Europe and the Middle East. We have been approached by several potential licensees, but either due to lack of experience or lack of English, we have yet to find the right partner, except in the Philippines.
Other expansion questions center on whether hot dogs are an acceptable food product in various countries and whether we can find affordable locations in areas with high foot traffic. Also, we are famous in the U.S. for the celebrities who dine at Pink's. We have over 200 signed photos on Pink's "Wall of Fame." Will these celebrities be known in foreign countries?
Do you plan to create a "Wall of Fame" in Manila featuring Asian celebrities?
We duplicated the L.A. "Wall of Fame" in Manila. Our plan is to recreate it at all our locations. It seems the endorsement of celebrities has a positive influence on people deciding where to dine. We hope to get Manny Pacquiao to Pink's Manila and name a hot dog after him. We hear he has been to the Pink's in L.A. and is especially fond of the Martha Stewart Dog. We were lucky to have the famed Filipina actress and model, Anne Curtis, at Pink's Manila's opening, and she was kind enough to tweet about her enjoyment of the hot dogs and experience. Patti Grandidge, the famous Filipina model, also was at the opening.
How did the Manila launch go? Did they get everything right?
All we could say about the opening and the lines of customers was, "wow!" The launch went great. The food is very similar to the original Pink's. One change is the bread, a very tasty brioche bun. It's so good we should try it at Pink's in L.A. 
We are fortunate to have the most talented partners in Manila. We are very confident and hope it will be the beginning of many more Pink's in the Philippines and throughout Asia.