How Governments Are Managing Food Safety as International Trade Grows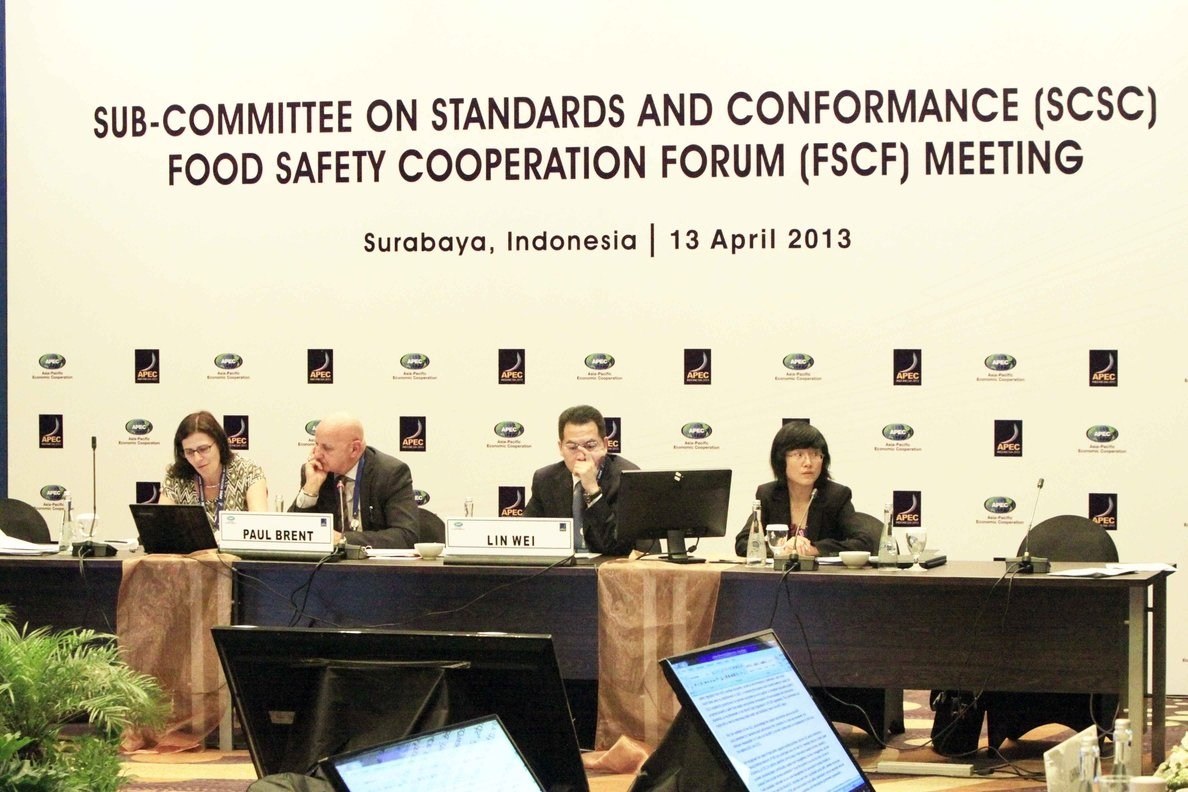 Delegates attend the APEC Sub-Committee on Standards and Conformance Food Safety Cooperation Forum Meeting in Surabaya, Indonesia on April 13, 2013. (Photo courtesy of APEC)
Shom Sen recently joined Asia Society as the first Jack Wadsworth Fellow. During his fellowship, Sen will focus on two areas: U.S.-Asia trade relations, and food security and innovation. In this exchange with Asia Society, Sen shares his perspective on how globalization is making it harder for governments to enforce food safety standards, and what governments and businesses can do to help improve food safety.

Shom Sen
What are the implications of the globalization of the world's food system?
Food safety risks are increasing. Many countries are importing an increasing amount of their food supply, and this trend has accelerated over the past decade. To take one example, the U.S. now imports roughly 15% of its food supply, according to the Food and Drug Administration (FDA). This may not seem like much overall, but imports account for a high fraction of total supply in certain categories: for instance, 80% of seafood and 50% of fresh fruits. And when you look at just one trading partnership, China and the United States, there's a clear growth trend. U.S. agricultural exports to China increased from $1.7 billion in 2000 to $25.9 billion by 2013, and China's agricultural exports to the United States rose from $0.8 billion in 2000 to $4.4 billion in 2013 according to the U.S. Department of Agriculture. Globalization is sure to continue as trade barriers are eliminated.
Under these conditions, safety risks increase. There are more countries with different standards and varying degrees of oversight participating in the international food trade. And in the case of the U.S., the FDA can only physically inspect a fraction of the shipments, so the risks are definitely there.
What's being done to bring more consistency to these standards?
The good news is that many efforts are underway. A number of organizations are creating stronger global standards to supplement national standards. For example, the World Trade Organization strives to achieve some common standards through the Sanitary (human and animal safety) and Phytosanitary (plant safety) Agreement, otherwise known as SPS. And the World Health Organization and the U.N. Food and Agriculture Organization established the Codex Alimentarius Commission in 1963, with the intention of harmonizing international food standards and instituting consistent guidelines and codes of practice.
How are those standards applied in Asia?
Food safety is a major concern in countries like China and India, where food adulteration cases occur with worrisome frequency. In a survey of China conducted by the Pew Research Center in 2013, 38% said food safety was a "very big problem," up from 12% only 5 years prior – the largest increase among all the public concerns assessed. Most of the root challenges in food safety have to do with enforcing regulations and inspecting food quality across huge, decentralized food systems.
Take last year's episode in India when 23 children died in Bihar State after eating school lunches cooked with insecticide-tainted oil. Just two years earlier, the country had taken an important step forward in adopting an integrated food law that harmonized a number of food laws, standards, and enforcement agencies. But this food law has to be implemented on a vast scale. The State of Bihar has 73,000 schools – and it's just one state among 28 states and 7 territories.
No one questions that it's essential to monitor the safety of food in India's universal school lunch program. But practically speaking, it's also a major challenge.
Are there leading practices on ensuring the safety of exported and imported food?
The U.S. government is taking an interesting and forward-thinking approach to enforcement, through its efforts to help foreign governments strengthen their food safety monitoring programs. In the U.S., the safety of imported food has long been monitored at the point of entry. But the rapidly-growing volume of food imports has made point-of-entry monitoring more difficult. The FDA monitors products from 150 countries and 130,000 importers.
The 2011 FDA Food Safety Modernization Act (FSMA) required the FDA to create a plan for building the food-safety capacities of foreign governments, and their food industries, in countries that export food to the United States. That plan, known as the International Food Safety Capacity Building Plan, was published last year.
Since the FSMA was signed into law, the FDA has reported various accomplishments in collaborating with foreign food safety authorities and manufacturers on improving food safety standards through its network of international offices.
Are there any examples of private-sector initiatives to promote food safety?
Food companies are driving initiatives to get ahead of safety challenges and lead the development of new solutions. Some of the world's biggest food companies have banded together to form the Global Food Safety Initiative (GFSI), which pushes for the harmonization of food safety standards, capacity-building for smaller businesses, and competence development for auditors. The organization now has 4000 members in 70 countries. After three years of work, the GFSI recently released the framework of skills and knowledge required to carry out audits according to GFSI standards. Companies and regulatory bodies are considering these tools as a means of training auditors and inspectors.