How Durreen Shahnaz Became a Social Entrepreneur — Without Even Knowing It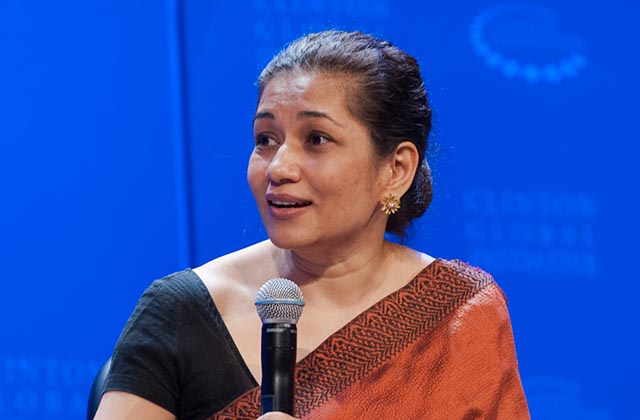 Durreen Shahnaz speaks at the Clinton Global Initiative Winter Meeting on February 10, 2015. (Juliana Thomas)
As a young girl in famine-plagued post-war Bangladesh, Durreen Shahnaz realized that to really help people, it's not enough to just give them something — you need to help them "stand on their feet." When she grew up, she became the first Bangladeshi woman to attend the Wharton School of Business and one of the first Bangladeshi women to work on Wall Street. But she wanted to find a way to combine her background in finance with the field of development, so she became a proponent of "impact investing" — investments intended to create positive social impact beyond financial return.
In 2010, she laid out her vision in a TED Talk called "Defiant Optimism for Development," where she described the benefits of a "social stock exchange." Four years later, she made that vision a reality by founding Impact Investment Exchange Asia (IIX). To date, it has tapped investment capital for projects including converting power plants in Cambodia from diesel to biofuel, building water purification plants in India, providing vocational training in the Philippines, and improving access to credit, affordable housing, clean energy, and low-cost education across Asia.
On October 27th, Shahnaz will be an honoree at Asia Society's Asia Game Changer awards. In an interview with Asia Blog, she described what brought her into impact investing and why she considers herself a "defiant optimist."
---
You've called yourself a "defiant optimist." What do you mean by that?
I am the fourth daughter of a traditional Bangladeshi family. Being a daughter in my part of the world is far from the ideal situation, to put it lightly. And being the fourth one — well you can imagine it. So my birth was not at all celebrated and this was never really hidden from me. Thus comes the defiant child. However, I was fortunate to receive a great education and with that my optimism grew and I became one of the first Bangladeshi women to join Wall Street. And from Wall Street I went on to Grameen Bank, thus creating a career in public service.
Ultimately, the term "defiant optimist" resonates with who I was as a child and who I am now as a social entrepreneur, constantly redefining the narrative and challenging established systems because I am convinced that there is always an unchartered path that leads to the betterment of society. And with that motivation, I continue to channel that defiant optimism in all that I do.
Can you describe how you got involved with this field?
I started my career in Morgan Stanley in New York. I left Wall Street to take my learning to the dirt paths of my country, Bangladesh. During my time at Grameen Bank I came across borrowers who were defaulting on their loans because they did not have access to markets to produce their goods. I wanted to solve this problem, leading me to establish an organization called oneNest, which served to link artisans to the market. oneNest is what is now known as a social enterprise. But back then, I became a social entrepreneur without even knowing it.
The oneNest story is not the only one around today. There are thousands of social enterprises around the world doing good work, but there is one issue: access to capital. These enterprises are dealing with a myriad of issues — microfinance, clean energy, sanitation, etc. — but access to capital is the systemic issue affecting all. During my oneNest days, it was evident that while a new group of investors interested in double and triple bottom returns was emerging, the inherent problem continued to be that social enterprises were unable to tap into this pool of capital.

Natharoun Ngo, head of program at the United Nations, Cambodia, discusses how investors trying to make a social impact should focus on three key goals: sustainability, impact, and scalability. (15 min., 13 sec.)
If you look at history, the first stock exchange was created in 1300. Now, hundreds of years later, we have stock markets worth over 55 trillion dollars. Barely any capital is going towards development. I witnessed these problems first hand and with that I was motivated to do what I could to change the way financial markets work. After selling oneNest, I was driven to create a marketplace where social enterprises have access to the same abilities to raise capital as traditional commercial entities. That is why I created Impact Investment Exchange. And that is why IIX is structured the way it is; that is, to unlock capital at the various stages of the capital market value chain to effectively link development with finance.
What's been a big success story you've encountered in impact investment, and what's been more of a tough learning experience?
My biggest challenge is also my biggest success story in writing. After making a commitment to the Clinton Global Initiative back in 2014 to create the Women's Livelihood Bond, a debt instrument aimed at raising capital for organizations benefiting women, I was sure that this was the ground-breaking tool that was going to revolutionize the impact investing industry. After all, my goal was to demonstrate to the market that social good and financial results are not mutually exclusive — that you can do good and receive a financial return. It seemed like a simple rationale and far from a hard sell by any means to entice private sector incumbents to participate in the bond.
Little did I know that two years later, I would find myself having to put in more de-risking mechanisms to entice the private sector to buy a bond that is, in effect, helping the lives of half a million women. I think this comes down to the fact that a lot of what IIX does is ahead of the curve. No one really tells you that being a pioneer has its struggles and one has to figure out the most effective way to engage the market. While we have been able to create a cohesive ecosystem by engaging lawyers, banks, and donor agencies to work side by side to make this a reality, the risk aversion of private sector investors to enter new frontiers continues to be an obstacle that I have yet to address. As such, I say that the Women's Livelihood Bond is indeed a success story in the making. Once sold, the bond will be an epitome of how finance and development are interlinked. For now, this continues to be a learning opportunity for me as I work towards taking impact investing from the margins to the mainstream.