How China's Internet Companies are Disrupting the Hollywood Ecosystem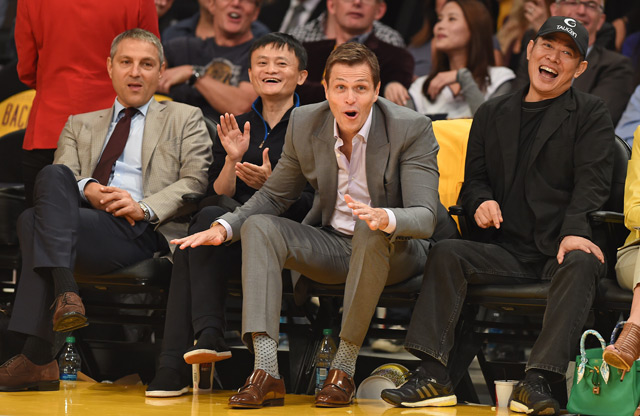 L to R: Talent agent Ari Emmanuel, Alibaba founder Jack Ma, talent agent Patrick Whitesell, and actor Jet Li attend the Los Angeles Lakers versus Houston Rockets NBA game at the Staples Center in Los Angeles on October 28, 2014. (Robyn Beck/AFP/Getty Images)
China's major internet businesses are shaking up Hollywood and disrupting the way that films and television shows are being developed, marketed, and sold. And at Asia Society's U.S.-China Film Summit last month, China's leading players in the burgeoning online video sector addressed the country's rapidly changing online video distribution market (see video below).
Despite the excitement about the film opportunity in China (China's box office is on track to surpass the United States in just three years), industry watchers should be keeping their eyes on the online video content sector, as China's three internet juggernauts — Baidu, Alibaba, and Tencent — turn their eyes to conquering China's online video market, which is expected to double to $6.5 billion by 2017 as consumers increase their time spent watching TV and film on mobile, internet, and smart TVs. With an overwhelmingly mobile consumption (mobile users account for a staggering 60 percent of traffic among leading online video player Youku's more than 500 million users), Chinese consumers are leapfrogging U.S. audiences in the ways that they access and interact with online content.
China's online video players are not only purchasing the China rights for U.S. film and television content, but are also actively producing their own content as they adapt the "Netflix model" and seek to gain a competitive edge in an increasingly crowded marketplace, leading many industry watchers to expect consolidation in the sector.
In October, Alibaba's Jack Ma, Asia Society's Asia Game Changer of the Year, was in Hollywood to discuss potential deals with major studios, causing much speculation and interest among industry insiders.
Chinese internet companies are increasingly known for their innovative business models and unique methods of adapting to the needs of their customers. As they expand in the online video market, they will likely be leading the U.S. market in integrating commerce into the viewing experience (already being done on China's video sites) and creating add-on revenue streams such as online gaming, merchandising, and offline integration.
Panelists at Asia Society's U.S.-China Film Summit talked about the idea of the "fan economy" and how content providers can harness the power of their fan base once a film or TV series has launched — keeping fans engaged through new communities and markets through which they can interact, and transact, with the world and characters that have been created.
Jack Gao from WeChat Film said, "Because the field is so new in China, companies are given the opportunity to try something completely new. BAT's [Baidu, Alibaba, and Tencent] impact to the content business has been dramatic. In the past, BAT had very clear and separate identities, but today they are sniffing toward the same direction. They are all fighting to be people's 'life operating system.' When they move in that direction they find that online video content is the most important killer to drive traffic."
This competitive landscape has produced a true opportunity for collaboration between Hollywood and China, as they increasingly cooperate to create compelling, culturally relevant stories that resonate with the audience. As the industry matures and grows at a breakneck speed, this is an area calling for genuine cross-cultural partnership, and both sides have much to learn from each other.
---

LOS ANGELES, November 5, 2014 — Jack Gao, Todd Moody, Peter Shiao, and Yang Xianghua assess how Baidu, Alibaba, and Tencent are changing the entertainment industry, in a panel moderated by Clifford Coonan of the Hollywood Reporter. (42 min., 17 sec.)