How Is Asia's Rise Changing the Global Order?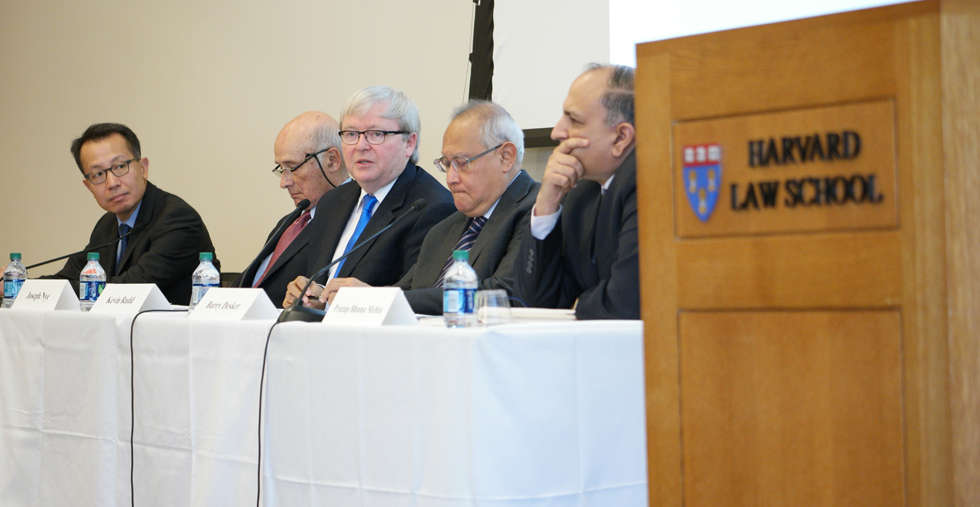 Asia Society Policy Institute President Kevin Rudd moderates a discussion at Harvard Law School to launch ASPI's initiative on the future of the global order. (Benn Craig/Harvard Kennedy School)
The economic rise of Asia, and particularly China, in recent decades has lifted hundreds of millions of people out of poverty and turned the continent into an engine of global economic growth. But Asia's emergence on the global stage has caused concern in the United States and other Western nations, where some politicians and pundits worry that the U.S. may lose its position as the chief architect of the global order — or, worse, that a growing China could threaten American security.
Pratap Bhanu Mehta, President and Chief Executive of the Center for Policy Research, believes that Asian weakness, not strength, is what the U.S. ought to worry about.
"The greatest risk for the United States isn't that Asia will succeed [in developing]," Mehta said. "It's that it will fail."
Mehta delivered his remarks at a panel discussion hosted by the Asia Society Policy Institute (ASPI) at Harvard Law School on Monday afternoon that launched ASPI's initiative called The Rise of Asia and Its Impact on the Global Order. The conversation, moderated by ASPI President Kevin Rudd, centered on two general questions: Is the American-led global order established after World War Two suitable for present international relations? And, if not, will the shifting global order inevitably lead to conflict?
In addition to Mehta and Rudd, the panel included International Finance Corporation CEO Jin-Yong Cai, former Dean of the S. Rajaratnam School of International Studies Barry Desker, and Harvard Kennedy School professor Joseph S. Nye Jr.
Discussing the international standing of the U.S., Nye downplayed the "myths" of the past omnipotence of the United States and present decline. "America is going to have to share power with China, with India, and with others," he said. But for the United States, "the rise of China isn't an existential threat."

Harvard University's Joseph S. Nye Jr. and President and Chief Executive of the Center for Policy Research Pratap Bhanu Mehta discuss Asia's rise.