Guggenheim's 'No Country' Exhibit Bound for Asia Society Hong Kong in Fall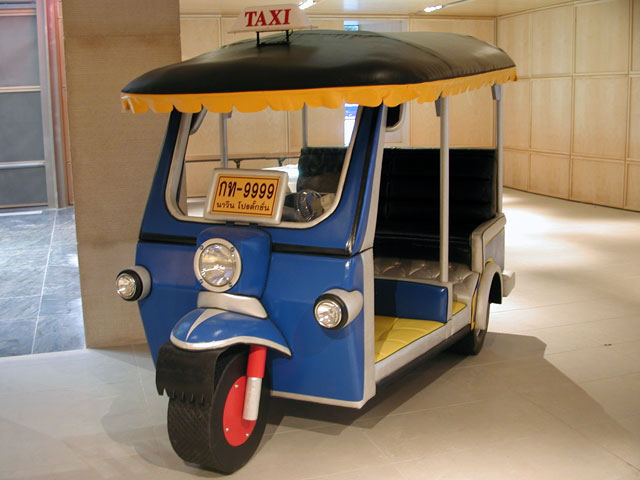 Navin Rawanchaikul's "Tuk Tuk Goes to NY" (2001), an interactive sculpture commissioned by Asia Society Museum, was on view at Asia Society New York for several years in the early 2000s. Rawanchaikul features in the new Guggenheim Museum exhibition "No Country: Contemporary Art for South and Southeast Asia," which travels to Asia Society Hong Kong in fall 2013. (Navin Rawanchaikul and Navin Production Co. Ltd.)
Last Thursday, the Guggenheim Museum in New York City held a sneak peak of its group exhibition No Country: Contemporary Art for South and Southeast Asia, where it was announced that the show will travel to Asia Society's Hong Kong Center in fall of 2013.
Friday's New York Times ran a great review of the exhibition, which features works by 22 artists and collectives from the Indian subcontinent, Indonesia, Malaysia, Myanmar, the Philippines, Singapore, Thailand and Vietnam. Reviewer Holland Cotter singled out a painting by Thai artist Navin Rawanchaikul, "who made a youthful New York debut at Asia Society in 1996, when a global market for contemporary Asian work could hardly be imagined."
That debut was part of the Traditions/Tensions exhibition, when Asia Society was among the first U.S. museums to establish a program of contemporary Asian art exhibitions. A few years later Rawanchaikul created an interactive sculpture tuk tuk, a Thai taxi, that cheerfully graced Asia Society Museum's lobby at 725 Park Avenue in New York City for a few years after Asia Society's reopening in 2001.
Starting today, February 26, another artist from Southeast Asia — Cambodian artist Vandy Rattana  — is featured in this same location with a series of poignant photographs and a one-channel video exploring the U.S. bombing of Cambodia during the Vietnam War. Titled Bomb Ponds, the display is part of the upcoming city-wide Season of Cambodia Living Arts Festival.