George Soros on Myanmar: A Long-Term Investment That 'Paid Off'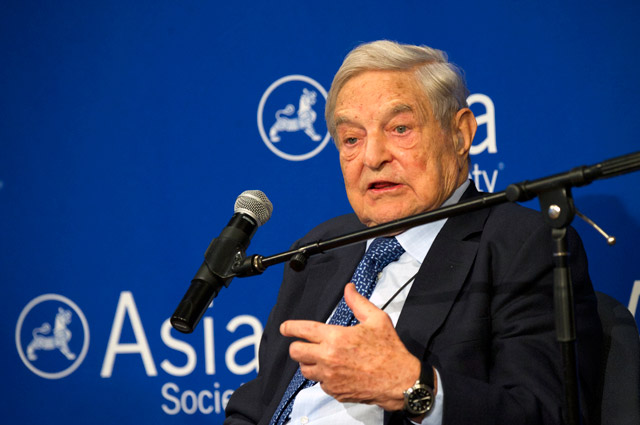 Billionaire philanthropist George Soros, chairman of the Open Society Foundations, speaking at Asia Society in New York on Thursday, April 20, 2015. (Elena Olivo/Asia Society)

Asia Society Museum's history-making exhibition, Buddhist Art of Myanmar, opens February 10, 2015, in New York. Exploring Buddhist narratives and regional styles, Buddhist Art of Myanmar is the first exhibition in the West to focus on art from collections in Myanmar. Learn more
Philanthropist and investor George Soros warned Thursday that ethnic tensions and a lack of tolerance threaten economic and political progress in Myanmar, a country to which Soros has devoted more than two decades of attention and philanthropy. "Ethnic and religious tensions … are the most disturbing part of the process of reform in Myanmar," Soros said at Asia Society in New York. Tolerance towards marginalized groups such as the Rohingya Muslims, he added, "may determine the legacy of (President) Thein Sein."
Overall Soros praised Myanmar for its early steps toward democracy and economic reform. He called his own efforts in that country — long known as Burma — as "a longer-term investment that paid off ... I don't think I ever had a financial investment as long-term as that."
Soros' appearance was part of a season of Asia Society programming focused on Myanmar, which has been in a transition from military dictatorship to democracy for the past several years. Soros has devoted personal resources and worked through his Open Society Foundations to help students who led a democracy movement, to strengthen a fledgling education system, to upgrade the country's telecommunications network, and help in the election process.
In Thursday's program, titled "When Societies Open," Soros and moderator Orville Schell assessed progress, or the lack thereof, in nearly a dozen nations where Soros and his Open Society Foundations have sought to assist transitions to democracy and economic reform. "There are windows of opportunity" for such reforms, he said. "And when they are open, you want to walk in."
Video: Why George Soros Considers Himself 'Typhoid Mary' in China
Soros saw tyranny first-hand as a child. He was 14 when Nazi Germany occupied his native Hungary. Later Hungary suffered the tyranny of the Soviet occupation of Eastern Europe, and Soros' first major efforts to build "open societies" came after the Berlin Wall was breached in 1989, and the so-called Eastern-bloc nations threw off the yoke of Soviet communism.
As the Soviet empire unraveled, "I moved in and picked up the pieces," Soros said with a smile. "The 'Soros Empire' replaced the Soviet Empire." He singled out Poland and the Baltic nations as success stories, and warned that a "resurgent Russia" was threatening not only reforms in the former Soviet Union but also the power and influence of the European Union. He chastised Russian President Vladimir Putin for his actions in Ukraine and his stranglehold on public opinion. "Putin won't change," Soros said. "He's now a prisoner of the genie he allowed to get out of the bottle."
Soros was slightly more optimistic about prospects for change in China. Schell, Arthur Ross Director of Asia Society's Center on U.S.-China Relations, asked about possibility of greater openness in China, to which Soros said, "China is at a crossroads." A more open civil society in China, he said, would likely depend on the success of President Xi Jinping's economic reforms. Asked whether his organization was working in China today, Soros was blunt: "We would be happy to be engaged in China, but we are not welcome."
The hour-long conversation covered much of the globe (Sri Lanka is "a promising opportunity"; Haiti "moving from bad to worse") and touched on finance, philanthropy, and even philosophy. Moving into promising regions, said Soros, was like observing a beautiful object, "the object of one's desire," only to be disappointed by the reality that follows.
"The collapse of a closed society," he said, "doesn't always result in an open society." And in a final exchange that assessed his life's work, Soros said he viewed the role of civil society and organizations like his as "holding governments accountable. This is a mission that will not end in my lifetime."
---
Video: Watch the complete program. (58 min., 4 sec.)