Gallup: Americans Like China Less Now Than They Did a Year Ago
Several Asian nations held up the rear of a Gallup poll released yesterday measuring Americans' favorability toward foreign countries. Twenty-three countries were ranked, with Pakistan (15 percent favorability), Afghanistan (14 percent) , North Korea (13 percent) and Iran (10 percent) ranked 20 through 23, respectively. Favorability for none of those countries changed more than 3 percentage points from this time in 2011.
China, ranked No. 14 on the list, was the Asian country that saw the sharpest decline in favorability among Americans, dropping 6 points from 47 to 41. U.S. allies Australia (93 percent), Japan (83 percent) and India (75 percent) were all in the top seven. You can see the entire list at the bottom of this post.
As you can see from the chart below, American views of China have changed little since the deadly Tiananmen Square crackdown in 1989. Ironically, China's favorability had reached an all-time high of 72 percent just a few months prior to the incident, thanks to a diplomatic visit to the country by then U.S.-president George H.W. Bush. After Tiananmen, the number plummeted to 34 percent and hasn't left the 30s and 40s since.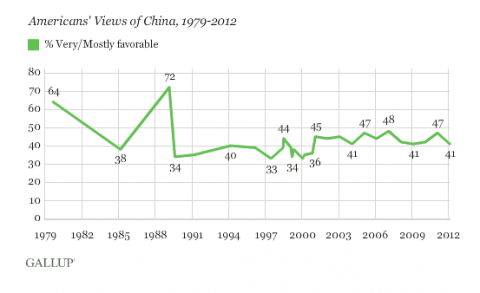 When it comes to the countries that Americans see as "vitally important" to the U.S., however, the rankings get flipped. In last week's Gallup poll, China and North Korea take the No. 1 and No. 2 spots. Afghanistan and Pakistan beat out Russia and India, as well.