Gallery/Interview: Photographer Connects with the Women of Gujarat, India
Ellen Kaplowitz has been globetrotting and snapping photos along the way for more than two decades. The Explorers Club and Asia Society member, who has traveled to all seven continents, has worked in China, Ghana, Cambodia, Laos, India, Ethiopia, Bhutan, Cuba, and Libya (to name only a few of her locales).
Her photographs have been published in Time and Natural History and exhibited at The Field Museum, The Newark Museum, The Carnegie Museum of Natural History, Museum for African Art and the American Museum of Natural History.
From Italy, Kaplowitz shared her thoughts on her recent Natural History photoessay "Return to Gujarat" with us by phone.
You mention in your Natural History piece that Gujarat is "not a usual destination for tourists." How did you find, and end up in, Gujarat?
I've been to India many times — to other states in India, and I wanted to go someplace new, someplace that wasn't as touristy. I was particularly interested in two states — Gujarat was one of them. I talked to someone about combining a trip to Gujarat with one to Mumbai, another place I'd never been. Gujarat is a textile center — the textiles made in Gujarat are brought to Mumbai and shipped all over the world. It's not a difficult place to know about — a lot of people know about it — I just wanted to go to a place that was a little different and I had looked into some of the places I was considering going to and getting a feel for them, and Gujarat just felt like a great place to photograph. Most of the photos I took in Gujarat were in small villages close to the Thar Desert and the border with Pakistan.
The subjects in "Return to Gujarat" are all women. Was this on purpose, or did things just happen this way?
It's not that I didn't take several pictures of men, but they were mainly in a village that I had a lot of trouble finding on my return trip. I had notes from four years ago as to where these places were but in the remote regions of Gujarat, things are not always so clear-cut — not everything is labeled — it's not for tourists, and you know where things are by living there. It became a journey within a journey to find the men, who were mostly in this one village … We searched and searched, but I never could find it, and that's why there aren't any men in those photos. It wasn't by design, it was just happenstance.
Was this the first time you've returned to a place with the intention of re-connecting with your photo subjects? Why were you inspired to take the second trip to Gujarat?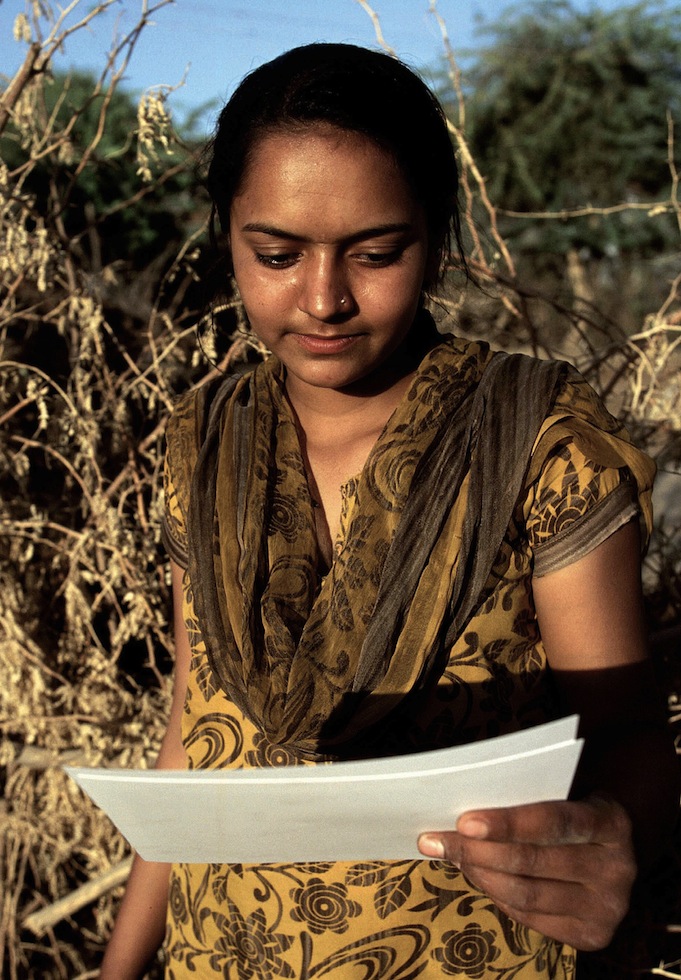 It's never really a plan when I take the picture that I'll come back. In Gujarat, for example, I found the people extraordinarily friendly and colorful. And there was a certain sense about the place and I knew I didn't get it all in one shot. When I see somebody, have an exchange, or there's some sort of connection when I'm taking their picture, I don't immediately think, "Oh, I'm going to come back here and bring them the picture." At that point, I don't even know if I've taken a good picture. It's not until I return home that I look at the photographs and start to get a certain feeling about that place, for example, Gujarat, and I say, "Oh, I'm definitely going to come back."
As I'm printing the 8 x 10s, I start getting excited about re-finding my subjects. One time, in one of my favorite towns in Vietnam, I photographed this old man, who was so elegant, and beautiful and kind. I photographed him one year and I didn't think I did so well, so I came back another time. He remembered me and I said I came back because I don't think I did very well the first time and asked if I could try again. He sort of smiled and said, "FINE!" and I came into his home and took a lot of pictures.
I came back after I had done a photographic book on Vietnam. I wanted to show it to him because he's in it and I also wanted to bring him his own personal photograph. But he passed away… and his wife had passed away, and it was very sad for me, because his grandson, who was married, wasn't interested in how much I appreciated the grandfather, but finally I said, "I really want to give these to somebody. Is his son still alive?" The man's grandson took me to his father and it was another experience that transcended verbal communication. The man's son spoke English, sort of, and I don't speak Vietnamese, but when I gave him the picture, I told him he had his father's smile, and he just looked at the photo for a long and said, "You caught the soul of my father." I was so touched by that.
How do you think your photographs affect the lives of the subjects who receive them? How has sharing the photographs with your subjects influenced how you think about photography?
Of course, I don't know how they're really feeling internally, but I know of them were stunned that I came back and brought the photos. Sometimes photographers go to a place and say, "I'm going to come back and give you the photographs," and never do. And they think I'll be the same way. I think about that, and try to be respectful of places I've been allowed to photograph.
On my return to Gujarat, I brought this photograph of a weaver. The men are the weavers in Gujarat — not the women. I found his wife, and when I gave her the photograph, she touched it to her forehead and her heart and then she grabbed my hand and she cried because he had died three months before. I got emotional and started crying too.
I took a photograph of a woman in Burma once, a very sensuous and beautiful image. She's bathing — it's captured from the back. A PR company wanted to use it for a book cover, and when I asked the subject of the book, it was very negative — it was about human trafficking in Bangkok and drugs and that kind of stuff. I said no, that they couldn't use it because I feel I have a responsibility to these people. Firstly, when the shutter released, she had her back to me and didn't even know I was photographing her. She then came walking toward me and realized, but I just feel I have to have some integrity about the people I photograph and where they're placed.
Sometimes a little door can be ajar and I see someone doing something wonderful — cooking or something and they'll let you come into their home and photograph. That's … it's a very generous thing. To offer you some tea or something, showing you kindness in a small way — it makes me feel responsible for them as human beings as well. I started thinking about my own life, if someone came up to my door and asked to come inside and take photographs, I wouldn't let them in — New York mentality, I guess.
In terms of how it affects me, I think it just confirms in my mind that I want to continue photographing for as long as I can, in places that are a little more remote. In a lot of the places I've photographed, I don't speak the language, but we still mage to communicate nonverbally. Despite the language barrier, I've learned a lot from the people I've photographed. Some of the places I've been to are very poor, and when I tell people where I'm going or have been, people ask me why I'd want to go to such a "backward" place, but the sense of community in a lot of these places has really affected me — they really know how to take care of one another. I think that's probably what's affected me most, and I leave wanting to emulate some of those qualities.