Fragments of Cai Yang's Life: An Angry Young Man Gets Swept Up in Protests Against Japan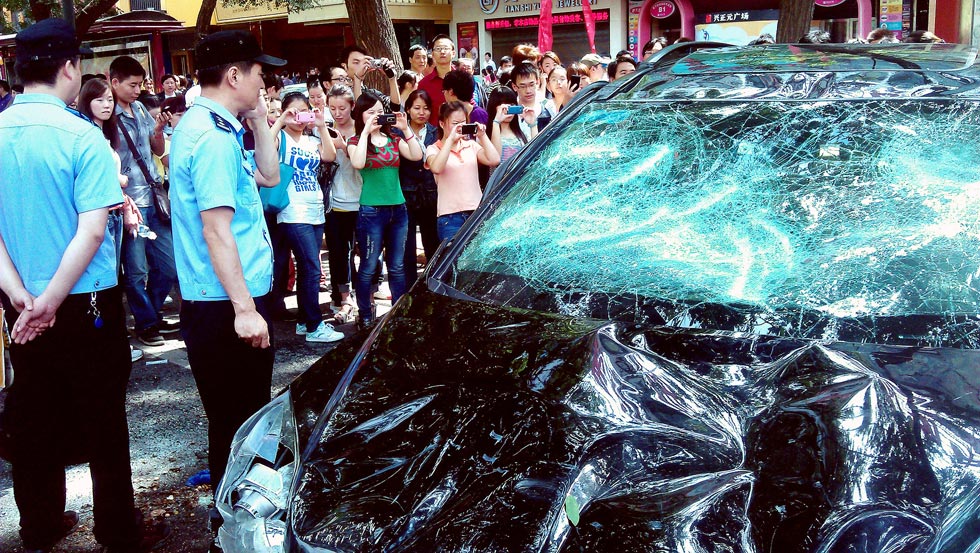 People take pictures of a Japanese car damaged during a protest against Japan's 'nationalizing' of the disputed Diaoyu Islands, also known as Senkaku Islands in Japan in Xi'an, northwest China's Shaanxi province, on September 15, 2012. (AFP/GettyImages)
It's a mother's worst nightmare: A picture of her child appears on national television in a broadcast that calls for him to turn himself in for committing a heinous crime.
Chinese journalists often publish stories about violent protests against Japan and the Japanese people — protests that often are blamed on nationalism. But they seldom write about the lives of the protestors or attempt to explain what, beyond their ideas, drives them into the streets.
ChinaFile, the new online magazine of the Center on U.S.-China Relations, has translated a rare story from the Chinese newspaper, Southern Weekend:
Cai Yang came to Xi'an from his hometown of Nanyang [seven hours away by train], plastered walls for two years, and was excited to be earning 200 yuan [$34] a day. He enjoyed watching anti-Japanese shows, played shooting games online, dreamed of going to university, and expressed his longing for love on QQ [one of China's most popular online social networking platforms].

Cai Yang once pissed on his project manager's Audi, and "felt great." He wanted to do more—to prove "I am important"—but lacked both the material and mental means. A clamoring protest gave him the "opportunity" to do precisely this.
To read the rest of this remarkable story, translated into English for the first time, visit ChinaFile.
Reporter Chen Ming introduces his readers to the family and friends of a young Chinese man who lost control of himself in the heat of the worst anti-Japanese protests in recent years, attacking the Chinese driver of a Japanese car and bludgeoning his head with a bicycle lock. His victim fell into a coma from which he emerged only after three days.
Was the crime a result of some failure of upbringing or education? Was it due to a family history of mental illness or to too much time spent playing violent games on the Internet? Where and how did an anti-Japanese protest become the vent for this troubled young man's anger?
Chen's impressionistic tale offers no easy answers to these questions. But it does suggest the complex ways in which the rhetoric of nationalism filters down to the lowest rungs of Chinese society and can mingle — sometimes explosively — with the personal struggles of ordinary people.