Former U.S. Ambassador: A Fresh Start in Pakistan?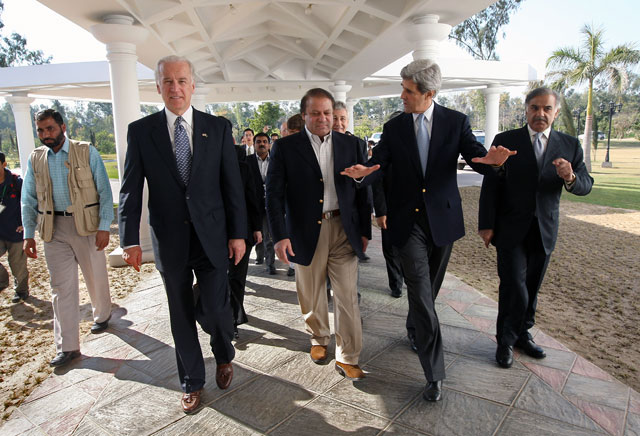 Then-Senators Joseph Biden (2nd L) and John Kerry (2nd R) with Nawaz Sharif (C) during a U.S. congressional election monitoring trip to Lahore, Pakistan, in February 2008. (John Moore/Getty Images)
New people can bring new energy to a relationship. The maxim offers hope in Pakistan; the country just elected a new President; they will soon select a new Chief of Army Staff, and choose a new Chief Justice of the Supreme Court. Moreover, new American Secretary of State John Kerry and his counterpart in Islamabad recently announced the resumption of high-level discussions, and new Prime Minister Nawaz Sharif has been invited to Washington to meet with President Barack Obama. The Pakistani public, skeptical and battered by the difficulties of recent years, has reason to wonder: might things get better? Most of my Pakistani friends are reserving judgment. But they clearly ache for good news, both at home and in their relations with America.
The elections that brought Nawaz Sharif to power raised hopes in Pakistan that his Pakistan Muslim League (PML-N) government could make progress on the country's key issues, such as the power crisis and fiscal management. And indeed, led by the efforts of Finance Minister Ishaq Dar, the new government has done its best to come up with energy reform plans and agreements with the international financial institutions. Yet it seems clear that Sharif is now becoming aware of the enormity of the challenges he faces; it also seems clear that he sees the need to create effective mechanisms to work together with Pakistan's military and intelligence leadership to address the militant threat to society. In both economics and security, the tasks are intractable and difficult.
Despite a long history of skepticism, and the ongoing crisis of self-confidence that plagues Pakistan's political class, it appears that even Sharif's longtime critics are still willing to give him a chance. Witness recent writings by Ahmed Rashid in the Financial Times, who despite his famed pessimism and clear-eyed portrayal of Pakistan's difficulties, gives Sharif a chance of success, or at least hopes that the new government can match its focus on the economy with effectiveness against terror.
The question for Americans is how best to help, find common cause, and define common actions. We are emerging from some very difficult years: the era of President Asif Ali Zardari was marked by repeated blows to bilateral relations despite enormous expenditure and great effort. There are many reasons why these problems, culminating in the series of crises in 2011 caused by the Raymond Davis affair, the Abbottabad raid, and the Salala incident, led to such bitterness that some even call for a divorce between the two countries, or for a new containment doctrine. But before we leap to such unhelpful conclusions, we might want to take a good look at why things went so badly. One cause is that the American approach to Pakistan has been lopsided.
Our domestic discussion about Pakistan has been almost exclusively focused on countering terrorism and on Pakistan's perceived resistance to a just and equitable solution in Afghanistan. Despite significant investments in other areas (many millions of Kerry-Lugar-Berman development funds spent on refurbishing power plants, building schools, training health workers, and creating jobs) our recent government-to-government dialogue usually reflects our common efforts (and significant differences) on how to deal with the Taliban or mitigate terrorist attacks.
With a new government in Islamabad and Secretary of State John Kerry (a man well versed in Pakistani affairs) paying his first visit since taking office, we have the chance to move past some of the damage our relationship has suffered in recent years. Sharif has realized that he truly does have a problem with militants and is talking to the Army and Inter-Services Intelligence (ISI) about it. In the past, we've sought first and foremost to enlist the cooperation of Pakistani leaders and institutions in the fight against militants, against those who would attack the United States and its friends, those who destabilize neighboring Afghanistan by killing Americans and NATO allies, and those who would plot more Mumbai-style raids against India. This remains our goal. But the narrative has taken hold among Pakistanis that this is all Americans care about; or, put crudely, that our policy is about killing bad guys regardless of anything else that happens.
Secretary Kerry and Prime Minister Sharif are both well placed to move past that narrative, to put to rest in Islamabad the unhelpful prejudice that America cares only about the war on terror (not about Pakistani concerns about its future or regional stability in South Asia). Similarly, they can seek to do the same in Washington, countering the unhelpful prejudice that Pakistan is a worse-than-useless partner that needs to be punished rather than respected.
Kerry and Sharif have taken a positive step by relaunching the Strategic Dialogue. This initiative, launched in 2009 under former U.S. Special Envoy for Afghanistan and Pakistan Richard Holbrooke, was originally too grand and, increasingly, out of step with the crises that emerged in the relationship after Holbrooke's death in 2010. But a more modest set of bilateral discussions, using the framework of the Strategic Dialogue to address topics from energy and water resources to public diplomacy and regional stability, can only help rebuild the trust that was so badly damaged in 2011.
Sharif has his work cut out for him at home. Additionally, the obstacles to a fresh start to Pakistani-American relations are daunting, and many depend on factors outside the traditional bilateral channels. But when we look past 2014 to a new focus in the region, we may see reasonable discussion and setting of goals, regional developments such as slow but steady growth of confidence-building measures between India and Pakistan, and the gradual seasoning of the team of leaders around Sharif. Add this to a more balanced American concept of what's important in our relation with Pakistan, and there's reason for hope.