Explainer: What's Happening to Myanmar's Rohingya Muslims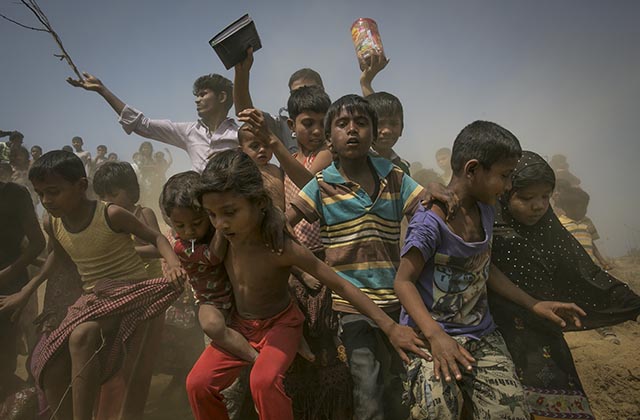 Rohingya refugees run to the crew of the Nautical Aliya as they provide relief supplies at the Balu Khali Rohingya refugee camp on February 15, 2017 in Chittagong, Bangladesh. (Allison Joyce/Getty Images)
Over the past several months, the Rohingya Muslim minority in Myanmar's Rakhine state has been subject to a large-scale military and police crackdown that has yielded wide-scale reports of rape, torture, and random killings (including of children). The crackdown, which has left hundreds dead and sent tens of thousands of refugees fleeing to neighboring Bangladesh, was reportedly in response to a coordinated attack last October allegedly carried out by an insurgent group near the border with Bangladesh that left nine policemen dead.
Below, Debra Eisenman, executive director of the Asia Society Policy Institute (ASPI) and a leader in the organization's Myanmar Initiative, gives a primer on what's happening to the Rohingya and how it got to this point.
Who are the Rohingya?
They are a stateless, Muslim ethnic group with a population of about 1 million in Myanmar, who are based mostly in Rakhine state (on the border with Bangladesh). The Rohingya are not among the 135 ethnic groups officially recognized by Myanmar. While they've been in the country for generations, the Myanmar government sees them as undocumented immigrants from Bangladesh and thus doesn't recognize them as an official minority that can obtain citizenship.
While the biggest Rohingya community is in Myanmar, there are another million or so Rohingya peoples living in nearby countries.
How has their situation developed in recent years?
While a previous Myanmar government stripped the Rohingya of a path to full citizenship in 1982, in more recent years, the plight of the Rohingya has gone from bad to worse.
Not long after the 1982 citizenship law passed, the Rohingya in Myanmar were given "white cards," which were basically temporary residence/identity papers that acknowledged they were living in Myanmar and allowed them to vote in elections (such as the 2008 constitutional referendum and the 2010 elections). But those cards were stripped from them before the last elections in 2015.
In terms of recent violence, there have been some tragic outbreaks. In 2012, a group of Rohingya men were accused of raping and murdering a Buddhist woman, and communal violence quickly escalated with hundreds of homes destroyed and a growing number of people killed and injured. As tension and violence grew, thousands of Rohingya were internally displaced. Since 2012, many Rohingya have become refugees in the only country they've known — with over 100,000 occupying squalid IDP camps in Rakhine (a number that at one point ballooned to double that), and tens of thousands attempting to flee by boat to nearby ASEAN nations.
Communal violence and ethnic tensions are not just a problem for the Rohingya, but also for Muslims in general within the country. There have been a few Buddhist, nationalist laws promulgated in recent years regarding interfaith marriage, religious conversion, monogamy, and constraining the number of children women can have within a certain number of years.
Even though Myanmar is still a predominantly Buddhist country, there are nationalist movements concerned with the protection of Buddhism, and radical monks pushing tenets of Buddhism that are negative toward Muslims. There is also a lack of representation of Muslims at official levels of government to help counter this narrative, with no Muslims in the current parliament.
What happened on October 9 that precipitated this particular crackdown?
A number of border guard police posts on the Myanmar-Bangladesh border were attacked. Armed with fairly crude weapons, and then looting guns and bullets from the guard posts, perpetrators — who authorities say are Rohingya militants (not to be confused with an armed ethnic group) — killed nine of these police officers. Authorities responded to this coordinated attack with increased security and raids, leaving scores dead, thousands in IDP camps, and the creation of a mass exodus of Rohingya from Myanmar. An estimated 65,000 to 100,000 refugees have fled since October. People are even trying to float on small plastic containers to what they hope is safety in Bangladesh.
A recent UN report put forth serious allegations of inhumane and "devastatingly cruel" treatment of Rohingya in Rakhine based on hundreds of interviews with refugees, which documented shootings, killings, torture, sexual violence, rape, and destruction. Now that more and more severe evidence is coming to the fore, stronger words are being used about repression and violence in Rakhine. Nearly a dozen Nobel Peace Prize winners wrote an open letter about the crackdown being tantamount to "ethnic cleansing." The prime minister of Malaysia deemed it "genocide."
Who is responsible for the excessive violence?
There are likely a number of actors involved. In terms of security forces present, there would be the military, border guard police, and regular/non-border police. There are also civilians who may not be exercising restraint, as seen in the communal violence of 2012. But the UN report prompts the question of if and where violence is being condoned.
The offices of Myanmar's president and state counsellor have said that they are "deeply concerned" by the allegations detailed in the UN report. And would be "immediately investigating" and "take all necessary action."
What is Aung San Suu Kyi's record on the Rohingya?
Over the recent years, she's been fairly quiet on the Rohingya, in a way that's been surprising for a lot of people in the international community. She's also said at times that the international community has made too big of a deal out of the issue — creating problems at a level that didn't exist. However, she established a commission last August, led by Kofi Annan, to review and create dialogue on solutions to ethnic conflict in Rakhine state. I think the UN report detailed something of a different magnitude, and she has vowed to investigate what is happening. But it remains to be seen who will investigate. Will it be a commission of Myanmar nationals only, or will external actors also be allowed to look into these abuses? And after that, what comes next in terms of a solution?
What's the situation for the refugees who flee the country?
Bangladesh has now absorbed close to 30,000 Rohingya that they've registered as refugees. But there are estimates of there being up to another 500,000 unregistered refugees in the country, and Bangladesh is worried about being able to absorb so many. As reported before, Myanmar's Rohingya have also tried to flee elsewhere: Malaysia, Thailand, Indonesia, etc.
But, the situation is not yet rosy for the Rohingya in any country. So what's the way ahead? Many in the international community would like Myanmar to allow an independent and international investigation into the allegations of the mistreatment of this population. But, to paraphrase former U.S. Chief of Mission in Myanmar and ASPI Senior Advisor Priscilla Clapp, finding a place to stick blame doesn't solve the humanitarian tragedy that has been unfolding. A real and holistic solution is needed. And, it will have to involve not only Myanmar, but Bangladesh, and other nations of ASEAN. And in the longer-term, it will need to address challenges such as economic opportunity in Rakhine state and elsewhere, human trafficking, and corruption, among other issues.