Expert: Pakistan Election Outcome Hinges on Voter Turnout, Safety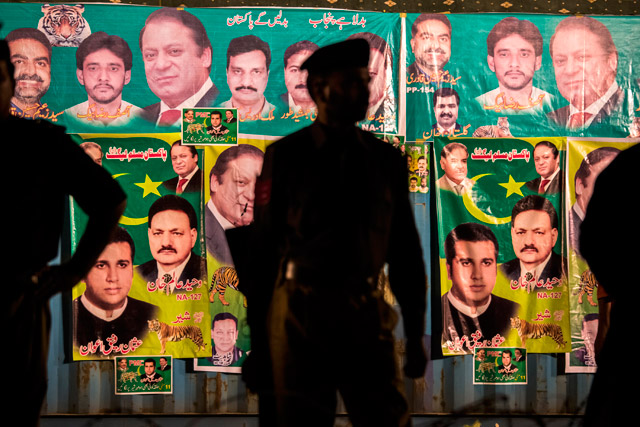 Punjab police wait for the arrival of Nawaz Sharif, leader of the Pakistan Muslim League-N (PML) party, during the final day of campaigning at an election rally in Lahore, Pakistan on May 09, 2013. (Daniel Berehulak/Getty Images)
This weekend Pakistan is slated to have its first transition of power between civilian governments in its 66-year history, but the lead-up has not been smooth. Violence, a kidnapping, and an accidental fall by one of the frontrunners for prime minister have all added to the already inherent drama of a major election.
Asia Society Senior Advisor Hassan Abbas, who served in the administrations of Prime Minister Benazir Bhutto and President Pervez Musharraf has been following the election closely and offered his insights into this weekend's voting.
What is the major takeaway you'll be looking for from these elections?
I think there are four major things that we are looking at. First and foremost is voter turnout, which has been threatened by the Taliban and some other extremist groups by using force to harass people. The important indicator of success of democracy will be whether people come out to vote. I think about 45 to 50 percent voter turnout is expected. If there's higher turnout, the new political parties, especially Imran Khan's party, will have a good chance.
Second, I think the important thing is whether these elections will bring new leadership for Pakistan. And by that I mean whether the old elite, which is feudal and linked to corruption, incompetence, and poor governance, is voted out of power. If those elements get back into the game then that will be a bad sign.
The third issue to look for is whether people are voting for personalities or agenda. By agenda I mean that some political parties have come out very clearly with new ideas — ideas not new in the sense of history but in their focus and emphasis. For instance, some parties are calling for change in areas such as education and law enforcement. Imran Khan and what is called the Movement for Justice party, the Pakistan Tehreek-e-Insaf (PTI), is talking about these issues.
All three of these are linked to the fourth and very important point, which is whether the Pakistan security forces including military and law enforcement will be out on the streets and at the polling booths providing a sense of security so that people will feel that they are secure, that there will be no blasts and no violence. Their success and failure will define the future of democracy in Pakistan in so many ways.

In the 2008 election your prediction on some of the winners was quite accurate. What are your picks for this election?
I think clearly there's no chance that any single party will get simple majority, which means there will be a coalition government.
Second point is I think it will be a competition between Imran Khan or Nawaz Sharif. One of these two parties — PTI or Pakistan Muslim League (PML-N) — will win 90 to 100 seats and that will be the leading party. It can be either of the two; it depends on voter turnout. If there is higher turnout then PTI or Imran Khan will have 90 to 100 seats, otherwise I think it will be Nawaz Sharif's party.
Third, I think left of center ideological, which are Pakistan People's Party (PPP), Muttahida Quami Movement (MQM), and the Awami National Party (ANP), will largely defend their base and will get their traditional strongholds. The only exception might be the ANP, which could lose to Imran Khan.
The fourth projection is that the religious political parties will be wiped out. It's possible Jamiat Ulema-e-Islam (JUI) might get some seats in Balochistan and a few in the Khyber Pakhtunkhwa province, but generally smaller political parties I think may not be able to win any seats.
Last but not least I think Balochistan National Party will be able to form a government in Balochistan and that will be a good thing, and I think will provide some new hope. Sindh is expected to remain in the control of a coalition of PPP and MQM. The future of Punjab and Khyber Pukhtunkhwa (KPP) will be decided by the PML-N vs PTI battle. In Punjab, however, PML-N is likely to form a government but KPP is wide open (with PTI holding a slight advantage).

Many in and outside of Pakistan have called this a potentially watershed election for the future of the country. Do you think this weekend bring in major changes for the country?
I think this is a major moment because Pakistan has gone through such serious troubles, whether it is economic growth or debt or electricity shortages. If there is no one at this point to set things right then Pakistan's future will be in serious jeopardy, and there will be very serious challenges for Pakistan, which will be beyond any parties control or it will be out of their hands.
I was reading today that about 40 million voters have accessed their voting list through text messages in Pakistan, and they're also checking in on Facebook and Twitter. So there's a lot of vibrancy and enthusiasm, which I think was not there in the last two or three elections. In that sense this is a transformative moment. I hope that this new energy will translate into more voter turnout and a clearer mandate for new political forces, or a combination of new and old, which will push leaders to sit down together and think about how to rescue Pakistan.
Hassan Abbas is the author of a forthcoming Asia Society report looking at the implications of the May 2013 elections for the future of U.S.-Pakistan relations as well as U.S. policy options.