Expert: New Report Shows Climate Change Actually a 'Regressive Tax' On World's Poor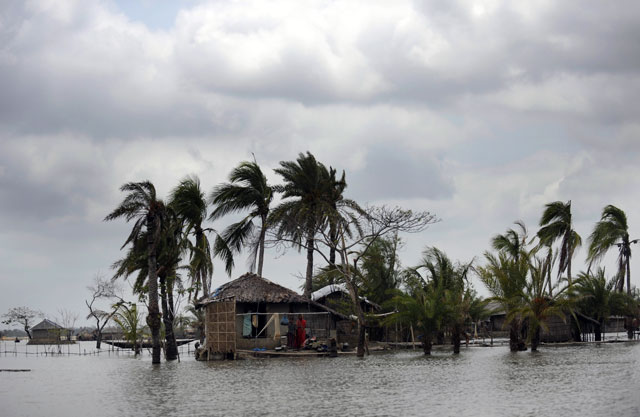 A Bangladeshi woman stands outside her house in Gabura, in southern Bangladesh, after Cyclone Aila devastated the area on May 26, 2009. Low-lying southwest Bangladesh is on the front line of the battle to adapt to climate change. (Munir Uz Zaman/AFP/Getty Images)
This Wednesday, September 26, Asia Society presents, in cooperation with DARA and the Government of Bangladesh, the 2012 launch of the second edition of DARA's Climate Vulnerability Monitor, including a presentation of the report's findings and statements by Prime Minister Sheikh Hasina of Bangladesh and other global leaders. The event will be held at Asia Society New York at 9:30 am ET on September 26; complete details and ticket information can be found here. Those unable to attend the event can watch a free live webcast at AsiaSociety.org/Live at 9:30 am ET.
Global climate change has the potential to profoundly affect ecosystems and economies by inducing adverse changes in weather patterns, sea levels, human health, natural resources, and food supplies. Nobody on earth can avoid the impact of climate change, and the people in developing countries will be particularly vulnerable. Therefore, climate change is regarded by some economists as a regressive global tax because the poor bear a larger burden. This argument is supported by the forthcoming second Climate Vulnerability Monitor (CVM) jointly published by DARA and Climate Vulnerable Forum, which quantifies large losses attributable to climate change in developing countries.
The cost of inaction is high — but the likelihood of action that can effectively slow down global warming is unfortunately very low, at least in the near future. Current climate negotiations are stuck in gridlock as major emitters are reluctant to reduce greenhouse gas (GHG) emissions at the expense of their economic growth. Under these circumstances, we pin our hopes on adaptation to climate change as a way of reducing our vulnerability. For example, farmers can switch to drought- or flood-tolerant crops, residents can migrate to less affected regions, and dams can be built to defend against rising sea levels.
However, adaptation has its limits.
First, effective adaptation requires significant social and financial capital, both of which developing countries lack. Second, adaptation can reduce, but cannot cancel, the impact of climate change. Its effectiveness under extreme weather patterns is very limited. Third, adaptation is constrained by the boundaries of a sovereign country — such as when climate change redistributes natural resources like fisheries beyond a country's borders.
Above all, the cost of climate change is expected to increase as GHG emissions and global temperatures continue to climb and developing countries have limited resources with which to adapt. While the second CVM report reveals the cold reality of climate change, I can imagine that the figures in the next report may be even more disturbing if everything remains business as usual.