'Eve-teasing' Murders Spark Public Outrage in India, Social Media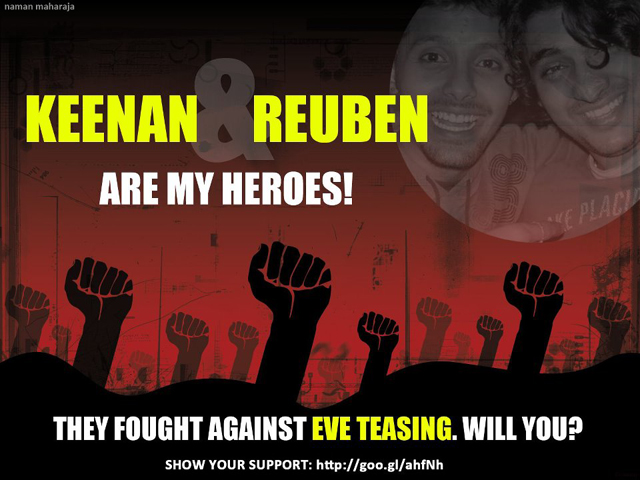 A poster circulating across cyberspace calling for justice for Keenan Santos and Reuben Fernandes.
An all-too-common phenomenon in India took a turn for the worst on October 20, when two young men, Keenan Santos and Reuben Fernandes, were attacked and killed after they defended their female friends from being sexually harassed. The incident occurred outside a restaurant in Mumbai, which has prided itself for being a supposedly safer place for women in India. Four people have been arrested on suspicion of murder and await trial in custody. 
"Eve teasing" — or sexual harassment (named after Eve from Adam and Eve fame) — is a social problem in India that most women have to deal with every day. This particular case, has attracted a lot of attention in India, especially through the help of Social Media. On Facebook, a group called 'Keenan Santos' grew from 30,000 to 80,000 in two days. And on Twitter, hashtags like #JusticeForKeenanandReuben have been trending.
You can get sense of the outrage below:
Posters demanding justice for Keenan Santos and Reuben Fernandes are circulating the Internet.