On Eve of 2014 U.S.-China Film Summit, a Trans-Pacific Media Business Shows No Signs of Slowing Down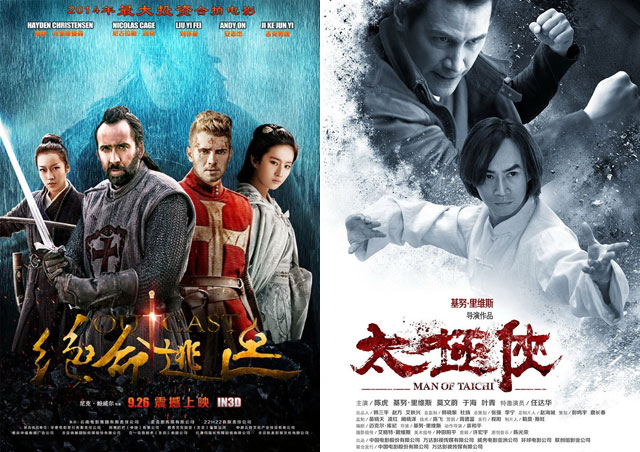 Recent U.S.-Chinese co-productions have included "Outcast" (2014), starring Nicolas Cage, Hayden Christensen, Yifei Liu, and Andy On, and and "Man of Tai Chi" (2013), with Keanu Reeves (making his directorial debut) and Tiger Chen.
The fifth annual U.S.-China Film Summit, hosted by the Asia Society of Southern California on Wednesday in Los Angeles, will honor three of China's most popular movie actors, all now shooting a film in Hollywood, and also fete the budding moviemaking partnership between Chinese conglomerate Fosun and L.A.-based production company Studio 8, run by Jeff Robinov, the former President of Warner Brothers Studios.
That Robinov and other top Hollywood executives, such as Netflix CEO Ted Sarandos, will attend the summit with visitors such as Huayi Brothers Media President Wang Zhonglei and director-turned-actress Vicky Zhao, and actors Huang Xiaoming and Tong Dawei, is a sign of an industry-wide commitment to trying to build a real business between Hollywood — where box office receipts rose one percent to a record $10.9 billion last year — and the leading players in the world's second-largest market, China, where 2013 gross ticket sales leapt 27 percent to $3.6 billion.
It's also a sign that China's moviemaking experiment (its industry still operates in a far-from-a-free environment, subject to censorship and a range of other restrictions that favor movies approved by the state) has designs beyond its borders. Indeed, Summit honorees Zhao, Huang, and Tong are currently acting in the romantic comedy Hollywood Adventures, shooting in Los Angeles.
This should be no surprise considering that last month, President Xi Jinping called on China's artists to fulfill their patriotic duty and make movies (and music and books) to promote traditional values.
As China and America become ever more closely intertwined, movies the nations share often leave the first indelible impressions among ordinary people. Executives from both sides of the Pacific will meet at the Summit to discuss the challenges of the transpacific media business (language, for instance), and perhaps shake hands on new deals. Chinese e-commerce giant Alibaba, run by Jack Ma, the nation's richest man, has its eyes on a chunk of Hollywood mini-major Lionsgate.
But while Chinese moviegoers have long been able to recognize New York, Los Angeles, and Washington from more than 100 years of Hollywood imports — both legally distributed and streamed illegally over the Internet — most Americans still don't recognize the Shanghai skyline or the iconic buildings of Beijing.
Even as Chinese companies such as Huayi, Le Vision, and Wanda break ground on multimillion U.S. headquarters in Los Angeles, few Americans have much sense of what modern-day China actually looks like on screen. Period martial arts pictures, perhaps, but contemporary comedies? Not yet.
Whereas cooperations called co-productions were en vogue five years ago when the first U.S.-China Film Summit opened its doors — numbering one or two a year — practitioners on the ground today say that despite all of the excitement over China's exploding box office, Hollywood productions in China have slowed, even if the interest remains strong among studios and big-shot producers.
"For whatever reason, the death rate for China projects is high even by Hollywood standards," said one veteran producer with more than a decade of experience in China.
Following is a list of recent films made, and upcoming films being made, with both U.S. and Chinese involvement.
Looper (2012)
Locations: Shanghai.
Notes: Starring Joseph Gordon-Levitt, Bruce Willis, and Emily Blunt. France was the main character's retirement destination in the original script, but a little funding from Chinese backers saw the location changed, with the result that the protagonist is seen strolling along the Bund, the famous west bank waterfront of the Huangpu River, running through Shanghai.
Man of Tai Chi (2013)
Locations: Hong Kong; Beijing; Macau.
Notes: Keanu Reeves's directorial debut underperformed in both the U.S. and China.
Her (2013)
Locations: Wujiaochang, Shanghai; Sugar Bowl Resort, Lake Tahoe; Walt Disney Concert Hall, Los Angeles; Manhattan Beach, California.
Notes: Shanghai was used to depict an imagined future Los Angeles.
Iron Man 3 (Chinese version) (2013)
Locations: Beijing.
Notes: The Chinese version of Iron Man 3 has an extra four minutes of footage; Chinese actors and locations do not appear in the international version. Disney partnered with a Chinese production company to get around strict censorship laws. China co-production also ensures a bigger slice of the profits — 40 percent instead of 25 percent.
Outcast (2014)
Locations: Beijing; Yunnan; Baoding.
Question: Was film's release aborted at last minute by Yunnan Film Group? Answer: Yes.
Transformers: Age of Extinction (2014)
Locations: Hong Kong; Beijing; Austin, Texas; Detroit, Michigan; Iceland; and over 10 other locations.
Notes: China's biggest box-office success to date, with sales of more than $300 million.
Dragon Blade (2015)
Locations: Hengdian World Studios; city of Dunhuang; Gobi Desert.
Notes: John Cusack, Adrian Brody, and Jackie Chan star. Lost Roman soldiers navigate their way through China.
Crouching Tiger, Hidden Dragon 2 (2015)
Locations: Beijing; Auckland Film Studios, New Zealand; New Zealand.
Questions: Will portions be shot in China?
Answer: Yes, five days' shooting in Beijing.
Skiptrace (2016)
Locations: China; Hong Kong.
Notes: Jackie Chan, Johnny Knoxville star; also featuring Fan Bingbing. A detective from Hong Kong teams up with an American gambler to battle against a notorious Chinese criminal.
Chosen Killer (in development)
Locations: China.
Notes: Among Executive Producer Christopher Lee's many projects in development are The Chosen Killer for China's Wanda Entertainment and Village Roadshow Asia, Drunktown's Finest with Robert Redford as Executive Producer, and Turandot for Celsius Entertainment.
The Great Wall (in development)
Locations: China; New Zealand.