Evan Osnos on the Current State of the US-China Relationship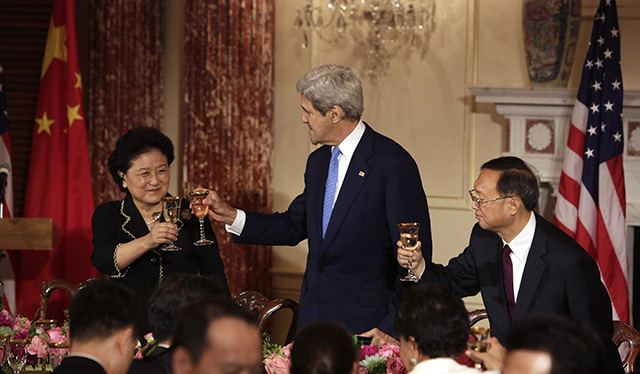 U.S. Secretary of State John F. Kerry (C) makes a toast with Liu Yandong (L), Chinese Vice Premier, and Chinese State Counselor Yang Jiechi (R) during the seventh US-China Strategic and Economic Dialogue (S&ED) at the US State Department in Washington DC, June 23, 2015. (Chris Kleponis/AFP/Getty Images)
In a New Yorker article published today, journalist Evan Osnos assesses the current state of China-U.S. affairs, a relationship which has drawn an eclectic range of recommendations from policy experts in recent months.
In the piece, Osnos outlines several recent sources of tension that have emerged between the world's two most powerful countries, highlighting issues such as cyber-espionage, the South China Sea territorial disputes, and the newly launched Asian Infrastructure Investment Bank.
Osnos goes on to provide key insights for both the U.S. and Chinese governments. An excerpt: 
The U.S. must differentiate between controversial assertions of power, like those in the South China Sea, and fair reflections of China's growing contribution to the world, such as the new banks. Likewise, China cannot afford to pretend that the world is unruffled by the profound, if inevitable, change it has introduced in the international order. For both parties, a willful focus on the strengths risks underplaying the weaknesses in their respective positions.
Osnos' analysis coincides with this week's U.S.-China Security and Economic Dialogue, which sets the stage for Chinese President Xi Jinping's upcoming state visit to Washington in September. 
Osnos won the National Book Award last fall for Age of Ambition: Chasing Fortune, Truth, and Faith in the New China (2014) and has been a regular speaker at Asia Society since he was named an Asia 21 Young Leader and received Asia Society's Osborn Elliott Prize for Excellence in Journalism on Asia, both in 2007. His most recent appearance was on April 13 for a discussion with Henry Paulson on the former U.S. treasury secretary's new book Dealing With China: An Insider Unmasks the New Economic Superpower (2015).
Read the full New Yorker article.