To Ensure Peace and Justice, International Community Must Lead by Example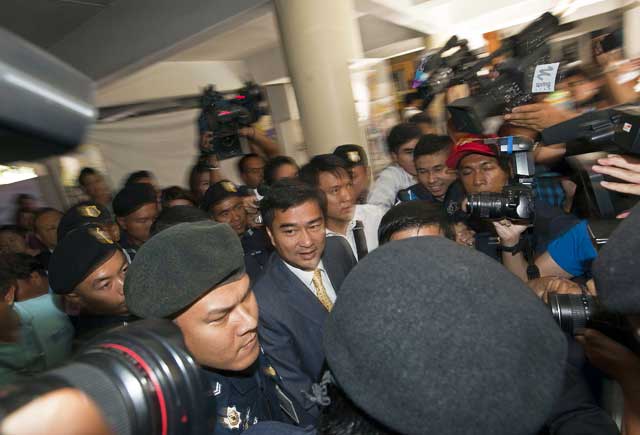 Former Thai prime minister Abhisit Vejjajiva (C) arrives at Bangkok Metropolitan Police headquarters on Dec. 9, 2011 for questioning over a deadly military crackdown he oversaw on mass opposition protests in Bangkok in April and May of 2010. (Joan Manuel Baliellas/AFP/Getty Images)
In Thailand this week, the dichotomy between peace and justice has again reared its head.
Former Thai Prime Minister Abhisit Vejjajiva is accused of murder over his alleged role in orchestrating a crackdown on the 2010 protests that crippled his country. At that time, 90 people died and 1,800 others were wounded.
A critical question is confronting Thailand and several other Asian nations: Can durable peace exist in the absence of justice?
In countries emerging from recent conflict, and in states where fighting ended decades ago, there remains a delicate balance between holding political leadership accountable for violent political abuses, while moving forward with establishing lasting peace and a stable political environment.
While Prime Minister Yingluck Shinawatra presides over a period of relative peace in the country, Vejjajiva's Democrat party is reported to have called the charges "an abuse of government's power to threaten its opponents."
In Thailand's tumultuous political landscape, as elsewhere in Asia, the tit-for-tat nature of political disputes remains a looming threat that could send the country's fragile democracy spiraling downward.
Asia's development is threatened by the presence of relatively young political machineries; the region struggles to find peace while simultaneously holding political leaders accountable for their actions during conflict and domestic unrest.
But the U.S. government, which has vigorously supported investigations into war crimes and human rights abuses in Sri Lanka, Cambodia, and other locations, has been unable to live up to the ideals it expects of other countries.
At an Asia Society discussion this week, Philip Alston, the former UN rapporteur on extrajudicial, summary or arbitrary executions, criticized America's failure to recognize its own violations with respect to torture, a fact that challenges the country's credibility in addressing the issue elsewhere.
Alston said, in reference to allegations involving the authorization of use of torture by the George W. Bush administration, "It is important to remember our own huge resistance to taking any action under the new President Obama in relation to the allegations of torture and other violations said to have been taken by the previous government."
Alston said that politicians are "worried" that they too will one day be found culpable.
Still, speaking at the same event, Ambassador Stephen J. Rapp, head of the U.S. State Department's Office of Criminal Justice, said that government accountability cannot be questioned and leaders accused of perpetrating violence against civilians must be held accountable for crimes committed.
Referencing the present conflict in Syria, Rapp said, "Our policy is that you try to convince them to surrender, you don't give in, you don't enable them to carry on their crimes — that's just really off the table…There is going to have to be accountability, and that's the end of it."
But, Rapp warned, it is "tough to do" in an international system lacking clear mechanisms for prosecuting violators.
Last week the UN's Internal Review Panel report on Sri Lanka also highlighted the challenges for the international community in holding political leadership accountable, while still moving forward with political and economic development.
The UN was strongly criticized by its Internal Review Panel for inaction at the end of the Sri Lankan civil war, and for caving to pressures from the Sri Lankan government not to appoint a senior official to the country to sort out possible war crimes and human rights violations.
With the Obama administration's growing emphasis on trade relations with Asia, the need to balance economic interests with the possibility of investigating allegations of domestic human rights abuses, as well as allegations of war crimes, is increasingly apparent.
In Obama's recent trip to Cambodia, he kept quiet on human rights concerns in that country, alleging that the only reason for his trip was to participate in the East Asian Summit. This was in spite of requests from Human Rights Watch to address the issue head-on.
While justice is possible with respect to violations perpetrated by U.S. officials within the 50 states, America's policies overseas do not match its own standards at home.
Although political accountability and reconciliation processes often take years to bring alleged violators to justice, if at all, their very existence on a national, regional, and global level can deter politicians from violating international law in times of conflict at the outset.
For example, while the recently adopted Association of Southeast Asian Nations Human Rights Declaration has raised U.S. government concerns about the erosion of internationally recognized human rights standards, it still might lead, as Alston said, to "a gradual blossoming of a human rights mechanism within the ASEAN region."
But more than anything else, the effectiveness of global accountability mechanisms would be aided if the U.S. abided by the same rules it often expects of the rest of the international community.