Education Crusader and Asia 21 Young Leader Humaira Bachal Featured on NPR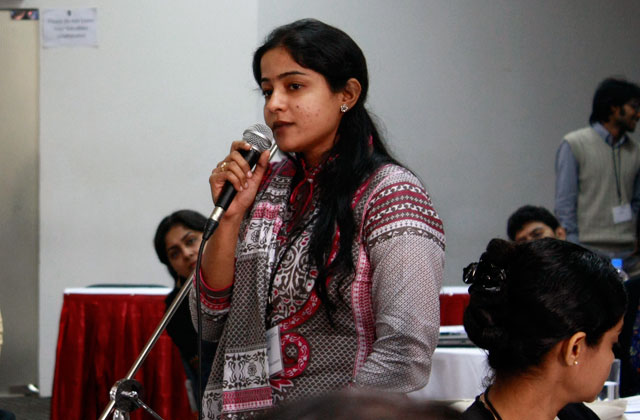 Humaira Bachal asks a question at the Asia 21 Summit in Dhaka, Bangladesh, in December 2012. (Asia Society)
Humaira Bachal, a 25-year-old education advocate from Pakistan, wowed just about everyone who met her last month at Asia Society's Asia 21 Young Leaders Summit in Dhaka, Bangladesh.
Already the subject of a short documentary by Pakistan's first Oscar-winning filmmaker and Asia 21 Fellow Sharmeen Obaid-Chinoy, Bachal is beginning to garner attention worldwide for her tireless work on behalf of girls' education.
In a profile on NPR last week, Bachal explained her own difficulties accessing education:
"After I had finished primary school, my father didn't want me to get any education," she says. "He said I was only going to get married and have children." But Bachal and her mother had other ideas. While her mother wasn't particularly educated, her family in Iran had been. All of her mother's sisters had gone on to higher education; Bachal's mother thought her daughters should get educations, too. For three years, Bachal's mother dissembled when asked direct questions about where her daughter was all day. And for three years, while Bachal attended middle school in another part of Karachi, her father had no idea what his daughter was doing.
Bachal went on to start the Dream Foundation, which began as a tuition center for a few students in her hometown of Moach Goth in 2003. Now a formal school currently enrolling 1200 students where children pay a rupee a day to attend classes, Bachal's Dream Foundation also offers separate adult literacy classes for men and women, which are taught at night by Humaira herself and her team of young volunteers.
Bachal leads talks and workshops with the community's women on gender equality, domestic violence and creating employment opportunities in order to bring about holistic change.
According to the NPR article, Bachal knows that her fight to change attitudes towards girls' education is not without risk, as was made all too plain with the brutal attack on girls' education advocate Malala Yousafzai last year. Yet she says that she is not worried.
"Just the opposite," she said. "I am not worried about this anymore. Now I'm not afraid. It is not just one Malala or one Bachal who has raised a voice to change this situation. There are a lot of other girls who are trying to change things. Even if they kill 100 Humairas, they won't be able to stop us."
Video: Watch a Dawn News feature on Humaira Bachal (English subtitles)