Domestic Politics Trumps Foreign Policy, and US Loses in Asia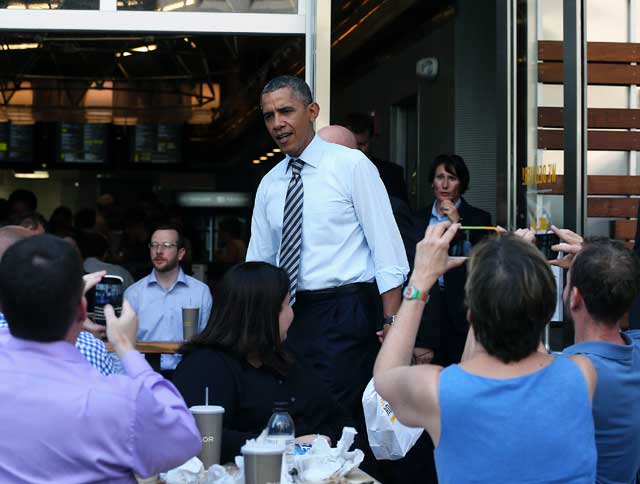 Not going anywhere: U.S. President Barack Obama walks out of the Taylor Gourmet Deli in Washington, DC on Oct. 4, 2013. Obama canceled this weekend's trip to Asia as the federal government as the shutdown went into its fourth day. (Mark Wilson/Getty Images)
With all eyes focused in the United States on the government shutdown and efforts to get the two parties on the same page, President Obama has been forced to cancel his upcoming trip to Asia. Scheduled to depart this weekend, the President first cut Malaysia and the Philippines from his trip, intending only to stop in Indonesia and Brunei, for the APEC and U.S.-ASEAN Summit and East Asian Summit meetings, respectively. Secretary of State Kerry will go to both summits being skipped by the president — which potentially sends a message about the U.S. focus on Asia, and more importantly about our efforts to put our house in order over the last few years.
That said, it was important that the President attend APEC and the East Asian Summit. With economic and security issues the focus of all these meetings, the U.S. needed its President to attend. The APEC meetings will focus "on revitalizing trade to keep the global economy on a path to recovery, create jobs and move the region towards more balanced and sustainable long-term growth." This is critical not only to the region, but to the U.S. in particular. Years on from the financial crisis, the U.S. economy is still working to find its way toward more stable ground, and Asia is a critical region for growth. Economic stability impacts regional security. At a time when security issues are also omnipresent in the region, with issues in the South China Sea front and center (and with two of the claimants, Philippines and Malaysia, being skipped by President Obama on this trip), continuing the dialogue and reinforcing a U.S. role in the region is as important today as it was in previous decades.
While Secretary Kerry will take his place, there is no substitute for having the President involved directly in these conversations and the future of the Asia-Pacific region. While in the end, domestic politics trumps all, it is to the detriment of the United States not only from the perception it creates, but from the reality of his absence.