DiMaggio Previews Clinton's Historic Visit to Burma on The Takeaway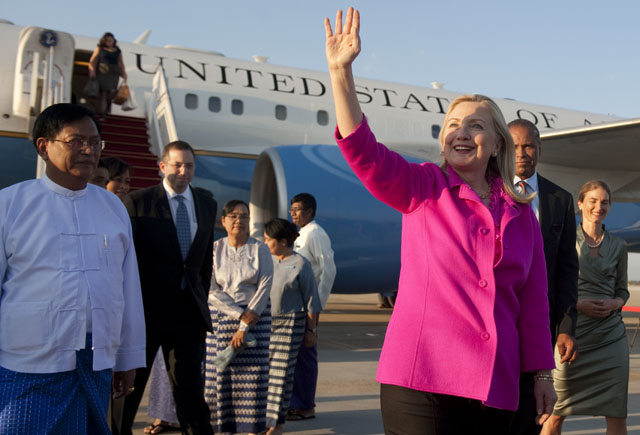 U.S. Secretary of State Hillary Clinton waves alongside Myanmar Deputy Foreign Minister Myo Myint (L) upon her arrival in Naypyidaw on November 30, 2011. (Saul Loeb/AFP/Getty Images)
Asia Society Vice President of Global Policy Programs Suzanne DiMaggio appeared on public radio's The Takeaway earlier today to discuss Hillary Clinton's historic visit to Burma/Myanmar. Today marked the first visit by an American diplomat to the country in more than half a century.
Asked for her assessment of the political reform movement in the country, DiMaggio said that it was a good sign that Clinton would be given access to opposition and ethnic group leaders, and most importantly, democracy icon, Aung San Suu Kyi. She then gave credit to the Obama administration for for trying to play a more "significant role" in the country, which would allow the U.S. to press Burma on the advancement of human rights. 
"I think by going there, Hillary Clinton could have a breakthrough moment and help to bring Burma into the international community," she said.
DiMaggio also commented on the sensitive relationship between the U.S., China and Burma. While the Chinese have been "aggressively pushing their commercial interests in China," she said, the U.S. has been "sitting on the sidelines because of sanctions against Burma."
"The ramping up of U.S. policy and presence in Asia is in part a direct response to China's influence there, an attempt to contain China," she said
Listen to Suzanne DiMaggio on The Takeaway (11 min., 35 sec.):