The Death of Pakistan's 'Living Saint'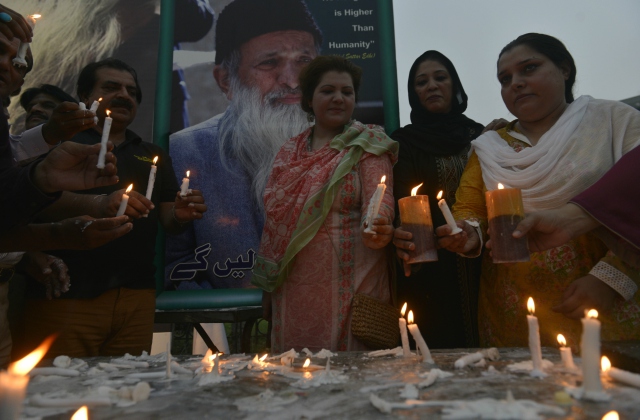 Pakistani supporters of Abdul Sattar Edhi hold candles during a candlelight vigil in his memory in Lahore on July 10, 2016. (Arif Ali/AFP/Getty Images)
The Pakistani humanitarian and philanthropist Abdul Sattar Edhi, who died on Friday at the age of 88, was often called a "living saint" by his admirers. This distinction, in a sense, is ironic: In a country whose identity is inextricably linked to religion, Edhi was a outspoken critic of sectarianism. But his position on religion mirrored his feelings about Pakistan's recurring military governments. Throughout his life, Edhi was unafraid to challenge powerful institutions within his country.
This fearlessness — as well as a life devoted to serving the needs of Pakistan's poor — turned Edhi into a national icon. His foundation, established just four years after Pakistan's 1947 birth, has functioned ever since as a sanctuary for the country's most impoverished citizens. The Edhi Foundation runs ambulances, medical clinics, and orphanages, and provides immediate and effective aid after earthquakes and other natural disasters. These services constitute a safety net in a country whose government has often struggled to meet the needs of the population.
The writer and comedian Sami Shah drew this contrast in his remembrance of Edhi:
One night, when I was working in a newsroom many years ago, Karachi had been submerged under monsoon rains. The death toll was high, higher than the ruling political party could allow.

They knew they couldn't stop people dying, not in a Karachi so neglected by development and consideration for care, so they instead stopped the ambulances from collecting the dead — the toll would not rise if there were no more bodies to count.

Edhi's son called the news channels for help. The political party leaders also called, to threaten with silence. No channel ran the story. Yet, Edhi kept working. He personally went to collect the corpses, knowing they would not kill him. Anyone else they would have.
In death, as in life, Edhi has risen above his country's many fault lines. On Friday, Prime Minister Nawaz Sharif announced a national day of mourning, saying that "if anyone deserves to be wrapped in the flag of the nation, it is him." His one-time rival, former President Pervez Musharraf, proposed that Edhi be awarded the Nobel Peace Prize — a claim echoed by the education crusader and Asia Game Changer Malala Yousafzai, herself a Nobel Peace laureate. Notes Asia 21 Young Leader Yusra Askari:
Even after his death, #Edhi sahab continues to give - his cornea will be used to give someone the capacity to see again!

— Yusra Askari (@YusraSAskari) July 8, 2016
"The children in his orphanage used to call him 'Abba' (Dad)," Asia Society's Sahar Said told Asia Blog. "In reality, he was the father of the entire nation."