The Deadly World of China's Fireworks Factories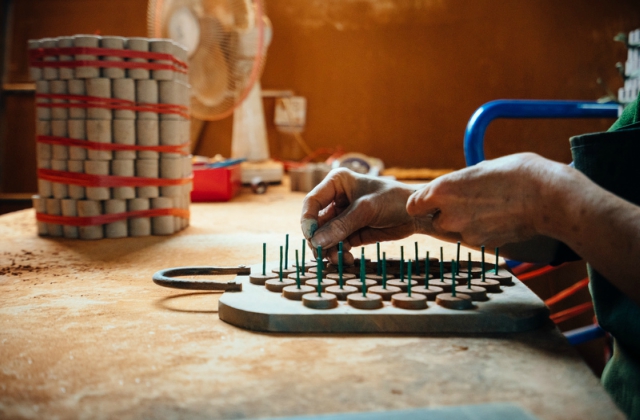 (Yuyang Liu/ChinaFile)
Monday marked Independence Day in the United States and, as in the previous 239 years, Americans commemorated the holiday through lighting and watching fireworks. According to USA Today, Americans use 285 million pounds of fireworks each year on the fourth of July, generating over $1 billion in revenue.
Much of these fireworks are manufactured by young women in factories in rural China. The work is dangerous but, in a country where many rural youth must seek work in coastal cities far from home, the opportunity to earn a decent living in the countryside has broad appeal. 
But the risk of deadly accidents is real. On September 22, 2014, an explosion at a fireworks factory in Nanyang, a city in central China's Hunan Province, killed 14 and injured 30 more, one of the worst incidents of workplace death in China in years. In an article for ChinaFile, Kathleen McLaughlin and Noy Thrupkaew describe why Nanyang's victims have struggled to obtain proper compensation for their losses:

(Yuyang Liu/ChinaFile)
China's worker-compensation law requires employers to pay into a fund reserved for injury and disability payments, but compensation is often tied up for years or not paid at all. At the same time, despite its many casualties, the industry has flown under the radar of most Chinese and international labor groups. And while the Nanyang workers were making products for foreign export, international law provides few protections. Consumer campaigns have had an impact naming and shaming companies with global brands to maintain, but fireworks brands are so unfamiliar to consumers that they provide little leverage for such campaigns. "That is why fireworks is a struggle," says Richard Brubaker, a corporate accountability expert and founder of the Shanghai-based consulting firm Collective Responsibility. "The average U.S. consumer has no idea where they come from. There's no brand around them they recognize."
The problem isn't limited to China, or to workers in factories. In fact, issues related to compensation affects many of the 450 million people who work in global supply chains:

(Yuyang Liu/ChinaFile)
Worker injuries and deaths in global supply chains often fall into a legal gray zone, with multinationals and subcontractors alike frequently shrugging off blame and potential responsibilities. And while trafficked or forced workers have some recourse under the law, there are few global remedies in cases of workplace injury or death.
Read the entire article at ChinaFile.