Coups, Kashmir and Clerics: Is Pakistan Headed for Delayed Elections?
Last night Pakistan Foreign Minister Hina Rabbina Khar spoke at Asia Society New York about the recent news out of Pakistan, including tensions with India over the Kashmir region, the pending arrest of the Prime Minister, and protests in Islamabad against corrupt government officials. We spoke with Asia Society Associate Fellow Faiysal Alikhan about Khar's comments and the situation in Islamabad, where he is based. Mr. Alikhan is also an Asia Society Asia 21 fellow from the Class of 2008.
Foreign Minister Khar characterized the head of protests in Islamabad, cleric Tahir-ul Qadri, as an outsider representing a fringe element of the country. Do you think this is an accurate description? 
Dr. Tahir-ul Qadri has spent 53 years in Pakistan and has been away for the last six or eight years. He's been a professor of law at the University of Punjab from 1978-1983; he founded Minhaj-ul-Quran in 1981; he founded his political party, Pakistan Awami Tehreek, in 1989; and has contested elections unsuccessfully until 2004 when he was elected a member of National Assembly. Over the last few years he has been a regular presence in living rooms across Pakistan through his widely-viewed evangelical-style television programs. Given this, I do not see him as and "outsider" or as a Muslim-Canadian cleric who has "appeared out of nowhere," as he is being portrayed by some in the media.
As I personally attended the Long March and witnessed his opening speech, he does seem to have a genuine, mobilized support base. However, given the fact that he does not belong to the traditional political class and that his political party, although active since 1989, has never successfully won a seat, I can see why he is considered as an outsider.
His timing and the amount of money spent (including media, visibility, transport, etc., for his public agitation of December 23 and on the current Long March) have raised a lot of questions with regard to his motives and financiers. As the government is two months short of completing its five-year term and Pakistan was anticipating its first democratic transition, the question in most Pakistanis' minds is "why now" and "at whose behest." Even those against this current government point out that they have endured it for almost five years, so why give the Pakistan People's Party a reason to be a martyr again when they can be rejected via public mandate of elections in March.
Does the pending arrest of Prime Minister Raja Pervez Ashraf on corruption charges endanger the success of Pakistan's first democratic transition of government in its history?
Given that the current government's term ends in March, we are already in a wind-down phase and people are looking towards a neutral caretaker setup, as per the constitution, to oversee peaceful and fair elections. The PPP's previous prime minister, Syed Yousaf Raza Gilani, was also forced to resign and transition was peaceful. The current prime minister has been widely known as "Raja Rental" due to his reputation gained during his tenure as federal minister for water and power, so I think it is no surprise to anyone that he has been indicted in a rental power case which had been pending against him since before being nominated as PM. When you have the National Reconciliation Ordinance (NRO), which exonerates politicians with pending corruption cases endorsed and underwritten by our Western friends, this sort of thing is bound to happen. His arrest should be no reason why elections are delayed or there is turmoil in the country.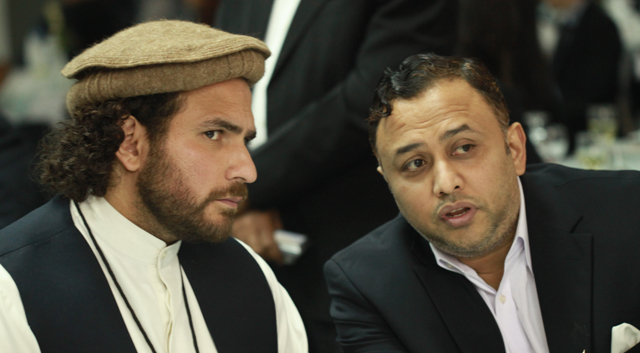 Asia Society Associate Fellow Faiysal Alikahn (left) with A.S.M.
Mainuddin Monem (right) of Abdul Monem Ltd. at the 2012
Asia 21 Young Leaders Summit.
When 87 dead bodies of Pakistani citizens are on the streets of Quetta for three days with no response from government; when there is not enough gas or electricity for domestic consumption let alone commercial enterprise; when the Pakistan Rupee is facing rapid devaluation; when there are bomb blasts and shootings with disturbing frequency; it doesn't seem likely that a corruption case would be the thing to derail the last few weeks of the government.
Are India-Pakistan relations in danger of falling off a cliff due to the tensions over soldier deaths in Kashmir? Foreign Minister Khar called India a "warmonger" but then said Pakistan is committed to continued dialogue. How serious do you view this recent spat?
Although the Indo-Pak Line of Control (LOC) has historically been volatile and there has been posturing on both sides, in this particular case there seems to be a concerted effort from the Government of Pakistan not to engage and contribute to the escalation of tensions. This is despite the fact that the LOC was violated initially by the Indian side and two Pakistan Army personnel lost their lives. It's unfortunate that this occurred on the day the relaxed "visa on arrival" initiative had begun and had to be suspended by the Indian Government after only a few hours. I would endorse Foreign Minister Khar's statement that Pakistan is committed to a continued peace process and therefore do not feel that this would be escalated further from the Pakistan side. However, it does seem strange that the timing of this coincides with all these other events which seem to be happening within the same week. 
How important are these upcoming elections for the future of Pakistan?
These elections are imperative for Pakistan. All the democratic parties and citizens would like to exercise their constitutional right to elect their leadership. However, given the current circumstances in the country (that is, Governor Rule in Balochistan, public agitation in Islamabad, tension on borders, increasing lawlessness in Karachi, sectarian killings in Quetta, assassination of ministers and leaders in KP, etc.) and the international community's need for a stable Pakistan in order to ensure a peaceful transition in Afghanistan, there are grounds for an argument to delay election process till such time as things normalize and the security environment in the country is more conducive to the electoral process.
Although my personal opinion is that the current government should complete its term and there should be an election that reflects the public's mandate, it seems unlikely that elections will be held as scheduled. It seems possible that there will be an interim government for a longer period than expected.