Clinton Meets Suu Kyi, Offers 'Carrots' For Political Reform in Burma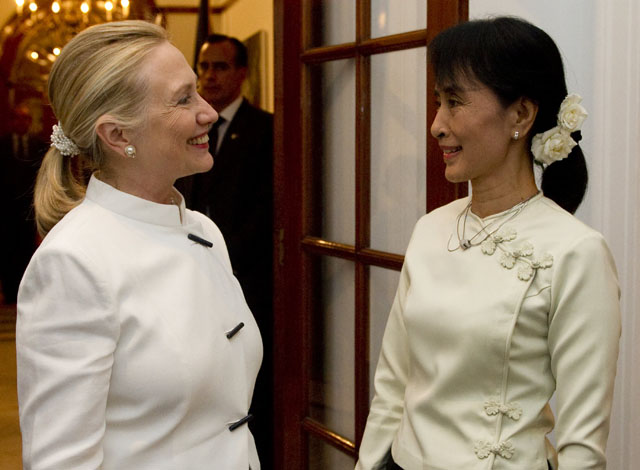 US Secretary of State Hillary Clinton (L) and pro-democracy opposition leader Aung San Suu Kyi meet in Rangoon, Myanmar, December 1, 2011. (Saul Loeb /AFP/Getty Images)
A photo of Burma's democracy icon Aung San Suu Kyi standing together with US Secretary Hillary Clinton was unthinkable just a few months ago. Following deeply flawed elections in Burma in November 2010, the shift from a ruling junta to a nominally civilian government has brought about a series of positive changes, including Suu Kyi's release from house arrest and her return to the political scene.
In recognition of the changes already underway, Clinton brought to Burma a package of "carrots", including an invitation to join a U.S.-backed grouping of Mekong River countries, a green light for ramping up cooperation from the IMF and the World Bank, and support for U.N.-sponsored assistance in the areas of health, microfinance and counternarcotics.
What happens next will largely be determined by how developments unfold in Burma. If the new government continues to carry out reforms, the U.S. will respond accordingly. A likely next step will be a full restoration of diplomatic relations, including an upgrading to the ambassadorial level in both Washington and Naypyidaw.
But it's clear that much more progress needs to be made before the U.S. will consider lifting economic sanctions. In particular, the U.S. will be pressing Burma's leaders to release all political prisoners, pursue a rigorous national peace and reconciliation process to end ethnic conflict, grant greater access to the International Atomic Energy Agency to investigate any nuclear-related activities, and cut off military ties with North Korea.
We're at the beginning of process that could take years to fully unfold. But with this bold move, the U.S. now has a role to play.
Update: Suzanne DiMaggio appeared on Sirius XM Radio's POTUS channel on Friday, December 2 to discuss Secretary Clinton's visit to Myanmar. Listen to the program below: