Choreographer Yin Mei Recreates China's 'World Gone Mad' Onstage at Asia Society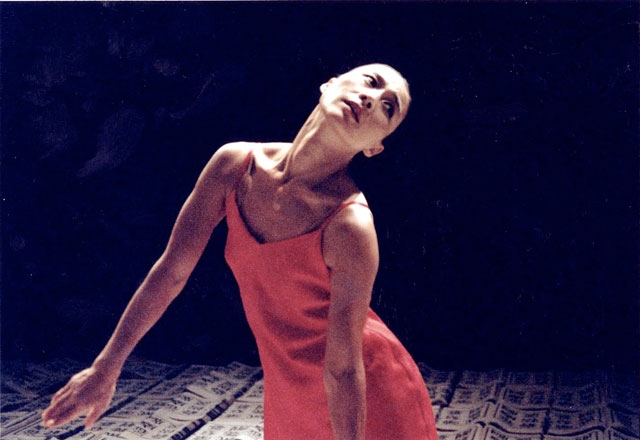 Yin Mei's earlier dance theater piece "Empty Tradition/City of Peonies." (yinmeidance.org)
This Sunday evening, January 13, New York audiences have a chance to see a unique personal take on the most tumultuous epoch in recent Chinese history when choreographer Yin Mei — whom the New York Times has cited for her "striking visual sense and … authoritative way with social and literary themes" — brings her multidisciplinary work-in-progress DIS/ORIENTED: Antonioni in China to the Asia Society stage.
Delving into her own childhood experience of the Chinese Cultural Revolution, Yin's piece is a dance theater "conversation" with Michaelangelo Antonioni's seldom-seen 1972 documentary Chung Kuo, Cina, a three-and-a-half-hour portrayal of everyday life in China made for Italian TV at the height of the Revolution.
DIS/ORIENTED: Antonioni in China promises to be a striking instance of how one artist's work can become a springboard for another's creativity decades later. Inspired by images from the film, Yin deploys masks, movement, puppetry and text — along with a soundscape created by avant-garde composer Bora Yoon — to explore the duality of internal and external in a time and place where the pressure to conform made it almost impossible to maintain any kind of private life. A high point to watch for in the program is the duet between Yin and Fei Bo of the Chinese National Ballet, which heightens Yin's theme of oppositions through artful use of the contrast between an older and a younger dancer. The production is shepherded by director and dramaturg Hansol Jung, who was recently the recipient of the Kennedy Center's Paul Stephen Lim Asian-American Playwriting Award.
For dance theater fans who might be unfamiliar with Antonioni's documentary, China's leaders thought they had scored a propaganda coup when an internationally prominent director of known left-wing sympathies arrived to document life inside the People's Republic. However, as Isabel Hilton recalls for ChinaFile, the filmmaker's matter-of-fact scenes of village markets, communes, and a newborn infant so incensed the authorities — who thought this footage emphasized Chinese backwardness and poverty — that denouncing Antonioni became something of a national project in the years that followed. Chung Kuo, Cina was never publicly shown inside China until 2004, and in the West it screens only rarely and has never been available on DVD. (When Asia Society New York presented the film to a sold-out crowd in October 2008, blogger and poet Shanxing Wang hailed its "fascinating records of life in 1972.")
Yin herself participated in a government-authorized public protest against Chung Kuo, Cina, and from a statement on her website, it's clear that the Cultural Revolution is a subject that resonates with the artist intensely. "I am part of a generation of artists who lost their childhood to the Chinese Cultural Revolution, who experienced a world gone mad…. Five thousand years of Chinese art and culture tossed in the garbage heap." As she continues:
From this, a generation of survivors — and of fighters — my generation — was born. But from this, how does one make art? How does one deal with memories that burn in the brain, that haunt one's waking hours, that tattoo images of rage beneath one's skin? For me, the trauma of my early years has led, not toward social engagement, nor toward abstraction, but toward the unmapped provinces of my own heart. What I have come to understand is that my work is essentially an exploration of the wounded self: How does a fighter dance?
For the answers to Yin's questions, visit Asia Society New York this Sunday night.
Video: Yin Mei and her work (3 min., 29 sec.)