Chinese Hurdler Liu Xiang Stumbles Again at Olympics; Twitter, Weibo React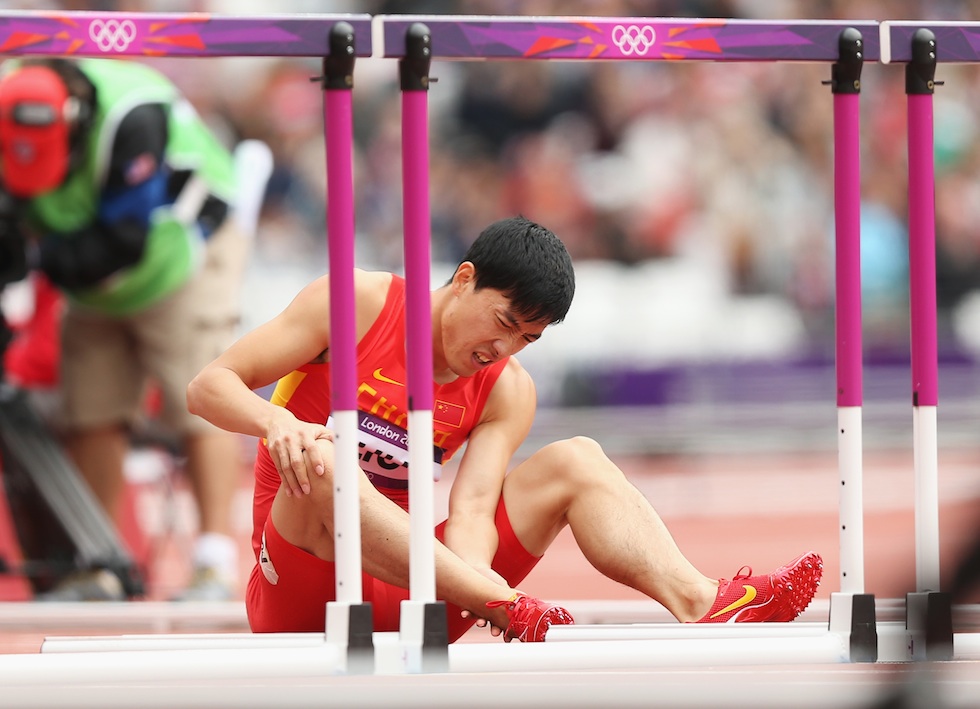 Liu Xiang of China sits on the track after getting injured in the Men's 110m Hurdles Round 1 Heats on Day 11 of the London 2012 Olympic Games at Olympic Stadium on August 7, 2012 in London, England. (Ezra Shaw/Getty Images)
At the 110-meter men's hurdles heats at the 2012 Olympics Games in London, Chinese favorite Liu Xiang — a one-time Olympic champion, world champion and world record holder — stumbled yet again, failing to get over even the first hurdle. Liu, who won gold in the event in Sydney in 2004, re-aggravated his right Achilles tendon, the same injury that kept him out of the 2008 Olympic finals in Beijing. In London, Liu sat grimacing after his fall. He hopped towards the tunnel to exit, before returning to finish the race on one foot, stopping only to kiss the final hurdle.
Most of China — on the internet, at least — embraced his effort and thanked him for inspiring them as an Olympic champion. On Twitter:
刘翔也不容易,我虽然很伤心,但已经原谅他了。。。安心的退役吧。。。我平时黑了他几句,就像我黑阿联一样,都是玩笑的。。。无论刘翔怎样做,只要没成绩,都会被骂,毕竟,他在中国,世界上喷子最多的国度

— zmt (@zmt0516) August 7, 2012
Translation: Liu Xiang has not had it easy. Although I'm very heartbroken, I also forgive him. Please retire gracefully. I may have chided him at times, the way I've chided the UAE, but they're just jokes. No matter what he does, if he doesn't place in the finals, then he will be criticized. After all, he is from China, a country with the most blabbermouths.
送给所有谩骂刘翔的人 ww3.sinaimg.cn/large/64a900d2…2000年至今,刘翔共参加过48次国际跨栏比赛,冠军36次,亚军6次,季军3次,因伤退出两次(北京奥运和伦敦奥运) ww1.sinaimg.cn/large/add51802… #刘翔摔倒

— pearlher (@pearlher) August 7, 2012
Translation: To all the people criticizing Liu Xiang, starting from the year 2000, Liu Xiang has entered 48 international hurdling events. He won Gold 36 times, Silver 6 times, Bronze 3 times, and had to withdraw from the race twice (Beijing 2008 Olympics and London 2012 Olympics).
Weibo, China's Twitter-like platform, blew up immediately following the race, reportedly accumulating more than 20 million posts within 5 minutes.
Chinese actress Yao Chen commented:

Translation: Eight years ago, you brought us glory and touched our hearts. Eight years later, you are still a hero in my heart. An era will pass, as will each of us. Regardless, we will accompany you to the end, and history will record your name. Thank you, Liu Xiang.

Translation: I don't know what to say. I feel a bit disappointed, but more supportive ...
Translation: We are all Chinese. Liu Xiang is just a person, not a God. Those made of flesh and blood can get hurt. Why assign any blame?
Western microbloggers were just as touched, both by Liu's tragic injury and his effort to finish the race despite the injury.
I heard about Liu Xiang's injury this morn but I didn't know THIS happened buzzfeed.com/jpmoore/hurdle… Oh Olympics, wrecking me emotionally again

— Alex Macpherson (@alex_macpherson) August 7, 2012
Serious credit to Liu Xiang: I can't think of another athlete who comes close to his dignity and poise in the face of catastrophic injury.

— Adam Minter (@AdamMinter) August 7, 2012
Fellow athlete and former track and field champion Ato Boldon tweets:
The 110h isn't as fun without Liu Xiang. Always thought he was amazing to watch. In the 'jungle' though, the old die off and are replaced.

— Ato Boldon (@AtoBoldon) August 7, 2012
Perhaps this was just poor luck for Liu, who had only recently fully rehabilitated his Achilles. But as Boldon so eloquently puts it, the shelf life of athletes is short, and they are all ultimately replaceable. Liu Xiang was China's pioneer — he won the country's first-ever Olympic gold in track and field — but, alas, the events will still go on without him.
For video and animated GIFs of Liu Xiang's race, visit Buzzfeed.